Sigma 24-35mm F2 DG HSM Art Lens Review
When I was a cub photographer in high school, I was very proud of my Kodak Signet 40 camera. With the attached flash unit, even if I did not look like a professional, I felt like one. Later, thanks to my obsession with large aperture lenses, I moved up to a Heiland H2 Pentax camera complete with its awesome Auto Takumar 50mm f/2 lens that I carried throughout Europe and later for the local newspaper. However, in the back of my mind and forever out of my economic reach was the impressive Nikon Noct 58mm f/1.2 lens, which was always part of a fantasy I had for my favorite pastime: black-and-white available light photography.
Today, all that dreaming is a thing of the past. Modern optics now allow the purchase of a vast array of fast lenses in just about any focal length from wide angle to moderate telephoto. The advent of digital cameras with their adjustable ISO settings have for the most part negated the need for very fast (read: expensive) lenses. Nevertheless, there is always room for something new and exciting, especially in a zoom wide angle, and Sigma has brought something very interesting to the table.
Their impressive handle for the lens is the Sigma 24-35mm F2 DG HSM A but that is only part of the long list of features on this full frame lens. Sigma touts it as "the world's first" full-frame zoom lens with a constant aperture of F/2 throughout the zoom range.
Let's first look at the construction and overall appearance of this intriguing new Sigma lens, which is available in Nikon, Canon and Sigma mounts and sells for $999.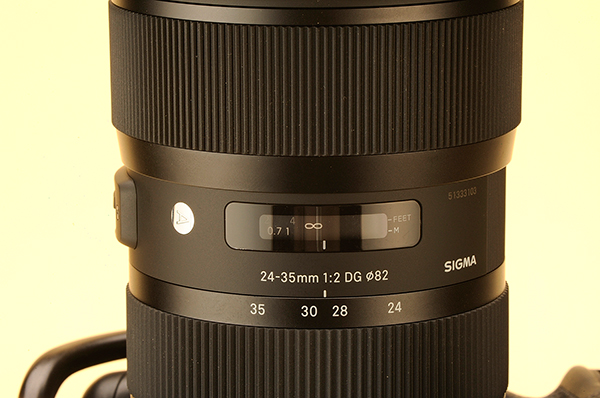 Build & Features
First, this lens is part of the "Art" category in the Sigma lineup of pro type optics, which simply means it was designed for the photographers who will not compromise on performance or compactness as a means to an end with their photography. From what I've read, this category seems to be the top of the line in all respects and this lens surely proves it.
Many photographers will likely be surprised at the weight of the Sigma 24-35mm F2 DG HSM Art lens. Actually, if you have nothing nearby to compare it with, it does seem heavy but most of that feeling comes with the overall diameter of this lens at nearly 3½ inches. Placed on my scale, it weighs in at 33 ounces (2 lbs. 1 oz.), which is the same as my Nikon 24-70mm f/2.8 lens. On Nikon's professional full frame DSLRs, the lens and camera are in perfect balance with each other; on APS-C type DSLRs, it is definitely front heavy.
In appearance, the look and build of Sigma 24-35mm F2 DG HSM Art lens is definitely first class. The outside of the lens is smooth to the touch with a classy finish that rivals many in the same ilk.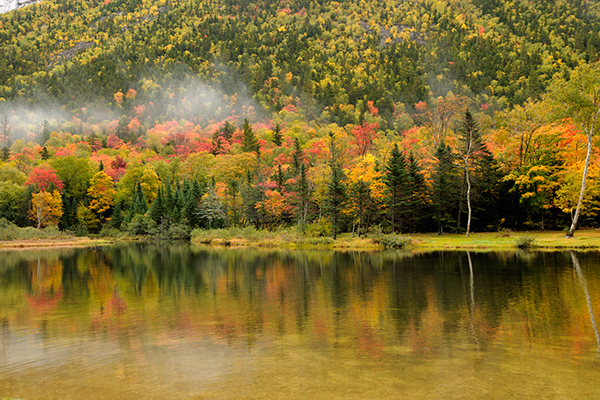 All gripping surfaces are well defined, the numbers on the zoom ring are highlighted in white and a white bead assures you everything is matched up when attaching the lens to the camera body. There is no depth of field scale, but well-marked numbers in meters show your distance from its closest setting of just under a foot to infinity. When it comes to our customary English units of measure (feet, inches) the scale should be improved, as the minute numbers in tan do not show well against the darker, black background.
Handling & Features
The manufacture of the Sigma 24-35mm F2 DG HSM Art lens required the merging of various metals and a new material Sigma calls TSC (Thermally Stable Composite) for the body to help to bring this lens to life. The zoom ring moved smoothly as did the focusing ring; both have the right amount of drag establishing a good connection between photographer and lens when shooting at eye level.
The AF (autofocus)/MF (manual internal focus) switch is located on the left side of the barrel and it clicks firmly but easily with a positive detent between the two. The lens mount is set up for the more modern Nikon's using "G" system lenses but does not go to the extreme of the present system of moving the 9-bladed diaphragm electronically which is great as it allows you to use this lens on more full and APS-C sensor cameras.
The front element does not move in or out when changing focal lengths, but the 82mm filter ring means you have to man up and purchase a new polarizer or filters to use on this lens. A scalloped lens hood is supplied and is installed via a quarter turn around the front of the lens barrel.
The aperture goes from a constant f/2 to f/16 and inside you are looking at an impressive array of lens elements that total 18 arranged in 13 groups in what looks like a complicated assembly. To gain the range of sharpness this lens delivers at such a large aperture, Sigma uses both exotic (FLD / SLD) and aspherical elements to help quell chromatic aberrations and to move all this, Sigma's HSM (Hyper-Sonic Motor) gets you on target fast, silent and with extreme accuracy.
If you have a rig that might be off, Sigma's unique and optional USB Dock allows you to customize and tweak the focus on any camera as well as to entertain other options directly associated with this or any other Sigma in your lens battery.
Performance
Okay, so let's take the Sigma 24-35mm F2 DG HSM Art lens for a spin. First of all, having a zoom lens with only three major focal lengths (24, 28 and 35mm) might bother some folks as now you start to narrow down its applications. I can see wedding or function photographers doing dances around this lens, for landscape work, I love the sharpness.
Still life applications such as old barns, general scenic work and old railroad buildings are ideal for this lens. It's also great for when you want to shoot while the light is starting to dip into the edges of the day.
In Grafton, Vermont for example, I love walking around the town and taking pictures in the fall. I arrived there rather late in the day, and since I enjoy photographing all the old buildings in town, the lens was opened up to the maximum of f/2.
Although this lens does not have a stabilizing system, it does offer a generous depth of field at most settings. I found I could hold and shoot easily around 1/25th of a second with good results. I think the factor here is that since the lens is hefty, you can hold it easily at the lower shutter speeds without much concern.
I was lucky the lens arrived prior to my yearly trek to Vermont last Fall. Working out of Rutland, I took almost a week to circle the destinations that would give me the most bang for the buck. With the fabulous color this past year, I was not disappointed.
I love finding back roads where I can walk around, setting up a tripod as I go. With Sigma's world's fastest wide-angle zoom lens attached to my Nikon SLR, stopping here and there along the road was a pleasure especially when there is running water present. When the wind picked up, I could sacrifice a little depth of field for a faster shutter speed, working with the wide aperture as I moved along and at 24mm, a little depth goes a long way.
Although I did not have a circular polarizer to fit, I did have my collection of neutral graduated filters in sheet form that I used to turn the water into smooth, milky patterns. In particular, I used the lens where I could include a vast expense of foreground to test the sharpness of this lens.
Additionally, I took the lens to Newport, Rhode Island to visit my grandson at the campus and to walk around this historic city. During this time, I had the chance to photograph the Newport Bridge at night, available light, and wide open at f/2. You can see the results of handholding the camera and lens while resting on the railing on the outside balcony.
Being a train guy, I had to stop at the local station to catch the Amtrak coming in at full speed. With the camera set at 1/1000th of a second, the lens tracked it with no problems. Later in the day, a colorful cruise ship came in and with a little artful framing, photographed it in the bay unloading passengers for town. At f/16 with the Nikon D3, it made a pleasing image from front to back.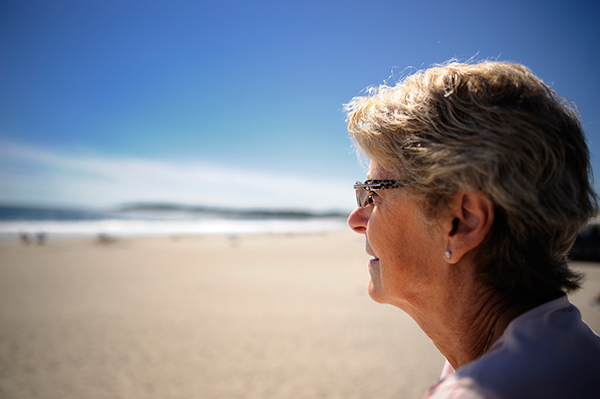 Conclusion
Aside from all this, the Sigma 24-35mm F2 DG HSM Art lens is sharp! Tack sharp, no question about it. In fact, I would put it up against my Nikon 24mm f/.4 lens, which I consider the best of the best in sharpness and color. It is that good.
The wide aperture allowed my cameras to focus fast, and playing with the depth at that setting put some fun into mundane subjects. At f/2, there was some corner falloff (vignetting) if I was shooting with the sky occupying the top third of the photo, but not enough to be seriously concerned about; a few stops later at f/2.8 it was gone.
While this might bother some, it should not stop you from purchasing any lens that you would enjoy unless it is serious and then, there are software programs to minimize this. Bokeh was good, but to me I like it more with a longer lens, but still it was there if you needed the effect.
Couple of other things. There is no rubber seal at the back of the lens to protect the innards from moisture and I cannot find anything were Sigma claims the lens is fully water resistant, but since it is robust in its build, I'll leave it there. For Nikon users, the lens rotates in the opposite direction much like a Canon, so the focusing assist arrows in the viewfinder might be unsettling. On the other hand, the zoom from 24 to 35mm goes in the same direction as my 24-70mm so I'm good here.
In short, I like this lens and was very impressed by its performance, color and clarity. And, while it may be short in its zoom length, it makes up in optical quality. Years ago, many photographers turned their noses up on "aftermarket" lenses --- especially zoom lenses, but no more. Like the Sigma 18-35mm f/1.8 DX lens, this twin in full frame is going to be a winner for Sigma.
In the box, you will find a case, front and rear lens caps and a well-crafted lens hood. The Sigma 24-35mm F2 DG HSM A is available in Nikon, Canon and Sigma mounts with a street price of $999.

FEATURED VIDEO