Shutterbug Readers' Sites And More; The Readers Strike Back
I only get to be in touch with you once a month through this column and Digital Innovations, but if you want more frequent reports, you can follow me on Twitter (
www.twitter.com/joefarace
) for daily updates on what's new in digital imaging along with a dash of silliness. What's more, my how-to blog (
www.joefaraceblogs.com
) has been restructured to feature a different topic each day of the week, such as Macro Monday, Travel Tuesday, and because I ran out of alliterations, Landscape Wednesday, Automobile Thursday, and Portraits and Glamour Friday.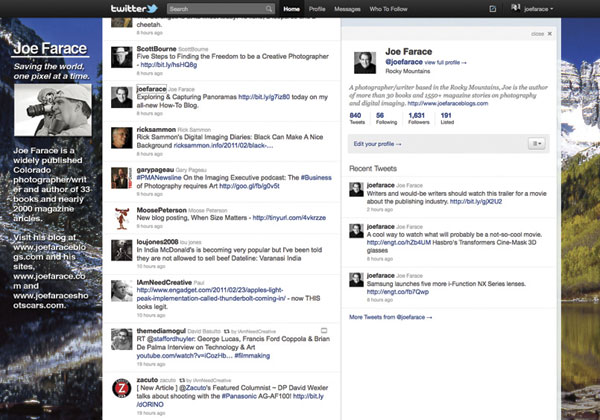 www.rockyschenck.com
Rocky Schenck's wonderfully elegant website is a brilliant complement to his elegant monochrome photography. The section entitled Galleries contains no photographs but instead has links to brick-and-mortar galleries that display his oft-enigmatic images. There are five galleries listed, none of which, alas, is within an easy drive of my home, but I'd like to visit to see Schenck's work up close and personal. If you live near any of these galleries, beat feet to experience the wonder for yourself.
In looking at images, such as "Central Park, Winter, New York, 2003," displayed on one of the gallery's websites I feel transported back in time as if visiting Stieglitz's "291" gallery, where I'm sure this photograph would feel at home with others by the Photo-Secessionists. Yet, to think of Schenck's powerfully dramatic work as merely retro would do it a disservice, and if you think all he can produce is softly focused images, you would be dead wrong. Take a look at the incredibly detailed images found in his Commercial Portfolio for a glimpse of a dedicated professional at work. Here you'll find compelling photographs—including an amazing series with Nicole Kidman—shot for magazines and newspapers that have an overwhelming sense of style but also show how a photographer can use his medium to tell a story and make a statement at the same time. (There is one tasteful nude in this section, so if that bothers you don't look.) And if you didn't already know what a Renaissance man Rocky Schenck is, check out his Films section for some of the wonderfully elegant music videos he has shot for Alison Krauss, Diana Krall, and Lisa Stansfield, showing he is the Cole Porter of this art form. His book, Rocky Schenck: Photographs is already a collector's item.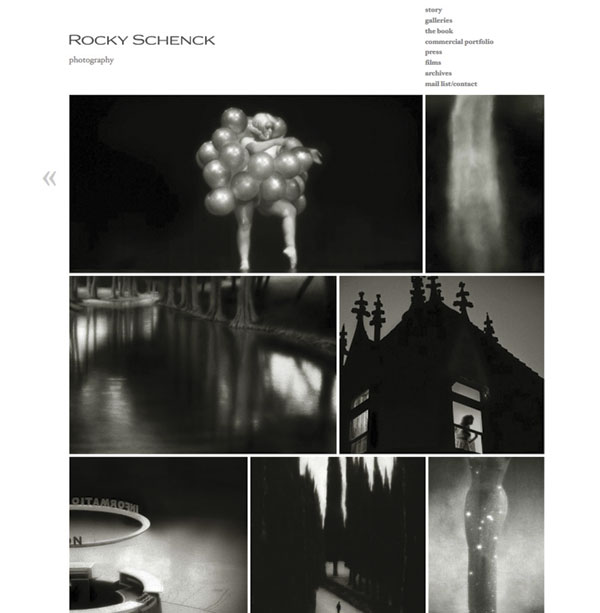 http://rexsteyskalphotography.com/
Shutterbug reader Rex Steyskal's Zenfolio-based (www.zenfolio.com) website abounds with colorful nature photography, showing this gifted photographer's work on the ground, in the air, and underwater. Yes, he photographs fishies, too, with the same technical skills and aplomb that he uses for eagles or gators! I've always had a thing for owls since purchasing a Bob Yealdhall painting of an owl many years ago. There aren't many owls shown here but what there is varies from quite nice to magnificent. The site design allows Steyskal to provide complete technical details though a "Photo Info" button displaying camera and lens used as well as exposure data. Yup, you get the whole EXIF megillah. There are six pages of thumbnails of butterflies and here Steyskal shows these "flying flowers," as Rick Sammon has famously called them, in exquisite detail as befits these delicate creatures.
In Big Cats, there are a few photographs that appear to have been made in a zoo but demonstrate that with patience, technical skill, and lots of talent you can make some pretty remarkable animal photographs in zoos. The Tropical Fish gallery has some great images of clownfish (Finding Nemo) that appear to have been shot through glass at an aquarium but Steyskal's skill and persistence give them a wonderful you-are-there feeling. There's much more on the site; don't miss the Lizards or the Frogs galleries to see even more examples of Rex Steyskal's colorful nature photographs. And don't forget to leave a nice comment in his guest book. The images deserve it.
http://irhonda.zenfolio.com/
Rhonda Campbell is another Shutterbug reader who uses Zenfolio to host her website, this time to spectacular effect. Her warm, welcoming homepage features relaxing piano music (that can be turned off) and collects her work into nine geographic or subject-related galleries. Three are monochrome related and inside the first two you'll find three additional collections, while Sepia contains only "Portrait of a Saddle Maker" which is full of photojournalistic images of craftsmen plying this time-honored trade. My favorite image is of the saddle maker using a computer!
Images can be viewed one at a time or in a slide show format, which is the best way to jump into collections such as "People" in her Black & White gallery. In the B/W with a Touch of Color gallery, "A Foreign Affair" stands out, especially her "Sunday Comics St. Saturnin France," which leaps off the screen with its wonderful juxtaposition of color and monochrome imagery. And speaking of color, don't miss Fine Art Painting & Photographs where Campbell uses traditional methods, such as pastels, watercolor, egg tempera, digital, and "anything else" to achieve the look she's after. All of these images are noteworthy, especially "The Gold Dress," which is breathtakingly graceful. Be sure to visit her geographic galleries, too, especially Provence France where her colorful neo-impressionistic style seems ideally suited to her subjects. Rhonda Campbell is a photographer who is clearly passionate about photography and through her site we all benefit from her explorations of light and tone.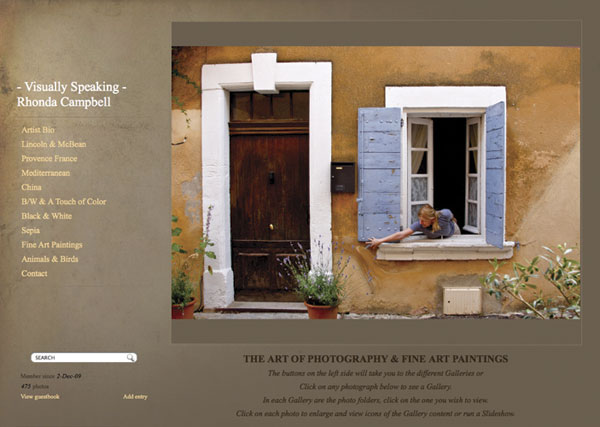 http://carolynbross.com/
Shutterbug reader Carolyn Bross likes to photograph lonely places because it makes her "reflect and wonder what happened to the people." She also enjoys the craft of traditional photography, including developing, printing, toning, and painting. Yes, Bross produces hand-painted prints of exquisite delicacy that suit her style of shooting perfectly. Images are collected into three portfolios, the first being Interiors/Still Life Composition. Here is a collection of warm-toned, gently colored photographs that seem perfectly in tune with their subject matter. Whether it's "Lavender Peignoir" or the wonderfully inventive "The Old Stove," Bross's flair and skills will dazzle you with charming images that recall another time, long, long ago.
In her Landscapes/Architectural portfolio she shows another aspect of her vision and the drama kicks up a notch with spectacular wide-angle landscapes, including "Pemaquid Point Lighthouse," and humorous photographs such as "Ferris Wheel" that if captured and produced any other way would have lost the magic and whimsy that Bross's handcoloring brings to it. Nudity advisory: her Figures portfolio embraces many styles of nude photography, all of which are well matched to her images of what I call "anonymous" nudes, in which the subject's face is not visible. From the hard-edged, simply titled "Nude" to the wistfully nostalgic wood nymph in "Circular Thinking," Carolyn Bross's talent and technical skills seem boundless.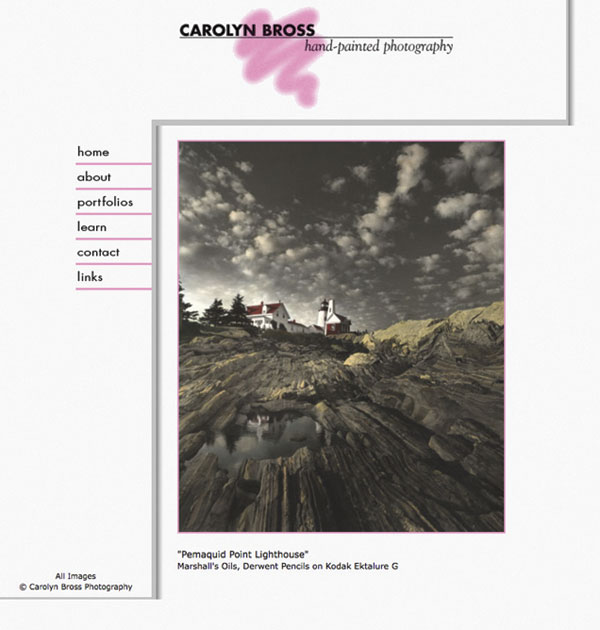 LATEST VIDEO

SPONSORED VIDEO
Testing Tamron's SP 150-60mm G2 lens while capturing birds and alligators in Apalachicola, Florida.