Shutterbug's Exclusive photokina Coverage; Portable Storage & Digital Frames: Securing And Viewing Images Page 2
JOBO introduced several new digital photo frames, among them the clever X7 Portable Photo Viewer ($189), a 7" viewable-screen frame (800x480 pixels) with 1GB of internal memory capable of storing up to 10,000 images (JPEG or BMP) in a convenient wallet size. The frame supports numerous memory cards and USB for downloads. In addition, the X7 features a protective rubber rim on all sides, which also provides a secure hand hold. The X7's unique new protective Nappa leather cover flips around to the back of the frame to function as a convenient stand for tabletop viewing. All function buttons are on the back. Powered by internal battery or AC. Another interesting frame is the 15" Mirage L ($359), which when turned off, magically turns into a mirror—should make a nice reflection on any gift giver.
Kodak unveiled the innovative OLED Wireless Frame, a digital frame that uses Organic Light Emitting Diode (OLED) technology, resulting in greater color depth and saturation in displays that are thinner than conventional digital frames. Further enhancements include Kodak technologies that automatically process images to improve exposure, brightness, and color. The 7.6" diagonal panel (16:9 aspect ratio and 800x480 resolution) affords a 180? viewing angle. You can upload images and videos to the frame from digital cameras, memory cards, USB drives, or wirelessly from personal computers and the Internet via built-in Wi-Fi capability. The wireless feature also enables connectivity to online photo- and video-sharing sites and Internet content portals for news, weather, sports, and more. Store up to 10,000 images on the frame's 2GB built-in internal memory. But all this technology comes at a price: $999, so give the frame to someone you really love.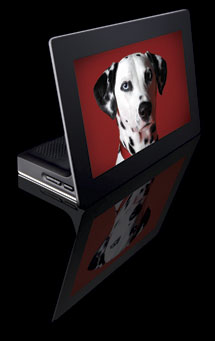 Kodak OLED Wireless Frame
Smartparts, the company that previously introduced us to the world's largest—32"—digital photo frame, has also taken the plunge into wireless with their first Wi-Fi-enabled 8" SPX8WF ($149), with one-touch Internet setup, automatic image correction, and on-frame photo album organization with no additional subscription costs. Featuring an elegant espresso wood frame, the SPX8WF gives consumers the ability to view their digital images in remarkable clarity on an 8", 24-bit LCD screen, featuring a resolution of 800x600 and 16.7 million viewable colors. Among the SPX8WF's most unique features is its complimentary photo e-mail capability, enabling users to automatically receive photos on their frame from friends and family. Each frame is pre-assigned its own unique e-mail address, which is hosted on Smartparts servers.
While they don't boast wireless capability, the Sony 8" model DPF-D80 and 10.2" model DPF-D100 are both fashionably elegant (glossy black for the larger frame; the smaller one in black or brown). Both frames feature an 800x600 (4:3 format) LCD panel and with an orientation sensor so your landscape and portrait images are automatically displayed correctly. The handy wireless remote makes it easy to adjust settings and switch between slide show, clock, and calendar display modes. The modest internal 256MB memory offers storage space for up to 500 pictures. Large image files are automatically rescaled to maximize your album capacity. Multiple memory cards and USB supported.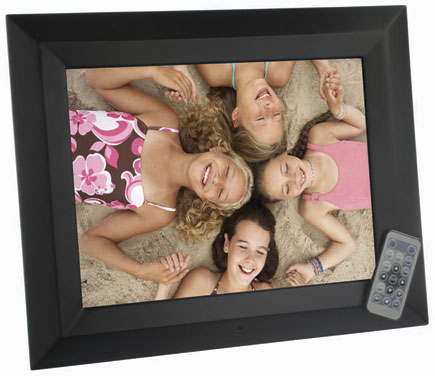 Sunpak 15" digital photo frame
ToCAD America/Sunpak division has a new line of digital photo frames in sizes from 3.5" (battery operated) to 20" with multiple screens for images and videos. New features for Sunpak digital photo frames will be a built-in motion detection system for instant on when a person enters a room; Bluetooth compatibility; and wireless remote control functions for most models. The Sunpak 3.5" digital wallet (leatherette) features a high-resolution TFT LCD panel with vivid colors, contrast, and sharpness (128MB memory and SD/MMC support). The 13, 15, and 20" frames support SD, MMC, MS, CF, SM, and xD cards. The Sunpak 7" frame supports SD, MMC, and MS memory cards and will be available with the motion sensor option.


FEATURED VIDEO