Show Report
PhotoPlus Expo West '99
Canon super-telephoto EF lenses with Imaqe Stabilizer.
Photos © 1999, Dave Howard, All Rights Reserved
PhotoPlus Expo West '99 was held this past June 17-19 at the Los Angeles Convention Center, which represents as centrally located a venue as possible for the far-flung denizens of L.A.'s urban sprawl.

Falling as it does between the camera megashows of PMA in early spring, PhotoPlus Expo East in late fall, and, on even-numbered years, photokina in the September/October time frame, the Western bash always, at least for us photo industry journalists, runs the risk of being a rerun. That it has fairly consistently produced its share of new products and surprises has always amazed me. This year, however, was a relative wash. Nearly everything else was warmed over PMA fare. Some items that were previewed at PMA were actually beginning to materialize on dealers' shelves, but brand-spanking-new goodies were few and far between. And of those few, even fewer manufacturers and distributors came prepared with the spec sheets and illustrations we need to show and tell their products to you, our readers.

Canon introduced a quartet of long lenses incorporating their hot optical Image Stabilizer (IS) technology. They are: EF 300mm f/2.8L IS USM; EF 400mm f/2.8L IS USM; EF 500mm f/4L IS USM; EF 600mm f/4L IS USM. If that's not covering the waterfront in terms of focal length choice, I don't know what is. Canon claims the world's fastest autofocusing speed and focus tracking for the lenses (with the EOS 3), achieved by improving the lens' drive algorithm to complement enhanced camera circuitry. Other features in common include: 17 element design, including one fluorite and two ultra low dispersion elements for superior imaging characteristics; tripod collar; magnesium-alloy external construction; carbon-fiber lens hood; AF stop buttons are useful when tracking moving subjects and a visual obstruction is encountered; a Focus Preset function allows instant recall of any memorized focus setting via a special "playback" ring on the lens barrel; mechanical manual focusing system avoids battery drain; 52mm drop in gel filter holder. Even with all the stem to stern improvements, it's the IS feature that will be the big attraction to most photographers. The two gyro sensors and 16-bit microprocessor in each lens allows shutter speeds up to two steps slower than without IS. Stationary and panning IS modes are provided, and IS is now applicable to tripod and monopod use. The lenses are lighter in weight than their predecessors, and dust and moisture sealing has been improved.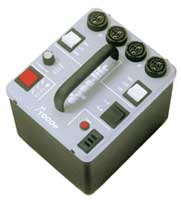 Dyna-Lite M1000e power pack.
Comet (distributed in the US by Dyna-Lite) introduced their CX-244Tc power pack, which features an output of 2400 ws and digital touch panel controls. Three channels can be used with symmetrical or asymmetrical light distribution through one to four heads, and each channel is independently variable. Other specs include: controllable recycling rate; dual synch cord sockets; audible ready signal; proportional modeling light control; built-in slave. Comet also showed the new CAX-32H variable focus flash head. It is rated for 3200 ws and features a bare tube design. A wide range of light control accessories is available for it.
Dyna-Lite has replaced their M800e power pack with a more powerful, yet smaller model, the M1000e. Providing a 1000 ws output, it weighs 6.6 lbs and measures 57/8x67/8x67/8", including the handle. The two channels can accommodate four heads, in symmetrical or asymmetrical configurations. Power is variable over a five stop range, and modeling lights can be controlled at the pack. The head cord sockets are arc protected.
Jobo Printlab Model 3504, a dry to dry, self-cleaning print processor that doesn't require a tempered water source.
Jobo was showing their recently introduced roller transport, tabletop Printlab processors, the most interesting of which is the top of the line Model 3504. It will accommodate paper up to a 12" width, which means 11x14" or 12" by whatever on 12" roll paper. It will dry to dry process RA-4, black and white, and Duratrans (drive speed is variable). Chemistry replenishment is automatic via infrared sensors, and the four 5 liter tanks feature airtight anti-oxidation lids. The unit doesn't require a tempered water supply; it has its own onboard heater, so only a cold water source is necessary, and there's no temperature monitoring required. Another neat feature is the built-in cleaning program; the processor automatically drains the working solutions into bottles for subsequent use, fills with water and runs the transport system, then drains the rinse water. A 230v power supply is required. The Model 3504 measures 38x24x17".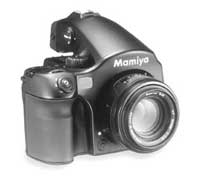 Mamiya 645AF, the latest autofocus 6x4.5cm pro SLR.
Mamiya was demoing their new 645AF, first brought to your attention by Bob Shell a few months ago. Expected on dealer's shelves in October, it should please a lot of Mamiya fans. A full test review will be forthcoming. This promises to be quite a versatile camera.
Norman M1200-P monolight.
Norman has introduced a unique new monolight, the M1200-P. Its "something different" touch is that it's the first monolight that can power a second, auxiliary lamphead. Dual digital controls allow independent lamphead control over a six stop range in 1/10 stop increments, monitored on dual LED displays. The switchable auxiliary is especially convenient when it is boom mounted. There are three power ratio options: 1200 ws monolight, aux off; 800 ws monolight, 400 ws aux; 600 ws monolight, 600 ws aux. This innovative monolight should prove popular for location portraiture; it is built for rugged duty use and accepts more than 100 Norman accessories. The M1200-P (Portrait) accepts Norman Series 500 lampheads; a companion M1200-C (Commercial) model accepts Norman Series 900 lampheads.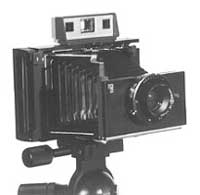 NPC has brought back the Polaroid 195 camera.
NPC had their recently introduced Proback Polaroid proofing backs for the Canon EOS 3, Leica R8, and Nikon F100 on display. They have also brought back the Polaroid 195 camera, now dubbed the NPC 195. Many small format photographers have missed this camera, preferring the full 31/4x41/4" prints to the smaller image area of Polaroid backs for 35mm and medium format cameras. The original features have been retained: Copal No. 0 shutter, with manual shutter speed and aperture selection; 114mm lens; coupled range-finder; compact folding design; full flash synch at all speeds. The only change is the film chamber; NPC has adapted the latest Polaroid CB-103 pack film holder for improved processing reliability.
Photogenic PL47FS focusing snoot.
Photogenic announced their new PL47FS Focusing Snoot. This device fits onto any Photogenic Powerlight, allowing a photographer to project interesting patterns onto an otherwise static background. The snoot uses standard 31/2" Rosco patterns, with hundreds to choose from. The patterns can be combined with colored gels for even greater variety. Those ordering before December 1, 1999 will receive three free accessory lenses (66mm, 106mm, 123mm) for the snoot. Photogenic also introduced their CL1000 light, a fan cooled continuous ("hot") light in a rugged aluminum housing; it accepts 3200K lamps from 400-1200w.
Tokina PRO 300 1.4x and 2x tele-converters.
THK had a couple of new high-performance tele-converters from Kenko, the PRO 300 1.4x AF and PRO 300 2x AF. They are designed to be used with telephoto lenses of 100mm or longer focal length, and are best in the 200-500mm range. They can also be used with telephoto zooms, but not those with a zoom range that starts under 50mm. These multi-coated, five and seven element converters employ super-low dispersion glass from Hoya, which matches prime lens optical quality, even at the edges. The optical design and wide light path avoid vignetting problems. Lens mounts and core are metal, to support today's heavy lenses and camera bodies. They are available in Canon EOS and Nikon AF-D mounts. There are a few Nikon AF-S/AF-I lenses that are not autofocus compatible, as well as a couple of Canon EF macros; check with THK or your dealer.

That's it from the pixel free sector; be sure to check out the digital scene elsewhere in this issue.
Digital Cameras At PhotoPlus Expo West '99
by David B. Brooks
New Kodak Professional DCS 660 Digital Camera. This newly announced digital camera from Kodak provides the high-resolution 6Mp (megapixel) of the well established DCS 560, now for photographers who are Nikon based, integrating the latest Kodak DCS capabilities in an F5 camera body. The DCS 660 provides all of the features of portability, use in all kinds of light and varied conditions, with the widest subject application, providing the high-performance color response and digital image quality of the latest Kodak technology. The DCS 660 may be used with any light source with adjusted film speeds from ISO 80-200, to capture 36-bit color images. Image exposure may be checked for accuracy with the patented histogram using the large LCD display. Image storage is convenient and unlimited with two PCMCIA card slots for removable media. The DCS 660 may also be used as a tethered to a computer studio camera with its FireWire connector, now supported by the new Power Macintosh G3 computer with built-in IEEE 1394 connectors. Continuous long-term operation is assured by removable batteries which can be changed in the field with extra charged cells. The DCS 660 will be available in July 1999 and has a suggested list price of $29,995.
Nikon Professional Digital SLR D1 Camera. The first thing to be seen approaching the Nikon booth at PhotoPlus Los Angeles was a D1 camera banner. D1 designates it's the new Nikon professional digital SLR camera. Sporting 2.74Mp capture with a 23.7x15.6mm CCD (about 65 percent of a 24x36mm frame) it provides a 1.5 lens focal length factor making viable use of existing lens selections. Targeted to photojournalism, this Nikon digital SLR offers the fastest, 4.5 fps burst rate for continuous shooting and an ultra short 0.05 sec shutter delay for responsive shooting of fast happening events. Image storage is via Compact Flash Card and rapid downloads are assured by a IEEE 1394 FireWire interface connector. Expected Nikon shooting control is incorporated including 3D Matrix metering and Dynamic AF focus operation. The D1 has the standard F-mount so the camera may utilize a selection of 80 different Nikon optics. Handling of the lightweight magnesium SLR body and its controls are consistent with the Nikon F5 and F100, although the D1 is new from the ground up.

However, the D1 will not be confused with one of its film counterparts with a large 2" TFT display to display captured images; check histogram for exposure accuracy and access camera control menus. The D1's 2.74Mp output translates to an image of 1324x2012 pixels. Quality of the digital image capture is assured by the use of an ultra-thin infrared filter just in front of the CCD element, as well as TTL auto/manual white balance, and Nikon signal processing. This all-new Nikon D1 digital SLR is expected to be available in September 1999 at a suggested retail price of $5580.
Fuji MX-2900 Zoom Digital Camera. It has not been that long since Fuji dazzled the PMA audience with their 2.3Mp, shirt pocket sized MX-2700. Now that that camera has just gotten onto store shelves Fuji is announcing another 2.3Mp digital camera, the MX-2900 Zoom. The MX-2700 is a cutely modern digital camera appealing to the point-and-shoot crowd, while this new, slightly up-scale model is a conventional camera configuration with a '30s retro style and manual capabilities that will appeal to serious photographers. This includes manual shutter and aperture control, selectable white balance settings for different lighting conditions, exposure compensation, and flash brightness adjustment. With its built-in pop-up flash there is a Slow Synchro mode which allows balancing the flash with low levels of ambient light. Metering is selectable between multi, which allows the camera to balance exposure for background and subject, as well as spot and average meter modes to select metering according to subject conditions.

Another enthusiast oriented feature is a flash hot shoe, which combined with the manual shutter and aperture control extends the MX-2900's versatility even further. The MX-2900 saves images to a SmartMedia card in one of three compressed image quality selections, or as 4.32MB TIFF uncompressed files. The camera is equipped with a 2" polysilicon LCD monitor for direct viewing and playback, and the optical viewfinder incorporates a diopter adjustment for eyeglass correction. The MX-2900 is powered by a lithium ion battery and the computer interface is USB for rapid image file downloads. The Fuji MX-2900 is expected to be available in August 1999 at a suggested retail price of $899.
Manufacturers/Distributors
Canon U.S.A., Inc.
One Canon Plaza
Lake Success, NY 11042
(800) 423-2366
(516) 488-6700
fax: (516) 488-6700
www.usa.canon.com
Dyna-Lite Flash Equipment (Comet)
1050 Commerce Ave.
Union, NJ 07083
(800) 722-6638
(908) 687-8800
fax: (908) 686-6682
www.dynalite.com
Eastman Kodak
343 State St.
Rochester, NY 14650
(800) 242-2424
fax: (716) 724-5629
www.kodak.com
Fuji Photo Film U.S.A. Inc.
555 Taxter Rd.
Elmsford, NY 10523
(800) 378-3854
(914) 789-8100
fax: (914) 789-8583
www.fujifilm.com
Jobo Fototechnic, Inc.
P.O. Box 3721
Ann Arbor, MI 48106
(734) 677-6989
fax: (734) 677-6963
www.jobo-usa.com
Mamiya America Corp.
8 Westchester Plaza
Elmsford, NY 10523
(914) 347-3300
www.mamiya.com
Nikon Inc.
1300 Walt Whitman Rd.
Melville, NY 11747
(800) 645-6687
(516) 547-4200
fax: (516) 547-0362
www.nikonusa.com
Norman Enterprises, Inc.
4800 Quebec Ave. N
Minneapolis, MN 55428
(800) 787-8078
(612) 537-3601
fax: (612) 537-2852
www.photocontrol.com
NPC Corp.
1238 Chestnut St.
Newton, MA 02464
(617) 969-3487
fax: (617) 969-4523
Photogenic
525 McClurg Rd.
Youngstown, OH 44512
(800) 682-7668
(330) 758-6658
fax: (330) 758-3667
THK Photo Products (Tokina)
2360 Mira Mar Ave.
Long Beach, CA 90815
(800) 421-1141
(562) 494-9575
fax: (562) 494-3375
www.thkphoto.com

FEATURED VIDEO