The Scrim Jim System; Light Control Via Diffusion And Reflective Panels Page 2
They are available in 3/4-stop and 11/4-stop black in all sizes and 1/2-stop white in all but X-Large.
Finally, there are 40Þ egg-crates for the Small and Large Scrim Jim frames to control spill from a light mounted behind them. Other egg-crates with 20Þ and 60Þ directionality can be special ordered.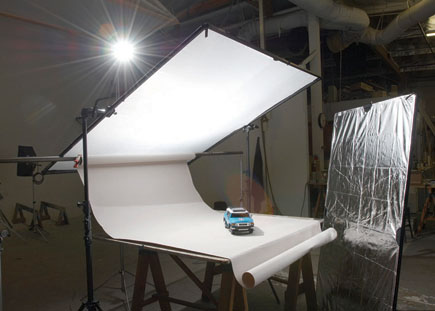 The lighting setup for the car photo. The frame holding the overhead silk is supported on the sides with Scrim Jim Clamps in Scrim Jim Grip Heads attached to light stands.
Putting It Together
Assembling a Scrim Jim takes only a few minutes. You slide the frame pieces into one another and they are held securely by friction. You stretch and attach the fabric to the corners with the sewn-in touch-fastener cord, then stretch and attach the sides of the fabric to the frame. Breakdown is the reverse of setup and just as easy.

Halfway down each side of the fabric there is a half-moon cutout to separate the fabric from the frame. For the Small and Medium frame, these provide a convenient place for an assistant to hold it for the shot. The larger frames are not rigid enough to be held without twisting, so these cutouts are used to clamp a Scrim Jim Clamp on opposing sides. The clamps slide into Scrim Jim Grip Heads that attach to a light stand and provide 360Þ of rotation. I was disappointed that the stud on the Slim Jim Clamp was so short. I wanted to suspend the Large frame with the diffusion silk over an 8-foot table, but came up about a foot short. I ended up using a smaller table and a half-roll of seamless for my studio shooting.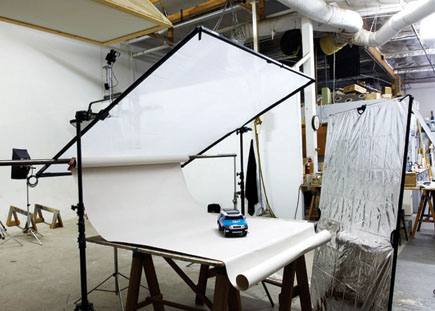 Another view of the lighting setup with a better view of the stands and clamps.
The Shoot
I used a Nikon SB-800 flash on a light stand above the scrim and triggered it with an Elinchrom Skyport radio slave. Exposure was f/8 at ISO 100 with a Nikon D2X. I tried both silver and white reflector sides on a Medium frame for fill light. I liked the result from the hotter silver side better. For the subject, the light quality is appropriate. For other subjects, heavier diffusion of the light source would be appropriate, for example with a portrait subject at midday.

Westcott offers kits in all frame sizes. Kits contain a frame, a 13/4-stop diffusion fabric, a silver/white reflective fabric, and a carrying case. Kit prices range from $265.85 for one with a Small frame to $686.40 for one with the X-Large frame directly from Westcott. The company also sells the full range of Scrim Jim components.

For more information, contact The F.J. Westcott Company, 1447 N. Summit St., Toledo, OH 43604; (800)-886-1689; www.fjwestcott.com.