Schneider Optics Intros New Schneider-Kreuznach Full-Frame 28mm Tilt-Shift Lens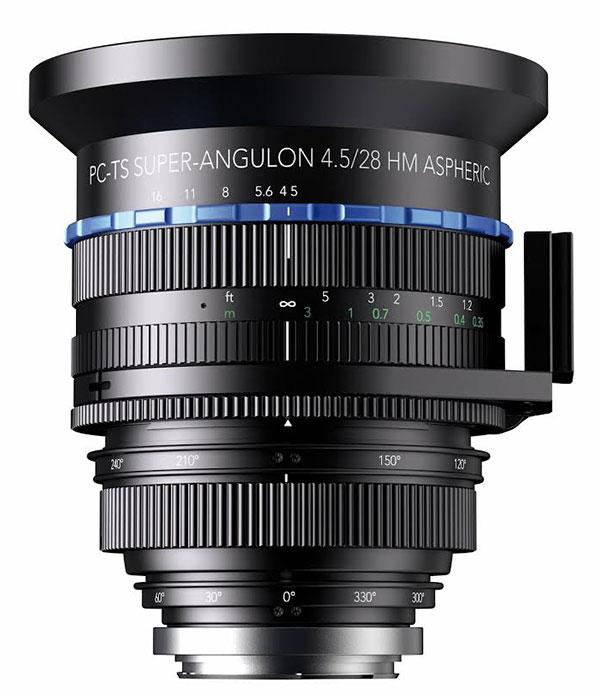 Schneider Optics has introduced a new tilt-shift prime lens created to cover the full-frame sensors of digital SLR cameras. Featuring a wide 28mm focal length, the Schneider-Kreuznach PC-TS Super-Angulon 4.5 / 28 HM Aspheric lens offers users an image circle of 72mm, making it ideal for landscape, architectural and industrial photography.
The new tilt-shift lens allows 12mm of lateral shift, 8 degrees of tilt angle, and 360-degree rotation for perspective correction. The mechanics allow the movements of the lens to operate independently, without distortion or degradation of image quality and resolution. This is designed to accommodated even extreme displacement, up to the edge of the coverage.
Designed to work with the latest DSLR camera models, this lens is available in Nikon or Canon mounts (or may be special ordered for Sony Alpha or Pentax). It comes with an integrated lens hood and is compatible with standard filters. Schneider Optics also offers PC-TS lenses in 50mm f/2.8 and 90mm f/4.5 for D-SLRs and 120mm f/5.6 for the Mamiya 645.
The Schneider-Kreuznach PC-TS Super-Angulon 4.5 / 28 HM Aspheric lens carries a pricetag of $8,288 and is currently available from Schneider Optics or Schneider-Kreuznach dealers worldwide.
More on Schneider Optics here.

LATEST VIDEO