Scarpati's Harmonious Portraits; Shooting Music Biz Folks Requires A Good Eye–And A Good Ear Page 2
That methodical approach stems from shooting with 4x5 early on. When clients expressed a preference for a greater variety of takes at a faster pace, Scarpati decided that change was necessary—to Hasselblad, with fixed focal length lenses mostly in the wide range, beginning at 30mm. The medium format also paved the way for him to shoot digital. Scarpati's first back was a 16-megapixel Kodak, but he soon progressed to the Phase One, which also introduced him to Capture One raw workflow software. Photoshop then takes over for image editing and compositing. He works with both desktop and notebook computers on various platforms. "As platforms change and software changes, you change with it," he adds.
Scarpati paints his own muslin backdrops, and he prefers them to be 30 ft long, so that they can be raised as high as needed, but mostly to sweep into the foreground and provide enough room behind the subject, so he can light the subject and background independently. The lighting for this shot of the group Mechanical Birds (on assignment for London Town Records) largely came from a large softbox overhead on a boom, directly above camera position and pointing downward toward the subject.

A Maxim To Light By
When it comes to shooting on location, "I have a van that's set up like a mini grip truck, complete with as many as four 2400 ws power packs and nine heads. I would much rather have some gear sitting there unused than be caught short. Or look at it this way: I live by the maxim, the light you leave behind is the one you'll need."

All his lighting gear is Speedotron, and all of it Black Line power pack-based strobe. He boasts that his Speedotron heads and packs have served him reliably all these years. More recently, Scarpati expanded his lighting to encompass quad heads, which stretch the limits of action-stopping capability with ultra-short flash durations.

He uses a heavy-duty Manfrotto tripod and three-way pan head to securely support his camera. Should he need to pull parts of one image to add to another for a final composite, he does so with the assurance that the camera has remained perfectly stationary for each exposure. That plus many of his shots are based on ambient conditions, which lead to fairly long exposures. On location, he may instead use a monopod, when feeling more adventurous.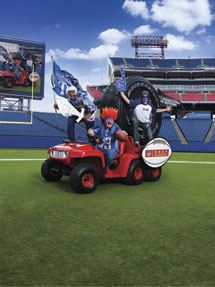 When working outdoors in an open football stadium, Nashville's LP Field to be exact, how do you control contrast? Scarpati cleverly tackled the problem when shooting this Bridgestone tire national ad. First he raised a rented 20x20-foot silk (a sheer fabric that reduces light intensity) over the "fans"—actually models. The silk was tied down and supported on stands that were weighed down with sandbags. Then he restored a measure of contrast with a medium softbox on a strobe head (to which a Lighttools grid was attached), with this light coming from the right.

His latest lighting tool is the Lighttools Egg Crate grid "for all my Chimera softboxes. These cloth grids give me tighter control over the light coming from these light banks." These grids did away with many of the cards used on set (and the stands they were attached to) when flagging light off various parts of the set. And that had the added benefit of reducing clutter on set. (For more info, visit www.lighttools.com.)

And sometimes the magic happens without any added lighting at all. In one situation, Scarpati scouted an old, abandoned metalworks factory. As soon as he saw the light hitting the entranceway, he knew he had the location. Then came a difficult decision, but he followed his instinct and shot the portrait of country artist Buddy Jewell in silhouette. He mused: "Sometimes you bring the light to a location, and sometimes you seize the light that's there and make it work for you."

LATEST VIDEO

SPONSORED VIDEO
Testing Tamron's SP 150-60mm G2 lens while capturing birds and alligators in Apalachicola, Florida.