Samsung's Digimax Pro815; Not For Pros, But For Everyone
Samsung's Digimax Pro815 features several digital camera firsts, including the world's longest optical zoom lens--and it's a Schneider, too--and the largest LCD preview screen. It's all wrapped up in a Mad Max-design that looks like a digital SLR, except it's not. The Digimax Pro815 is an 8-megapixel fixed lens camera that provides three ways of looking at images, including that big preview screen, an electronic viewfinder, and, shades of Franke & Heidecke, a waist-level finder.
Look And Feel
The 15x Schneider f/2.2-4.6 zoom offers the equivalent of a 28-420mm lens and when combined with the Pro815's 4x (mostly useless) digital zoom produces a combined zoom of 60x. The fixed lens has four low-dispersion glass elements designed to minimize chromatic aberration and two aspherical elements to correct spherical aberration and lateral color shift. There's no Image Stabilization per se, but the Pro815 automatically increases ISO sensitivity depending on ambient exposure and lens focal length. This system works surprisingly well and I was able to get sharp images handheld at the 420mm (equivalent) focal length.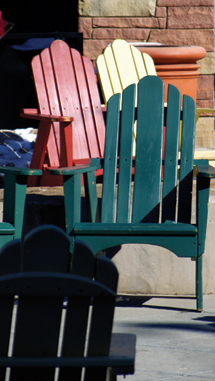 The Digimax Pro815 doesn't have an Image Stabilization mode, but when shooting at longer focal lengths (420mm here) the High-Speed mode automatically kicks up the shutter speed to help you make sharp images. Image exposure was 1/800 sec at f/4.6 with an ISO of 50.
All Photos © 2005, Joe Farace, All Rights Reserved
At 3.5" the Pro815 has the largest available LCD preview screen available on a digital camera--at least so far. The screen incorporates Samsung's TMR (Transmissive Micro Reflective) technology that's not as sharp as I would have liked but it's large enough to display 25 thumbnails, allowing you to quickly search for a desired picture. The LCD features a histogram for checking and adjusting exposure, and the ability to overlay a Rule-of-Thirds grid for image composition. A Review Shot mode lets you compose a new image while viewing an image just taken a la Picture-in-Picture on your TV. When making low angle shots, a 1.44" LCD waist-level screen displays a real-time preview or can alternately display shooting data. That big screen means big power requirements and the Digimax uses a chunky and proprietary lithium battery that's capable of providing enough power for up to 500 shots per charge, depending, of course, on your personal chimping habits.

In The Field
When capturing JPEG files, the Digimax Pro815 is responsive. Its start up and shot-to-shot speeds are 1 second and 1.3 seconds respectively and shutter lag is .05 seconds. The Pro815 uses a passive AF sensor to produce a fast AF speed of less than 1 second. The combination mechanical and electronic shutter captures JPEG images at up to 1/4000 sec in 2.5 fps (frames per second) or ultrahigh-speed continuous shooting that allows you to shoot up to 10 1-megapixel images per second. Single images can be captured at up to 5MB (3072x2304 pixels) and saved in raw or TIFF formats, although write time to the CompactFlash card is considerably longer with these files. Even when using a blazing fast 133x (with Write Acceleration) Lexar Professional 2GB card, the fastest raw capture took 12 seconds. TIFFs took longer. When the camera indicates it is "processing" the image nothing else happens, so you gotta wait.
This old barn was captured directly in monochrome using the Digimax Pro815's built-in Sepia mode at the 28mm zoom lens setting. Image ratio was 16:9 and exposure, in Program mode, was 1/500 sec at f/8.0 with an ISO of 200.
Like the Leica D-Lux 2 (Shutterbug, May 2006), the Digimax Pro815 lets you shoot using three visual formats: L (3264x2448), 3:2 (3264x2176), and HDTV's 16:9 (3264x1840). Unlike the Leica, whose maximum resolution is achieved in 16:9 mode, the Pro815 merely crops the full-size image to achieve the other formats. This is something you could always accomplish later using an image-editing program, but I found it convenient to capture 16:9 images in camera.

The Digimax Pro815 includes exposure settings options for Auto, Program, Aperture Preferred, Shutter Speed Preferred, Manual, and a gaggle of Scene modes, including Night, Portrait, Children, Landscape, Close-up, Sunset, Dawn, Backlight, Fireworks, Beach & Snow, and Text. In Text mode, you can shoot documents (shades of Alias' Sydney Bristow) and the camera compensates for distortion while photographing flat objects. Samsung bundles Digimax Reader text recognition software to extract that text and lets you save it as an editable document.

Continuing its kitchen sink approach to features, the Pro815 offers bracketing capabilities for exposure, focus, and white balance. Built-in white balance settings include Auto, Daylight, Cloudy, Fluorescent, Tungsten, and Custom. An Effects menu lets you capture images in Normal, B&W, Sepia, and Negative.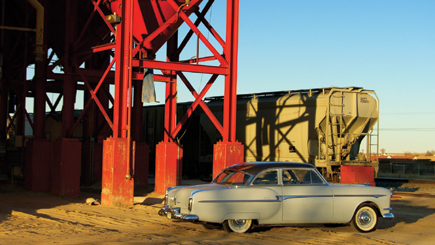 Shot on a location used in the Bill Murray film Larger Than Life this 1953 Packard looks at home. Focal length was 70mm and exposure was 1/500 sec at f/3.1 with an ISO of 50. The warm coloration was caused by the time of day the image was made, not Adobe's Photoshop.
The lens has an MF focus ring that permits direct manual focusing, allowing you to instantly switch from automatic to manual focusing. The camera's AF focusing modes include AF Lock, Continuous AF, and Select Area AF. For flash photography, shooters can utilize the Pro815's pop-up flash that offers multiple flash modes, such as Auto, Auto & Redeye Reduction, Slow Sync & Redeye Reduction, Fill, and Flash Off. Need a little more power? You can attach the optional SEF-42A (GN 42) flash to the camera's hot shoe.



LATEST VIDEO