Safari Luminations' Pro Lighting Kits; Mix And Match To Meet Your Needs Page 2
The Zebra 160/320 monolights offer 1⁄4, 1⁄2, and full power settings that are set via a sliding switch on the back that has click-stops for each setting. A knob, even if not permitting a continuously variable setting, would also make it easier for the fingernail challenged (no biting allowed!) among us to change power settings, but the design makes it impossible to accidently change power settings and ruin a shot by over- or underexposing. Other controls on the back include on-off switches for the modeling light and built-in slave as well as an AC/DC power selection switch. A Ready light on the back lights to indicate that the monolight is fully recycled and may or may not be visible from camera position. There's also a test button for test firing the lights to make sure they're synced for a shoot.
The back of the monolight also has a place to plug in a sync cord but I tripped the Zebra lights using Booth Photographic's (www.boothphoto.com) wireless Flash Waves transmitter and receiver (see the October 2008 issue of Shutterbug). The handle on the back of the monolights that can be used for carrying or aiming the monolight also provides a perfect cradle to rest the receiver. I snugged it in place with a wire wrap just in case… The cord connecting the Flash Waves receiver to the monolight uses a standard phone plug connection and the Zebra lights, as is a trend today, uses a mini-plug sync connector. I found a phone-to-mini adapter in my junk box but if you don't have an adapter RadioShack does. Yes, you can always use the sync cord that Denny includes and that's not a bad idea for new shooters but even they will quickly discover that having wireless flash control makes the session smoother by providing you the freedom to move about untethered.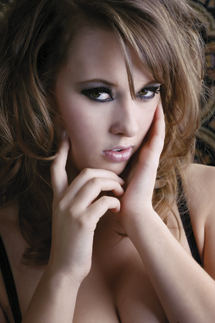 I used the same lighting setup for this color headshot as I did for the rest of the session with Kristen Elise that featured mostly 3⁄4-length poses. Exposure was 1⁄60 sec at f/11 and ISO 125. A Zebra 320 with softbox attached was placed at camera right. Another Zebra 320 was at camera left with the 36" white umbrella attached. Both monolights were set at 1⁄4 power. A Zebra 160 with barn doors attached was placed at right rear to accent the model's hair and was set at 1⁄2 power.
© 2009, Joe Farace, All Rights Reserved
Output for the three lights was impressive. In my initial test shots, using the three Zebra lights configured as I mentioned at the beginning of this review, I was able to achieve a measured f/11 with all three lights set on 1⁄4 power at ISO 125 as measured by my Gossen Luna-Star F2. And while my wish list for the next generation of Zebra lights would include continuously variable output control, I didn't miss it. Recycle time at 1⁄4 power for the Zebra 100 is rated at 1-11⁄2 seconds and the Zebra 160 is 1 second, but I found that when quickly photographing an enthusiastic model you can easily outshoot the lights when pushing that 1-second recycle time. Using a safer interval between exposures of 2 seconds or maybe 1.5 (EXIF data does not show fractional) seconds should be no problem to obtain fully charged lights and consistent exposures.

I tested the Safari Luminations Pro Light Kit more exhaustively than any other lighting system that I've used in a long time, photographing more and longer sessions than I typically do for a couple of reasons: first, these lights are more fun to work with than any similar priced or even more expensive systems that I've used in a long time. Second, the quality of the results from my initial test results produced a higher "wow factor" than I've experienced from any similar two- or three-light kit. All of the components of the Pro Light Kit are rugged and should provide many years of professional use. The equipment is easy to set up and just as easy to knock down and pack in the included cases. Put that all together and it spells high value and in these times that's also an important part of any equipment purchasing decision.
A New Kind Of Background
Denny Manufacturing is famous for their backgrounds and Mary and I have used Denny canvas backgrounds for studio photography since 1982. After moving out of a permanent studio, I sold all of our canvas backgrounds because they took up too much space and began using muslins, but I missed the color and style that "real" backgrounds provide. We recently had a chance to see their new Freedom Cloth backdrops that feature bold and stylish designs while folding and unfolding—wrinkle free—into a traditional background. One nontraditional aspect is the use of brass grommets at the top of the backdrop that lets you support it using shower curtain hangers on any background stand. Mary is always changing shower curtains so it was easy to find an extra set of low-key rings to hang the Garden Pattern backdrop that Denny provided. While not inexpensive, Freedom Cloth backdrops are the ideal solution for the location photographer or the shooter who lacks a permanent studio. They are beautiful, store in little space, and open virtually wrinkle free. The truly picky (you know who you are) might want to use a small hand steamer to knock out any pesky wrinkles but they will be small and only appear after long storage or less than careful handling. As with all backdrops, prices vary by size. Click the "About Us" tab on Denny's website and download a catalog PDF file that shows all of their amazing backdrop designs and prices
.© 2009, Joe Farace, All Rights Reserved
For more information, contact Denny Manufacturing Company, Inc. at: www.dennymfg.com.

LATEST VIDEO

SPONSORED VIDEO