On The Road: Montana; Big Sky Means Big Photography
"It is pleasant to have been to a place the way a river went."—Henry David Thoreau
In recent months I've devoted this column to various themes and this month have expanded that concept to include geography. All of the photographers featured this month are located in Montana, the Big Sky state, which I think has some of the most spectacular scenery here in the lower forty-eight, as their photographs clearly demonstrate. What state should I feature next? Drop me an e-mail at: joefarace@gmail.com. In the meantime, you can follow me on Twitter (www.twitter.com/joefarace) to get daily updates on what's new and exciting in the world of digital imaging as well as some useful photographic tips.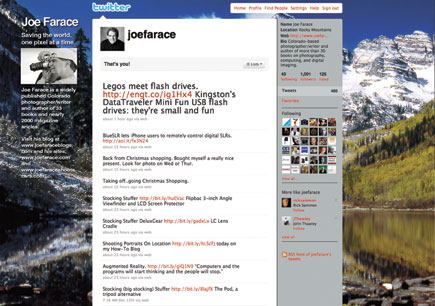 www.allenrussellphoto.com
Allen Russell lives and works out of his ranch west of Livingston, Montana. His site is entitled "Life in the American West" and is filled with images of the West showing contemporary lifestyles as well as nostalgic images that echo "the bygone days of yesteryear." His photographs are collected in two portfolios with images displayed in small thumbnails on the right with a larger picture window to the left. Click on the "Image Info" to get detailed information about the locations where a particular photograph was made and sometimes exactly what was going on.

For example, the dramatic action photograph of a Native American warrior crossing the Little Bighorn River on horseback was made on the Crow Indian Reservation as part of a Custer's Last Stand Reenactment. Russell's color photography shows he can handle documenting the daily work on a ranch while seamlessly shifting to artistic images of galloping wild horses and sensitive portraits of Native Americans in traditional dress. And when he sets his mind to making landscape photographs they are spectacular in their simplicity and elegance of composition, weaving colors into the overall images in an almost musical way. I only wish there were more of these kinds of images on the website. There is a tradition in the West of the "cowboy poet" and his work makes Allen Russell a true "cowboy photographer."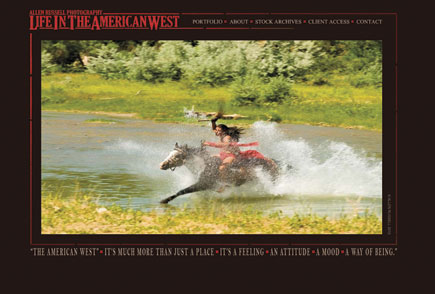 www.jessicalowry.com
Jessica Lowry's cleverly designed and easy to navigate site is a perfect showcase for this talented photographer's work. Her galleries include five different topics ranging from travel to people and allow you to view individual images or an entire collection as a slide show. In Travel she follows a photojournalism path, pausing occasionally to inject some landscape images of unquestionable beauty. None of the photos have captions so just turn slide show mode on and enjoy the ride. Her Food gallery covers the spectrum from tasty-looking traditional studio food photographs to a striking American Gothic portrait of some of the growers of the food we eat. Lifestyle has some graceful photographs of fly fishing as well as skiing images that would not be out of place in her Sports gallery which itself contains a potpourri of various individual and team sports photographs.

Her People gallery includes photojournalistic, environmental, as well as some creative contemporary portraiture showing how versatile Lowry is and how she effortlessly handles whatever people assignment comes her way. Don't miss her portrait of the golfers that shows she also has a great sense of humor. Be sure to visit Jessica Lowry's blog "One Frame at a Time" to see what she's been up to lately.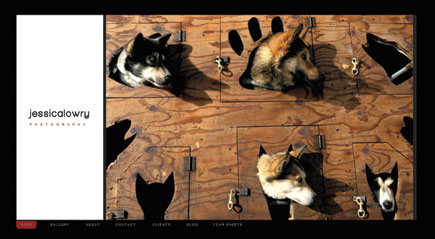 LATEST VIDEO

SPONSORED VIDEO
Testing Tamron's SP 150-60mm G2 lens while capturing birds and alligators in Apalachicola, Florida.