The Right Lights: Our 9 Favorite Lighting Tools & Accessories
"Lighting is really common sense and personal observation. This is applied to a few rules of photography which cannot be broken and to others which I tend to bend a little." —Paul Beeson
In contemporary lighting equipment there are trends and there are fads with some gear seemingly having equal parts of both. And they just aren't boxes of light anymore; they are lightsabers, small studio lights with big output, and everywhere you look it's LED lighting in every size, shape, and price. Today's imaging trend of hybrid photography combining video and stills means that continuous lighting gear is going through its biggest resurgence since Ross Lowell invented the Tota-light. That's because continuous lighting lets you see shadows and highlights on a subject before clicking the shutter and because this kind of light source can sometimes be inexpensive, it makes a good starting point for budget-minded photographers.
But electronic flash isn't going away any time soon. Higher output monolights, powered by AC or DC with battery options, are becoming more popular. Manufacturers of power packs and flash heads offer individual units that can be mixed and matched in combinations to suit your specific needs. And while speedlights promise more power from compact sources, the technology from speedlights and battery-powered monolights are blending together to form yet another option. Put it all together and photographers have more lighting choices than ever before. Here are a few of my favorites.
Big Light Is Soft Light
The lighting genius of the late Paul C. Buff lives on in new products from his company. The FOB60 Foldable Giant Octabox ($199) is a 60-inch octagonal softbox that uses umbrella-style construction. It features a translucent white front diffusion panel, a double-layered interior with soft white over reflective silver fabric, an extra internal baffle for double diffusion, and a built-in speed ring that's compatible with all Buff flash units. The Octabox has a recessed front lip for holding the optional ($64) G60 grid.
The newly redesigned CST2 CyberSync Trigger ($59) is a hot shoe-mounted transmitter offering wireless triggering for any Paul C. Buff flash that's equipped with a CyberSync receiver. With 16 frequencies, the CST2 can fire the flash units at distances from up to 350 feet. The transmitter has a spring-loaded hot shoe contact, reduced power draw, and uses a lithium CR2032 battery.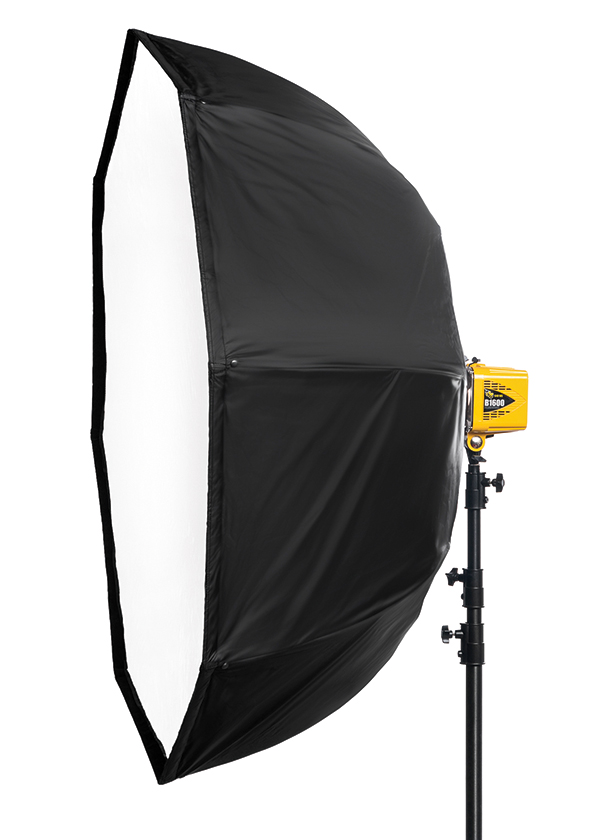 Who's It For: Any photographer who likes to shoot with soft light. And who doesn't like softer lighting?
Why I Like It: Bigger isn't always better, but when it comes to softboxes, it sure is. And in an octabox, bellissima.
Everybody knows that big light sources are soft light sources. Photek's OB-140 55-inch Octabank ($134) broadens and softens your flash's output, producing light with manageable contrast and open shadows. The Octabank has a high output silver interior with a removable front and interior diffuser. Like all octabanks, Photek's produces wrap-around light quality that creates natural catchlights in a subject's eyes, making it a good choice for fashion or portraits. The Octabank includes a universal adapter that supports the unit's rods but may require an optional speed ring for your particular flash.
Who's It For: Any photographer who wants to shoot with soft light. And that's many of us.
Why I Like It: Photek is a nice company that makes nice affordable products.
Speed the Speedlights
It's no secret that some photographers are switching to mirrorless cameras because of their compact size. Why not a compact speedlight, too? Nissin's palm-sized i60A ($339) weighs 10.8 ounces and works with Canon, Fujifilm, Nikon, Sony, and Micro Four Thirds systems. Although compact, the i60A has a Guide Number of 60 at ISO 100, can be connected to an external power source to reduce recycle times, and supports high-speed sync up to 1/8000 second. The zoom can be automatically or manually adjusted from 24mm to 200mm. The head rotates horizontally 180 degrees to the right and left, and tilts up 90 degrees. The i60A even has a video light function with nine steps of output, with the whole megillah operating on four AA batteries.
Complementing the speedlight is the Receiver Air R ($69) that when used with Nissin's Air 1 Commander ($79) allows full TTL, manual output, and zoom positioning. It even works with other manufacturers' speedlights. The device uses 2.4GHz radio transmission, providing coverage up to 98 feet. In case of signal interference on the same channel, radio transmission IDs give each device a unique identity to prevent misfiring.
Who's It For: Mirrorless camera shooters looking for more power in a compact flash.
Why I Like It: Nissin has always built interesting speedlights and I think embracing the mirrorless revolution is a smart move.
The Sky's the Limit
Elinchrom's EL-Skyport Transmitter Plus ($89) is the latest evolution of their wireless radio triggers. It provides an extra range of triggering with remote power control for Elinchrom units from up to 656 feet away. The EL-Skyport Transmitter Plus has a swivel design that lets it rotate to optimize reception. It works with up to four groups and includes an "all" selection. Sixteen different channels are available; eight in Normal mode and eight in Speed mode for leaf shutter cameras. The EL-Skyport Transmitter Plus has a metal hot shoe connector with screw lock, a 2.5mm sync socket, and uses AA batteries.
Who's It For: Elinchrom shooters who want optimum wireless performance from their gear.
Why I Like It: It's affordable, Swiss made—cue Orson Welles's speech from The Third Man—and a set that includes an EL-Skyport Transmitter Plus and an EL-Skyport Receiver Plus only costs $139.
May the Force Be With You
Westcott's Ice Light 2 LED light ($499) is 50 percent brighter than its lightsaber predecessor while maintaining an identical (21.6x7.5 inch) form factor. It has a color-accurate CRI output of 96 with 10-step dimming that's accessed via the built-in digital display Skywalker-like handle. The light has a USB port and built-in Bluetooth technology for wireless control via a new iOS app that lets you control multiple Ice Light 2 units from up to 100 feet away. Options include a ($49) set of barn doors. The removable lithium-ion battery gives you 60+ minutes of runtime and you can charge a backup outside the fixture. The ergonomic shape lends itself to handheld use but there's a 1/4-20 thread at each end for light stand mounting. The Ice Light 2 comes with gel clips, a battery, a 100-240 VAC power supply/charger, a cord storage bag, and a carrying case.
Who's It For: Shooters looking to add something unique to their next portrait session.
Why I Like It: It's still a bit pricey but the Ice Light 2 adds fun to any portrait session.
Get the Point?
Flashpoint's R2 wireless radio flash system includes five products that are compatible with Canon and Nikon cameras with Sony available real soon now. The R2 system uses a 2.4GHz radio to control Flashpoint lighting products, permitting channel triggering and group mode selectivity with LCD panels displaying the status of all compatible lighting tools. Flashpoint's XPLOR 600 TTL monolight ($724 to $749, depending on camera) is powered by an 11.1-volt lithium-ion 8700 mAh battery capable of over 450 full-power flash bursts from a single charge.
The monolight can be adjusted over nine stops from 1/256 to full power in 1/3-stop increments. Recycle is from .01 to 2.5 seconds and it has a built-in fan to keep the unit cool. It offers stroboscopic flash, first or second curtain sync, an LED modeling light, and upgradable firmware. The XPLOR 600 TTL can be triggered using a built-in wireless receiver and transmitter, Canon and Nikon speedlight optical systems, corded sync, or optical slave. The monolight has a Bowens mount for accessories and speed rings.
Who's It For: Flashpoint monolight users looking for a big step up in capabilities.
Why I Like It: Thoroughly modern monolight that's moderately priced.
LED Plus Flash Equals Anova Pro
While not unique in offering both LED continuous lighting and flash, Rotolight's Anova Pro is nonetheless the most professional application of this mixed mode technology. The Anova Pro starts with a Bi-Color LED system using Rotolight's AccuColor technology that delivers a CRI of 96+ via dual controls for tunable color, essentially dial-a-color temp. It delivers 6545 Lux at three feet, while using 94 percent less energy than a tungsten bulb. The Pro model retains all of Anova's features, including True Aperture Dimming that calculates and displays the correct aperture for your subject. For hybrid photography, the Anova Pro borrows the CineSFX features of its sibling Neo. (See my review of Rotolight's Neo on Shutterbug's website.) The Flash Sync feature synchronizes an Anova Pro to your camera's shutter for a traditional photographic workflow all while maintaining those continuous LEDs as a modeling light. The Anova Pro will be available in three models (Standard, Ultra Wide, and Fixed Color) with prices starting at $1,499.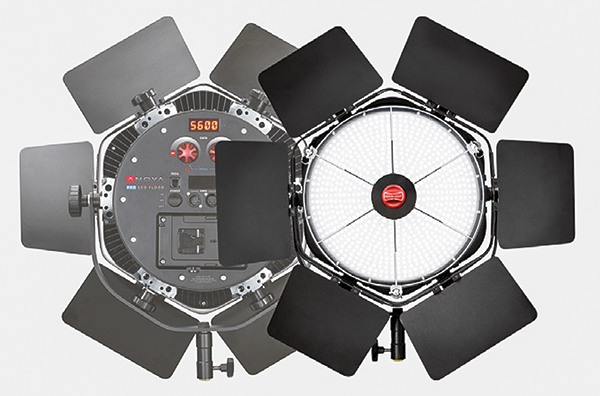 Who's It For: Photographers who want the flexibility of using flash or continuous lighting, all in one unit.
Why I Like It: It's the best of both worlds, so what's not to like?
The Beauty of the Beauty Dish
It's no secret that transporting a typical hard-shell beauty dish is a problem; mine has never left my home studio's closet. Profoto offers a collapsible, 24-inch OCF Beauty Dish ($179) for its B1 and B2 heads that takes up no more space than a folded umbrella. In traditional beauty dish fashion, light bounces off a deflector and is directed outward to the edge of the beauty dish. Silver or white versions are available and, to produce a softer look, the beauty dish comes with a front diffuser. Setup is a snap but requires an optional ($99) speed ring that accepts supporting rods before they are tensioned and then you just snap them into place for setup.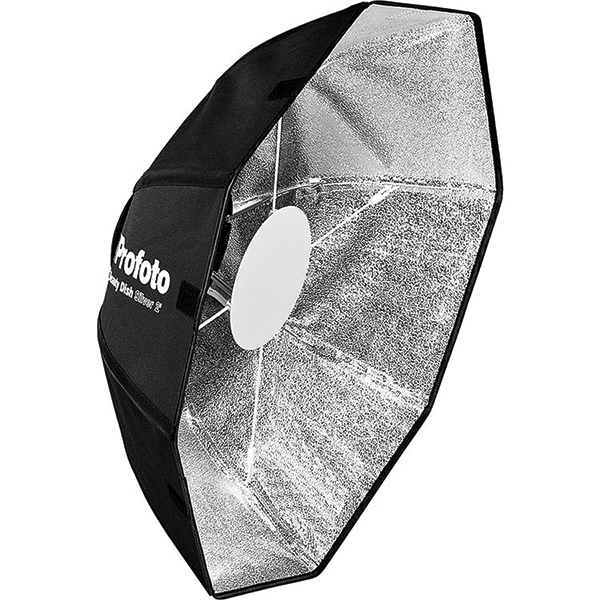 Who's It For: Location shooters who want to use a beauty dish without the drama.
Why I Like It: Like all Profoto gear, it's built to a standard, not a price point.
Sometimes the Classics Are Best
Photogenic's Matrix MCD400R monolight ($339) has a flash power output of 400 watt seconds, a 150-watt modeling light, and recycles in from 0.4 to 1.7 seconds. The Guide Number at 10 feet and ISO 100 is 160 with the included seven-inch reflector and 80 without. It has a range of six stops adjustable in 1/10-stop increments. At only 4.9 pounds, the monolight is compact and relatively lightweight for its output, making it useful for traveling and setup. Controls are accessed via a digital control panel with an audible on/off flash indicator. The integrated radio receiver works with the included 16-channel transmitter. A fan keeps the monolight cool with other safety features, including overheating and overcharging protection. The MCD400R is available as a single light or in two- and three-light kits.
Who's It For: Shooters who want raw power and rugged, bank vault construction with modern styling.
Why I Like It: Nostalgia. Back in the 1980s when Mary and I started our studio, Photogenic lights were the go-to light for the classic portrait photographer.
Joe Farace uses a variety of different kinds of lighting equipment to shoot portraits, glamour and boudoir photography, including LED and studio flash, although he tends to be thrifty in his selection of gear. Information about the equipment he uses to create images for Shutterbug and his personal photography can be found at joefaraceblogs.com and mirrorlessphototips.com. Just click the "Gear" button.

FEATURED VIDEO