The Ricoh RDC 7
Form And Feature Beat Function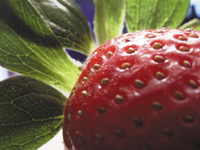 Photos © 2001, Ingrid S. Krampe, All Rights Reserved
The Ricoh RDC-7 is a compact, sleek, little 3.3 megapixel camera with very sophisticated professional features (it can shoot up to a 13.5MB still-image file), in a prosumer point-and-shoot body. We took the Ricoh RDC-7 on a recent working/vacation to Florida, and first impressions were very favorable, although we later discovered it suffers from a bit of an identity crisis.
Weighing only 9.5 oz (without the battery) and with measurements of around 5x3x1", this sleek (yes, I said it again) camera fits snuggly in just about any pocket, yet its metal alloy body felt solid in my hand. Rather than being exposed, the monitor screen folds out--like a little laptop computer monitor--and then folds back in, keeping the screen well protected. This is a feature other digital prosumer camera vendors may want to look into, because I'm sure we're not the only ones that have inadvertently scratched an LCD screen by simply placing it into the camera bag along with our traditional equipment.
First and most obvious, this camera is easy to use, intelligently organized and intuitive--the dials and menu layout truly make sense. And it can do a little bit of just about everything. Ricoh refers to the RDC-7 as an image-capturing device, and with good reason. A mode dial on the back of the camera allows the user to switch instantly between still, continuous, moving picture, text, and audio capture modes, as well as review.
I loaded the battery prior to our departure, and within minutes of taking the camera from the box I had captured an image of my co-conspirator (Gary McGinnis), who was driving, shot a continuous series of the highway speeding by, and grabbed several seconds of moving pictures with sound. The "video clip" was of my teen-age daughter sprawled on the back seat holding up her hand and demanding, "Don't take my picture, I'm trying to sleep." (This was of particular fun, because she did not realize until much later that the camera was on "moving picture" with sound.) I finally had to quit tormenting everyone when the battery quit, and Ricoh may want to consider an optional cigarette lighter charger.
Based on experience with other consumer-type digital cameras, the autofocus was quite fast, because Ricoh employed both external passive and CCD autofocusing in the RDC-7, which not only accelerates focusing, but also enhances performance in dimly lit situations. (Most digital camera vendors only employ the CCD autofocusing.) The camera features an easily controlled zoom that ranges from 35-105mm (35mm equivalent)--adequate for many shooting situations.
The camera also sports an amazingly close Macro feature that focuses less than a half-inch from the subject. When using the Macro feature, however, it is not possible to use the viewfinder, because there is a wide margin between the field of view and the shooting range. (Shooting in Macro mode requires framing the image through the LCD monitor or by connecting the camera to a television set.) This posed difficulty when shooting outside, because it is virtually impossible to view images on the LCD monitor in moderate to bright sunlight. The monitor does offer a five-level brightness adjustment, which I came to view with mixed feelings. Although it adjusted the viewing capabilities somewhat, it was not sufficient to make viewing easy in many outdoor situations and it added confusion as to what the exposure really looked like.
Despite this limitation, I was determined to get a shot of a yellow rose in the hotel's flower garden, and proceeded to bring the camera in close, checked to see if the image filled the frame (I could just barely make out the edges), and then I clicked it. This process did not allow me to examine composition, so Macro mode may be better left to indoor shooting.
I liked the RDC-7's internal 8MB memory--an excellent option in any digital prosumer type camera. It's kind of like having a back-up roll of film in case you run out. However, don't expect to rely on it as your primary storage option. Although the RDC-7 has the ability to capture as many as 165 images in its 640x480 pixel, economy compression setting (in the internal 8MB memory), chances are you wouldn't want to use these low-res files for anything but Internet applications. The RDC-7 accepts 2 to 64MB SmartMedia cards and a simple click of a button on top of the camera switches storage options from card to camera.
You can easily select resolution settings by pushing the PIC button on top of the camera and reading your selection on the small LCD screen next to it. All three resolution settings: 640x480, 1024x768, and 2048x1536 are available in Fine, Normal, and Economy mode--offering a choice of file sizes from 40KB to 6MB in non-compressed mode. When switching between modes, the top LCD automatically adjusts the "roll count" informing the user how many images are available in the selected mode and storage media.
If you're looking for more resolution (lots more) the RDC-7 has got it--but you're going to have to program it with the Menu key, just below the LCD monitor screen on the camera. That's where you can select from three PRO settings: PRO, PRO-L, and PRO-H. PRO mode "uses a Ricoh-developed interpolation algorithm that eliminates 'jaggies,'" while it increases the resolution to a formidable (hardware extrapolated) 7 megapixels. The other two PRO modes can only be used for still photography, because they actually increase file size by exposing the image twice. PRO-L mode shifts the CCD after the first exposure, and according to Ricoh, boosts resolution and increases definition by 20 percent without increasing file size. PRO-H incorporates both PRO and PRO-L features, resulting in a 13.5MB file size.
After our journey, we took the time to test all of the PRO modes using a plate of brightly colored fruit as our subject. The process was a bit slow (by prosumer imaging standards) because composing on the LCD screen was difficult and processing times increased by around a minute for each frame. We downloaded the images via a USB cable and used the optional AC adapter in case of battery failure during transmission.
Results were printed on 8.5x11" paper with an Epson Photo Stylus 875DC printer, and for the most part I was quite pleased with the results. The difference between the highest prosumer resolution (2048x1536 pixels) file and each PRO mode was small and progressive and mostly noticeable in the lightly colored kiwi. However, my only real disappointment in reviewing the results was (once again) related to the LCD monitor--the small natural flaws in the fruit, which appeared larger than life in the print, had not been discernable on the LCD screen.
We used the RDC-7 with a 16MB SmartMedia card because using the Normal or Fine compression, 2048x1536 resolution setting will allow you to capture only 6 to 13 images, respectively, on the internal 8MB memory. Although the camera worked okay outdoors (when using the viewfinder), I was disappointed by the flash capabilities in particular in indoor situations. According to the manual, maximum flash range is 8.2', which was not adequate for many indoor shooting situations. The Flash power can be adjusted to Strong, or Soft from the default Normal setting, and we also adjusted the default ISO 150 equivalent to 200 and 400, and then started looking for a hot shoe. There wasn't one.
This surprised me, although I may just have been thrown off by the knowledge that Ricoh provided the RDC-7 with a formidable resolution capability, and expected pseudo-professional flash support. Of course, the Ricoh does not profess to be anything but a prosumer point-and-shoot--with several outstanding features. It is a versatile capture device that can do a little of everything, as well as a lot of some things--even if it might need just a little bit of maneuvering.
For more information contact Ricoh USA; 408-944-3310; www.ricoh-usa.com.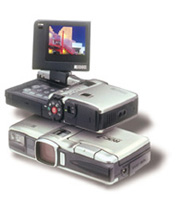 Technical Specifications

CCD Resolution: 3.3 megapixel CCD
Viewfinder: Real image/.81-.3x magnification with -2 to +1 dpt. Parallax Correction
Monitor: 2", 200,000 pixel, TFT Active Matrix System
White Balance: Auto/Preset (Daylight, Cloudy, Tungsten Light, Fluorescent Light)
Operating Modes: Still Picture, Text, Continuous, Moving Image, Audio
Resolution: Still--2048x1536, 1024x768, 640x480, 3072x2304 (PRO), Text--2048x1536, 1024x768, 3072x2304 (PRO), Moving Pictures--320x240
Compression Modes: Fine, Normal, Economy
File Sizes: 2048x1536 (280KB-6MB), 1024x768 (88KB-1.5MB), 640x480 (40KB-640KB), PRO (648KB-13.5MB)
File Formats: Still Picture--Compressed: JPEG (Exif2.1), Non-compressed: TIFF (Exif2.1) Text--TIFF (G4MMR) Moving Image--AVI (conforms to Open DML Motion JPEG format), WAV (Exif2.1)
Lens: f/2.6-3.4mm, 7.3-21.9mm (equivalent to 35-105mm in 35mm)
Macro Feature: .4-9.4"
Focus: Auto 9.4" to infinity
Light Metering: Center-weighted, TTL-CCD
Manual Exposure Compensation: +-2.0 EV (in 0.5EV increments)
Shutter Speed: 1/1000
ISO Equivalents: 150 (Auto mode), 200, 400
Flash Range: 2-8.2'
Flash Modes: Off/Forced flash/Slow synchro/Auto/Redeye reduction
Internal Memory Capacity: 8MB
Media: 2, 4, 8, 16, 32, and 64MB Capacity SmartMedia Memory Cards
Power: 5v AC adapter, 3.7v rechargeable lithium ion battery
PC Connectivity: RS-232C/AUX/USB
Video Signal Protocol: NTSC/PAL
Dimensions: 5.3x2.9x1"
Weight: 9.5 oz
Standard Package: Digital camera body, lens cap, Ricoh software CD, serial cables, USB cable, rechargeable lithium ion battery, battery charger, AV cable, wrist strap, soft case, instruction manual, warranty card
Price: $899
Optional Accessories: Remote control DR-3, Floppy disk adapter FS-B10, AC Adapter AC-3, PC card adapter FS-B53, SmartMedia memory cards (8, 16, 32MB)

LATEST VIDEO