RESTORE Old Photos INSTANTLY with Photoshop's NEW Neural Filter (VIDEO)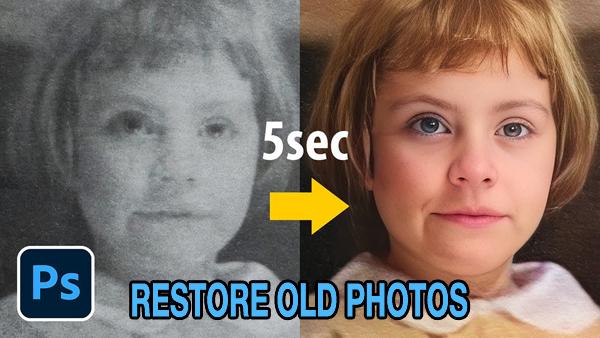 Photoshop's Neural Filters have revolutionized the way we edit images, enabling us to accomplish tasks in an instant that used to require very advanced skills. And there's an amazing new kid on the block, the Photo Restoration Filter, that delivers magical results.
If you're like most photographers, you have boxes of old photos—many of which look pretty bad. And because family and friends consider you an "expert," you've probably been asked to repair their scratched and faded photos too.
Thanks to Adobe, you'll be able to maintain your so-called expert status, even if retouching damaged photos isn't really your thing, simply by watching the tutorial below from the PIXimperfect. Internationally acclaimed expert Unmesh Dinda has over four million subscribers on his instructional YouTube channel, and he demonstrates how to repair old photos with a few quick clicks.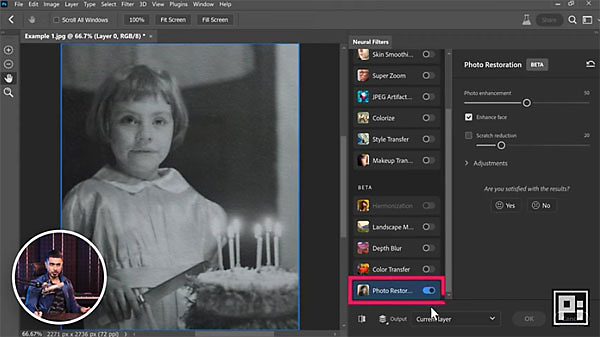 In just 12 minutes Dinda explains how to access Photoshop's new AI-powered Photo Restoration Neural Filter, and demonstrates how it works. He also reveals a few limitations and provides the workarounds required.
All that's necessary to get started is to open Photoshop's Neural Filters panel, turn on the Photo Restoration option, and make sure the Enhance Face box is checked. If your goal is to both repair and colorize a b&w image, simply check the Colorize box too. Once you've done that, the magic begins.
As you'll see from Dinda's before-and-after images, simply doing the foregoing instantly creates a wonderful starting point, and you may want to stop there. But there's more you can accomplish almost as easily with a few quick adjustments.
The key to going beyond automatic default settings is understanding how to use a few sliders, and Dinda discusses the pros and cons of different options. He also explains what you need to know for eliminating ugly scratches
After watching the video and experimenting with a few old "hopeless" photos, and marveling at the dramatic results, head over to Dinda's YouTube channel where you'll find more tips and tricks.
Then check out the tutorial we posted from another image-editing expert, explaining how easy it is to use Photoshop's powerful Blend If tool to fix landscape photos that need work.