Restore Old Photos with 1 Click in Photoshop (VIDEO)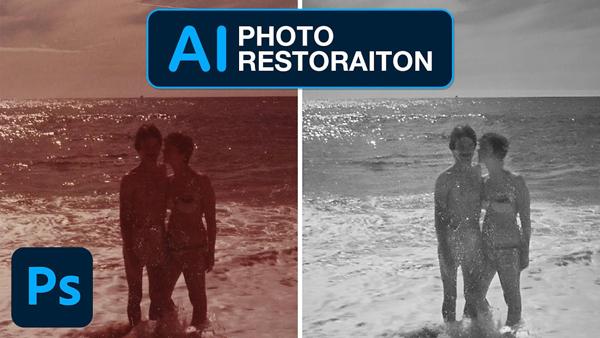 Sooner or later you're going to dig through old boxes of family photos and do your best to restore those tattered, faded, color-shifted memories. You may deny it, but trust us—it's definitely going to happen.
If you've been avoiding this chores for years, we have some really good news: Today's Photoshop isn't your father's image-editing tool, and you can now accomplish what was once a tedious chore, and automatically restore old photos with one click!
Adobe has been hard at work, focusing on artificial intelligence (AI) to make editing tasks remarkably fast, easy, and effective. All this is thanks to the amazing power of Photoshop's new neural filters—with the Photo Restoration and Colorize filters being prime examples.
To access Photoshop's new AI Filters it's important to update to the latest version. New for 2022, this sophisticated technology will automatically analyze your photos, look for common imperfections, and quickly remove wrinkles, dust, scratches, and discoloration—all while you're sitting back enjoying a morning cup of coffee.
In the tutorial below from Phlearn, an instructional channel devoted to Photoshop and Lightroom, you'll learn how to harness the power of the Photo Restoration Filter to fix old images faster than you can say "Photoshop 22." Just don't tell your relatives about this tool, otherwise they'll ask you to fix their old photos too.
Instructor Aaron Nace has been teaching Photoshop for over 10 years, and thanks to AI this particular task couldn't be easier. He explains how Neural Filters work their magic, and walks you through the quick process.
You'll also see how to use the Photo Restoration Filter in tandem with the new Colorize Filter to really bring an image back to life, with new-found color and detail.
We encourage you to visit Nace's YouTube channel, where you'll find free access to a multitude of image-editing tips and tricks.
And don't miss the tutorial we posted from another processing expert, explaining the fastest way to get consistent color in Photoshop.