Pro's Choice; David Stuart's Light Choices; Mix & Match For The Job At Hand Page 2
Stuart relies not only on his photo assistants but also on a core group of imaginative individuals to produce his complex composites. Many of his images bring together elements from diverse locations, or they may involve multifaceted views of one person. And to seamlessly bring that all together, he calls upon the talents of several digital artists, who also do the retouching. On set, a "digital tech" (yet one more person involved in the job) will produce rough comps on a computer as the shoot progresses.
Client: Earth Justice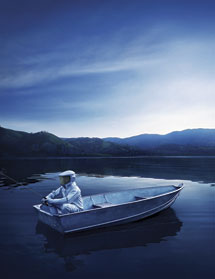 The client wanted to illustrate the dangers of waste resulting from coal-burning plants in this ad campaign, so David Stuart had a HazMat suit shipped to the location from a prop house in Los Angeles, not far from where they were shooting on the lake. Background elements were shot separately and later composited into the final image. But the shot of the man in the suit, sitting in a rowboat and fishing, was shot as one piece. The boat was moored to a pier, on which stood an octabank (running off a battery-powered pack). Stuart captured the various elements on a Hasselblad H2 and a P 45+ back, with a range of lenses. (Agency: Underground.)
Lighting In The StudioAnd On Location
When it comes to lighting, "I routinely use Profoto." Stuart adds, "What determines which of the AC packs I'd normally use? If I'm shooting an editorial assignment and I don't want to fly a lot of gear with me, yet want the flexibility of different lighting setups, I'll take the D4 generators. I can take two packs, with one as backup if I don't otherwise need it. However, if I'm in a studio and I need fast recycling times coupled with lots of power on each head, I'll use the Pro-7a." On the mobile side, Stuart will turn to the AcuteB2 battery-powered system. "The key is to remain flexible." That extends to how many heads are attached to each pack: there are numerous variables that enter in this equation, but by and large he'll opt for one head per pack off a 7a or battery-powered pack and two or more heads off a D4.

"I rent all the lighting accessories as well." Stuart uses numerous light shapers, including octabanks, a variety of softboxes, beauty dishes, grids—"all depending on the lighting effect I'm after." For wireless triggering, he uses the PocketWizard radio remote system.
Client: Full Throttle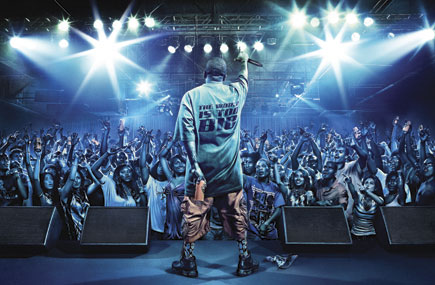 Hip-hop artist Big Boi, from the group Outkast, is featured performing in front of an audience to promote the energy drink Full Throttle. That audience originally consisted of maybe 50 people, shot in various configurations to make it look bigger. The rapper himself was shot separately, also on the soundstage—all with a Hasselblad H2. Smoke machines added atmosphere. All the lighting was designed to emulate stage lighting, with blue gels. Light for the audience came from overhead, whereas beauty dishes surrounded Big Boi from the sides and on his back. (Agency: Carol H. Williams.)
One more point worth noting: while he will occasionally throw a gray card into the set, Stuart doesn't go to great lengths to set his white balance in camera. He explains: "It really doesn't matter, as long as the image is close. So much of what I do is composited. We're always shifting colors in post to match the various elements."