Professional And Amateur Photographers; Every Artist Was First An Amateur
"Never be afraid to try something new. Remember, amateurs built the ark, professionals built the Titanic."
While my quote of the month is from "anonymous," the subhead was a statement made by Ralph Waldo Emerson, who I think is of "Where's Waldo?" fame. In recent months, this column has featured some professional photographers who were, to quote myself from April's issue, "at the top of their game." This month, I wanted to include a few photographers who are amateurs in the best sense of the word, meaning they create photographic art just for the love of it, but that turned out to be the challenge. If you know or have an amateur photographer's website that you think belongs in "Web Profiles," contact me at editorial@shutterbug.com.
© 2006, Joe Farace, All Rights Reserved
www.photographer.net.au//
Robert Edwards is a photographer who has the best URL of any shooter in Australia! He's put together a tasty website showing off his images of People, Places, and Products. There's a wonderful photograph of a kangaroo in his collection of images that are collected into one great potpourri of images, spanning topics from black and white photojournalism to color food photography. And yes, he manages quite well in each of the genres. No mean feat, no matter where you're located. Anybody who can create a loving monochrome editorial shot of an older couple and a color landscape showing a nuclear power plant without indulging in editorializing is not only an artist but also a photographic diplomat, which speaks volumes about Edwards' character.

In addition to his "Portfolio," Edwards has put together several "Case Studies" that show the background and images of several projects that he produced for a few corporate clients. Here his competent photography for Flight Centre shows happy people pictures but when working for Oracle, Edwards' environmental portraits sparkle with style and originality. His interior shots made for the DFS mall are skillfully executed as he switches palettes back and forth between snappy color to black and white to create warm, monochrome photojournalistic images that were captured on film!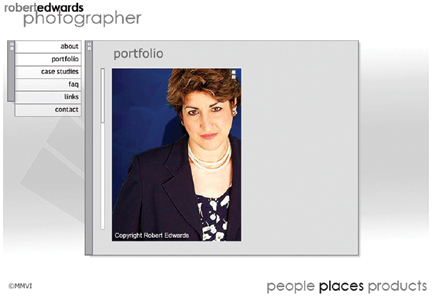 © 2006, Robert Edwards, All Rights Reserved
www.rosannepennella.com/
Rosanne Pennella is a lawyer turned globetrotting photographer who has produced some of the most amazing travel images I've seen. Clicking on "Portfolio" opens access to collections called Portraits, Landscapes, Details, Tribal, Architecture, and Resort. Pennella's portraits are nothing short of breathtaking and take the meaning of portraiture in new directions with her use of color, composition, and subject interaction--or sometimes the lack of interaction with the subject. There is some overlap in style and content between "Portraits" and "Tribal," but the combination of clever site design and oh-so-striking images make this an interesting one-two punch.

Her landscapes add humans to the scene to give scale and a sense of place along with the strong use of color that is the hallmark of her work. When I clicked on "Details," I had a "gee-whiz" moment and I tried to take it all in. Lots of photographers photograph "details" but Pennella's color and design sense proves that "nobody does it better." "Architecture" and "Resort" have the same relation as "Portraits" and "Tribal," but "Resort" adds the occasional person or two to amplify the photograph's impact. All of these images show strong lines, splashy color, and a heady visual style that places Pennella as one of the most inventive travel photographers on the planet.
© 2006, Rosanne Pennella, All Rights Reserved