Pro Choice; Tony Arrasmith's Convincing Composites; Telling The Client's Story, A Piece At A Time Page 2
Studio And Location Lighting
Arrasmith has used Profoto lighting gear since opening the studio. He finds these generators powerful enough to drive volumes of light and he owns a number of them, along with a selection of heads and the necessary reflectors to go with them. He also has a Broncolor Mobil A2R battery pack that he uses on occasion (more as a fill light), and a number of Norman lights.

"I like beauty dishes and use those a lot in the studio," he notes. However, his primary light-shaping tool is a Breezy, now discontinued, but it continues to be a mainstay in his lighting armory. This 5-foot reflector is essentially an oversized beauty dish, except that it's focusable. Softboxes come into play, and usually as a soft fill. He'll also use umbrellas—large ones that he modifies half silver and half white—to give the lighting a bit of an edge. These are often relegated to the camera position, again as a fill light. A PocketWizard radio remote system complements this lighting entourage.

In the studio, the camera is supported on an Inka stand. The camera stand is a critical factor, since creating composites requires that the camera be locked down, with absolutely no movement from exposure to exposure. On location a Manfrotto carbon-fiber tripod takes over, but Arrasmith points out that he needs to sandbag the legs to secure it in position, owing to its light weight.
Client: Procter & Gamble/Pepto-Bismol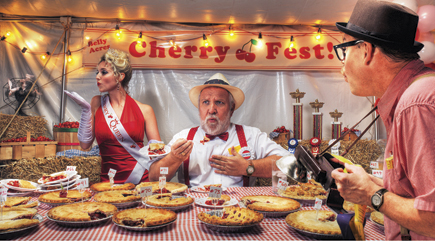 For this shot, Tony Arrasmith designed the set based on a client sketch to promote Cherry Pepto-Bismol. The theme is a pie-judging contest at a cherry festival. Six lights surrounded the set, beginning with an overhead softbox above the judge and other lights (notably from the rear left) hitting the table, with another softbox as fill from the front. Finally, a string of lights at the back were added to give the shot added credence (with a 1⁄8 sec burn for these lamps, separate from the main 1⁄60 sec exposure). The would-be old-style news photographer was lit and shot separately, making it easy to drop him in or not, as the client preferred. (Agency: Bridge Worldwide.)
Going From Studio To Location
"Our studio measures 4500 square feet on the main floor, with a garage entrance," Arrasmith adds, "and 2000 square feet on the second floor—which is our daylight studio. We have 151⁄2-foot ceilings with track lights." All that space affords ample room for those sizable sets that Arrasmith himself builds. These sets have ranged in size and complexity from a bathroom with a working bathtub to a restaurant kitchen, and down to live bees swarming a hot dog (small in scale but a bear to set up and capture).

"If I can build the set in the studio, I'd prefer to do that. However, tight budgets don't always allow us that luxury and sometimes shooting on location proves more economical to the client. As a result, I've found myself doing an increasing amount of location work over the past two or three years."
Self-Promotion Piece
This self-promo piece consists of numerous elements shot both in the studio (including the two kids, each shot separately) and outdoors (many of the bugs, plus the sunset, which established the lighting), with additional CGI components added to the mix. The lighting for the main shot (bulldog and doghouse) involved several overhead softboxes, various lights with warming gels (for the sunset feel), and even a Norman Tri-Lite focused down to simulate a shaft of sunlight aimed at the tires. The piece is entitled "You Distract Him," and yes, the dog is wearing the jersey in the shot.
He continues: "Working on location can have unexpected consequences. For instance," he recalls, "on one recent assignment we were shooting in a bowling alley. We'd arrived early and started setting up at 6:30am. At 7:15, this entire part of town experienced a blackout. While we were waiting for the lights to come back on, the client, agency people, stylists, and models had all arrived—and were now just milling about. As they say, time is money, so we ran out and rented some generators to power our lights. The bowling alley lights finally did come back on—five hours later. We finished the shoot successfully, even to the point of negotiating fees for the time overage. And what was to blame for all of this mayhem? A squirrel had chewed through a power line," he chuckles. "You can't prepare for every situation, but you do have to learn to think on your feet."