Portraits To Go With JTL's Mobilight 300
Wireless Triggering For The Location Photographer
Riddle me this: What's the hardest thing to find on any location shoot? If you said, "clients who were on time," that would be partially true, but the correct answer is--an AC power outlet. They're even more difficult to find if you're at the beach, in a park, or as I often find myself, on a racetrack somewhere. One of the niftiest solutions I've found for on-location portraiture is JTL's Mobilights.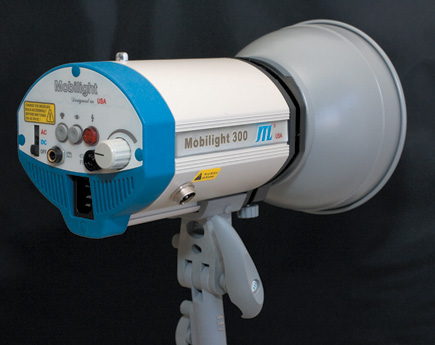 On The Road Again
The Mobilight is the battery-powered version of JTL's Versalight monolight. The Mobilight series consists of three models, including the 110, 200, and 300, whose numbers correspond to each model's output power in watt seconds (ws). JTL's rechargeable battery pack powers the Mobilight 110 for more than 180 full-power flashes, the Mobilight 200 for 150 full-power flashes, and the Mobilight 300 for 100 full-power flashes. The 200 and 300 models also have a standard AC connection so you can power it with one of those elusive AC outlets. The Mobilight can be used as a main light, fill light, hairlight, or backlight on a variety of photo locations with or without the battery pack.

All of the Mobilights feature a dual voltage power inlet, continuous power setting adjuster, car accessory (we used to call them cigarette lighter) adapter, and low battery alarm. (See the accompanying specifications for what features match up with which model.) A variety of accessories are available, including an 18x18 light bank, four-leaf barn doors, honeycomb, color filters, and a snoot.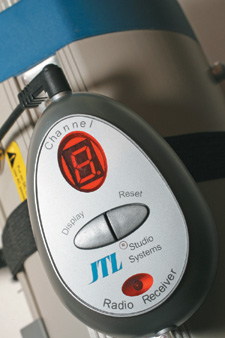 Unlike infrared strobe triggers, DigiFirer can shoot through walls and around corners and is useful up to 120 ft. With eight different channels available for up to eight different lights or "groups" of lights, it won't interfere with other lights in your studio--as long as they are on "different" channels.
The JTL battery pack requires an initial charge of 14 hours before using, so start charging it as soon as you unpack the box. To charge, connect the AC power cord and turn the three-position (Bat-Off-Car) to Off. OK, I agree, that's not too intuitive but when the battery is set to On or Car, a green LED lights, but when it's charging a red LED glows until fully charged. Then, the light changes to green to indicate a full charge.

Inquiring minds want to know if they can mix and match the JTL gear with other battery packs, such as the Quantum Turbo 2x2. The first thing I did was plug the power cord from a Turbo 2x2 into the Mobilight 300. Bingo! All cords fit and power flowed. That also means JTL's power pack can power my Photogenic StudioMax II monolight.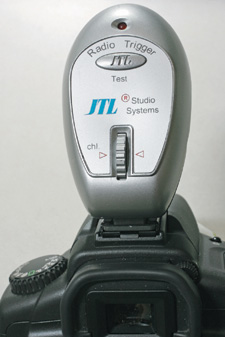 JTL's DigiFirer system consists of a Radio Trigger (transmitter) and Radio Receiver that can be used for all kinds of lighting equipment. Similar devices from other manufacturers combine the receiver and transmitter into "one" unit, but JTL's DigiFirer has two. Here the Radio Trigger is mounted (correctly) on the hot shoe of a Canon EOS 20D. A PC connection and cord are provided, too.
Wireless, Too
If you've been reading any of my recent lighting tests you already know I hate PC cords and love wireless control, mainly because it eliminates the hassle and tangle of cords. JTL's DigiFirer is a radio-controlled trigger system for use in the studio or on location. The Radio Trigger (transmitter) and Radio Receiver work with all kinds of studio lighting equipment, from monolights to separate power pack and head units. Similar devices from other manufacturers combine receiver and transmitter into one device, but JTL's DigiFirer are separate units, resulting in a kit price (for both Radio Trigger and Radio Receiver) of less than $200 instead of the $300-$400 for competing units. With a price tag of around $100, you can purchase many different Radio Receivers--one for all of your flash units.

Unlike infrared strobe trippers, DigiFirer can shoot through walls and around corners and works up to 120 ft, which was a big help when shooting portraits outdoors with a 300mm lens. Indoors, with eight different channels available for up to eight different lights or groups of lights, you won't interfere with any other lights in your studio as long as they are on different channels.
As Snoopy once wrote, "it was a dark and stormy day," and while the rain hadn't started yet, it was cold and dreary with absolutely no light to make any kind of decent-looking on-location portrait. I was able to make this portrait of model Ashley Rae armed only with a trusty JTL Mobilight 300, battery pack, and F.J. Westcott Halo light bank. Camera was a Canon EOS-1D Mark II with EF 100-300mm zoom lens. Exposure was 1/80 sec at f/18 in Manual mode at ISO 200. File captured recorded as a Large JPEG. Photos © 2004, Joe Farace, All Rights Reserved
The DigiFirer trips the lights in 1/1500 sec. Putting that in perspective, your camera requires a shutter speed of 1/2000 sec to freeze a hummingbird's wings in flight. Two of the less than ubiquitous AAA batteries should power the Radio Receiver for up to 20,000 triggers, but the ultimate number depends on environmental considerations, as I discovered.

LATEST VIDEO