Portraits To Go With JTL's Mobilight 300
Wireless Triggering For The Location Photographer Page 2
In The Field
Unlike many lighting products I've tested, you can actually take the Mobilight into a field--any field. The Mobilight 300, DigiFirer Radio Trigger and Radio Receiver have a "build quality" that far exceeds what you might expect from their affordable price. Fit and finish is to a high standard as befits more expensive lighting units. Light stand mounting and adjustment fixtures are rugged and intuitive to use. A slot, complete with locking knob, is provided for umbrellas or the F.J. Westcott (www.fjwestcott.com) Apollo and Halo light banks I used during testing.
Changing the lighting by moving the JTL Mobilight to the other side--camera right this time--and shooting at only 1/2 power, I was able to make 3/4 and full-length shots of Ashley Rae. When using the Canon EF 100-300mm zoom, especially at 300mm, the advantage of using DigiFirer became obvious. There were no long cords to cause mayhem and the wireless trigger system worked flawlessly--as long as the Radio Receiver had fresh batteries. .
Controls work in a logical fashion. The Mobilight's big, round variable power output knob has click stops, which was a big help to me because of the way I work. After taking a meter reading, I use a flash unit's variable power controls to change exposure rather than adjusting anything on the camera. This ensures that my chosen depth of field and balance between flash and ambient light remain the same. Having click stops on the Mobilight 300's power control makes it easy to increase or decrease exposure by one or two "clicks" to hone in on my preferred exposure, which these days I determine by looking at the histogram on my digital SLR. Other controls include modeling light and built-in slave on-off buttons and an illuminated ready light that also functions as a flash test button.

Because of these lights' solid heft, you're gonna need a real light stand, not that cheapie, spindly thing you bought at Crazy Charlie's Flea Market. I use the 9-foot Manfrotto (www.bogen imaging.us) model 3333 and it fits the Mobilight 300 like a glove, although JTL manufactures some nice light stands at attractive prices.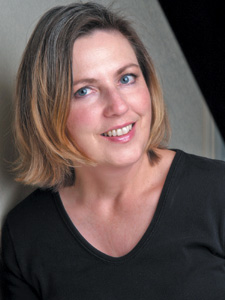 Before I take any lighting equipment out on location, I check it out in the "bat cave" a.k.a. my basement. This test shot of my wife Mary turned out so well I wanted to share it with all of you. The image was captured using her camera, an Olympus E-1, in Manual mode at 1/60 sec and f/9 at an ISO of 200. Lens was a 14-54mm Zuiko Digital at 54mm. Lighting was from a JTL Mobilight 300, running on battery power, with a 28" F.J. Westcott Apollo light bank mounted. A 30" F.J. Westcott Illuminator gold/white reflector was placed at camera right to fill any shadows.
Attaching the DigiFirer Radio Receiver is a snap using the elastic strap that hugs the Mobilight like a toddler on his first day of preschool clinging to his Mommy. Two tips on making sure that the DigiFirer works the way it should: 1) Make sure you put the Radio Trigger on the camera's hot shoe so that the controls face you. If not, the unit may not make full contact with the hot shoe's electrical contact. 2) Use new batteries. JTL includes batteries for both units, but if they are not fresh, the system may trip intermittently. I installed a pair of brand-new Energizer lithiums in the Radio Receiver and it worked like a champ. These batteries are a good choice for cold weather use, such as when shooting outdoors in Colorado during November.
A parking lot may not be the most glamorous location for a photo shoot, but it sure provides some interesting backgrounds. Not surprisingly, there are "no" AC outlets to plug in a monolight. Here's where the JTL Mobilight and power pack come into their own. You can't see the Mobilight in this shot because it's been swallowed by a F.J. Westcott Halo light bank, but perched on top of the light is JTL's DigiFirer Radio Receiver. My Canon EOS-1D Mark II has a Radio Trigger mounted in its hot shoe. (Read the text to learn the correct way to insert it.)
JTL DigiFirer Wireless Flash Triggering System

Radio Trigger
Radio Receiver
Power Supply
1.5v (button battery included)
1.5v (2-AAA
batteries included)
Sync Speed
1/500 sec
1/500 sec
Range
120 ft
120 ft
Radio Channels Available
8 (0-7)
8 (0-7)
Trigger/Receiving Indicator
LED
LED
Channel Display
(Unmarked) Channel Wheel
Digital Display
Dimensions
1.75x3.25x1.5"
3.5x2.25x1.25"
Weight
0.8 oz
1.5 oz
Price (Per Set)
Less than $200
JTL Mobilight Monolights

Monolight 110
Monolight 200
Monolight 300
Maximum Power Output
110 ws
200 ws
300 ws
Power Supply
DC Battery Pack
DC Battery Pack AC 110-130v/60Hz and 220-240v/50Hz (multi-voltage)
DC Battery Pack
Color Temperature
5600K
5600K
5600K
Flash Tube Life
8000 cycles
15,000 cycles
15,000 cycles
Sync
Slave, sync cord, test
Slave, sync cord, test
Slave, sync cord, test
Built-In Slave
up to 33 ft
up to 33 ft
up to 33 ft
Flash Duration
1/600-1/1000 sec
1/600-1/1000 sec
1/600-1/1000 sec
Recycle Times
1.5-3 seconds
2-4 seconds
2-4 seconds
Modeling Lamp
No
150W-110V AC, 10W-5V DC
150W-110V AC, 10W-5V DC
Modeling Lamp Base
No
E27/screw
E27/screw
Power Settings
1/2, Full
1/8- Full Continuous
1/8- Full Continuous
Guide Number (ISO 100)
105
180
200
Dimensions
5.11x3.93x7.08"
5.11x4.96x8.26"
5.11x4.96x8.26"
Weight
21 oz
3.3 lbs
3.8 lbs
Built-In Slave
Yes
Yes
Yes
Flashing capacity (when fully charged)
180 flashes
150 flashes
120 flashes
Cigarette Lighter Adapter
Included
Included
Included
Dimensions
8.26x5.11x2.95"
8.26x5.11x2.95"
8.26x5.11x2.95"
Weight
2 lbs
3 lbs
4 lbs
Price
$159
$199
$239
Whether shooting indoors or out under all kinds of wired and wireless conditions, the JTL Mobilight is a great package for the location photographer on a budget. While you might consider the battery pack and DigiFirer wireless trigger to be accessories, their purchase prices make them a no-brainer; they are must-have options for on-location portraits.

For more information, visit JTL's website at www.jtlcorp.com

LATEST VIDEO

SPONSORED VIDEO