PMA Show Report; Printers & Paper; Portable Printers For Event Photographers
There are a couple of new printers aimed at the event photographer market, and there are plenty of media options as well for snapshot to fine art printers. And, the photo book industry is taking off—there were more book printing options available than ever before, both for the portrait/wedding photographer with companies like Fujifilm, HP, Kodak, and Lucidiom all having offerings in both the pro and consumer spaces. Whether you're interested in making your own coffee-table fine art book, doing a limited product run, or want a top-quality wedding album for your clients, you can find templates and printing services to meet your needs.

For the event photographer, a new printer from Sony looks promising. The UP-DR80 is a dye sublimation printer that can print sizes from 4x8" to 8x12" with borders or borderless, on matte, glossy, and luster surfaces. It also supports portrait packages on site, so filling orders should be easy. I was very impressed with the prints on the ProMatte media—excellent color quality on a very nice paper that sets the printer apart from other dye sub options. The UP-DR80 is small enough to carry with you, and at $1750 is an affordable option for this market. You can get 50 8x10" prints to a roll of paper, with each taking about a minute to produce.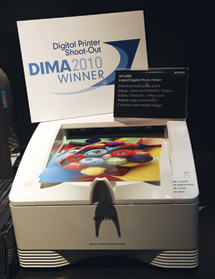 The other big player in this market is HiTi with several models of dye sublimation printers available. The Photo Printer 1 Series Studio-on-the-Go (P110S) is perhaps the most interesting of these. With the optional battery pack, it's truly a go anywhere system and can print 4x6" or photo sticker sizes directly from a memory card, including CF, SD, and Memory Stick, with control from the 2.5" LCD display. Also interesting, and now shipping, is the Direct Wireless Printing Solution, consisting of the HiTi WFT510 wireless transmitter and P510Si wireless printer. The transmitter works with PictBridge-compatible cameras (just about every digital camera on the market) to transmit images directly to the printer for images from 4x6" to 6x9". A 4x6" print takes less than 15 seconds, and the built-in LCD display makes it easy to create print packages without a computer.
HiTi Photo Printer 1 Series Studio-on-the-Go (P110S)

FEATURED VIDEO