PMA Show Report; Digital Frames; Display And Sharing Gets Connected
A good example of how digital picture frames have changed from passive displays with looping slide shows to interactive devices is the "concept" frame system from Casio, dubbed the Digital Art Frame. The frame supports playback of Adobe's Flash Lite 3.1 content, with future plans for network downloads. Currently you have access to different types of clocks and calendars for starters. Beyond that the frame gives you the ability to use various effects (among them, watercolor, pointillism, pencil sketch, oil painting, and pastel) on your images. To top it off, there are dynamic presentation modes to liven up the display even further. We'll stay tuned forfuture developments.
Coby's DP870: 8" Digital Photo Frame with Multimedia Playback is more conventional in design—with a twist. It features an 8" TFT LCD screen surrounded by a contemporary frame and displays photos with slide shows against a backdrop of music (via built-in stereo speakers). The frame supports numerous file formats and accepts virtually all memory cards. This digiframe is wall-mountable and has a touch-operated bezel, which dims when not in use.
FaceCake's FrameWizard transforms still images inside a digital photo frame into "moving images" with the help of proprietary software effects. This year they've added to the collection of effects, adding life to any image. These effects essentially add foreground and background animations, including a snowfall effect. The frame itself is wood and comes in 8" and 15" sizes (software included), supports various still, motion, and audio files (stereo sound), memory cards, and USB.

Kodak's Wi-Fi-enabled digital picture frame (with 7" touchscreen/800x600) is dubbed the Pulse. You can share pictures via a computer or mobile phone using your dedicated e-mail account. The frame automatically links to friends and photo albums on Facebook and Kodak Gallery sites. The Pulse supports JPEG, memory cards, USB, and comes with 512MB of internal memory. It operates with Windows and Mac, and is compatible with 802.11b/g or b/g/n routers.
Pandigital's Photo Mail LED Digital Photo Frame ($149) is a wirelessly connected unit that employs AT&T's wireless network, letting you share photos and other content via a dedicated e-mail address powered by Snapfish. Photos shared through the device will also be available through an album at Snapfish.com. Upon receiving new photos via e-mail, the recipient can quickly accept and view them. The price of the frame includes 300 photos e-mailed to the frame with no service fee to the customer (more photos can be purchased from Pandigital). The frame features an 8" backlit LED display (800x600), with a 4:3 aspect ratio. It includes 1GB of internal memory and comes with a built-in 6-in-1 media card reader, plus USB connectivity. In addition to still files, it supports AVI video clips and MP3 music files. Additional features include a calendar, an alarm clock, and an on/off timer.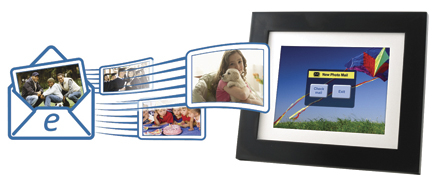 Pandigital Photo Mail LED Digital Photo Frame
Samsung's 700Z is ultra-slim and has a foldable L-profile. Setting it apart from most digiframes is the use of an active-matrix OLED panel, making it energy-efficient and equally viewable regardless of ambient lighting conditions—from 180?—on a 1024x600 resolution display. Add to that DLNA (Digital Living Network Alliance) licensed technology that allows you to sync with other home and/or mobile photo and video devices for easy sharing. In addition, the frame can also be used as a secondary home or office monitor by simply connecting it to a PC through a USB cable. The MSRP is $300.
Manufacturers/Distributors' website addresses can be found by visiting the Instant Links section of our website at: www.shutterbug.com/currentissuelinks/.

FEATURED VIDEO