PMA International
Studio Equipment, Bags, And The Unusual
LowePro's brilliant new wire mesh camera bag cover: about $65.
As regular readers of Shutterbug well know, my main area of interest is large format--which is not, unfortunately, particularly well represented at PMA. My brief was, therefore, also to cover studio equipment; accessories, bags, tripods, and the unusual.

Boy, did I get lucky. Two of the hits of the show for me were the new Pac Safe from LowePro and the Snapman tripod from Slik. For a bonus, there were several large format cameras worth writing about, and some really interesting accessories, including studio equipment.

In all fairness, the thing from LowePro is not strictly a camera bag. Rather, it is a wire mesh bag cover, with a locking cable. You put your bag in it, and with the (supplied) padlock, you lock the bag closed and secure it to any reasonably immovable part of the scenery. The evil-minded are then greatly inconvenienced in their attempts to absquatulate with your property. Of course, it won't stop the determined thief who is equipped with wire cutters, but any normal knife will just slide off it, and the opportunist pick-it-up-and-run thief will have no success whatsoever.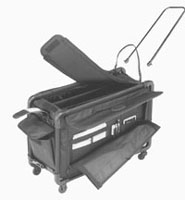 Tutto's "wheelie" design. This is their "pilot case," but the camera case is similarly constructed and costs around $200.
Although I shall most certainly be using it with camera bags, I reckon it will be still more useful for securing things to my motorcycle, and I may well use it for securing valuables in hotel rooms; there may also be other applications which I have yet to think of. At around $65, it is not cheap, but it could save its price many times over.

The other bags from LowePro are up to their usual standard, including the new, small, Digital Resolution series, designed especially for digital photographers. There are two new Street and Field backpacks, too; new designer-style bags from The Pacific Collection, the Berkeley briefcase and the Monterey backpack; and the Stealth, designed for photojournalists who use digital cameras, incorporating space for a laptop computer. Stealth may be a slightly tacky name, but with serious input from the White House News Photographers Association, this is a seriously purposeful bag.

Among the other bags, a lot depends on what you want. You have to take functionality for granted, and besides, this is such a subjective, personal matter that it is impossible to comment upon: the bag I love, you may hate, and vice versa. Likewise, quality of construction is pretty much a matter of getting what you pay for.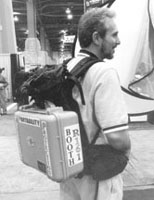 The X-Pack from X-Gear, kindly modeled on the BKA stand.
In general, I would rather pay extra for an American-made or British-made bag, because you are usually paying for superior materials as well as for more expensive labor, but in all fairness, some manufacturers from the Far East do use first-class materials, so the savings come only from lower labor costs and (in some cases) for lower costs for top-flight materials. A particular favorite is the leather bags from World Richman Corporation, which are very well made from the best possible materials, but still sell at very reasonable prices. They have revised their line-up for 1999, and you can feel the superior quality of the new leather--which given the excellent quality of the older bags is very impressive indeed.

You can get some interesting paradoxes in bag manufacture, though. As part of their line, Tamrac sell what are in effect Far Eastern copies of their own American-made bags. For continuous heavy use, the American bags are without a doubt more substantial and will last longer, but for most people, the Far Eastern copies are more than adequate, and they are still Tamrac bags.

For good looks, the Kipling line from Tiffen was certainly attracting a lot of well-deserved attention, and then there was the United Colors of Benneton series from Vantage. Kipling bags are made in a variety of finishes which fall somewhere between fashion and classic, while the Vantage bags are definitely of the moment. Both have the advantage that they are not obviously camera bags, and therefore may not attract so many thieves.
World Richman bags are made of soft, real leather.
Vanguard's range is (as ever) bewilderingly huge, and spans the range from basic to high-end, but the black nylon Athena line-up deserves particular mention for its looks; a common reaction, apparently, has been, "At last someone recognizes that women take pictures too, and need camera bags." Other new ranges include the modestly-priced Polo and Victory series in polyester as well as a high-end Marco series made of their extraordinarily leather-like synthetic "kote skin"--so you can have Marco Polo. The Professional series are (as the name implies) aimed at the pro, and are again made of kote skin. The new Cortina series is padded Cordura, positioned as an upgrade from Polo, while the Columbus series is in attractive blue nylon.

Several of my favorite makers showed evolutionary, rather than revolutionary, changes. F/64 has a particularly ingenious double-zipper system which allows the top flap to be opened inward (against the photographer's body, with the bag over the shoulder) or outward (away from the photographer's body). Zero Halliburton had some new sizes of Zeroller, the "wheelie" versions of their beautiful streamlined cases. Porter Case had (as ever) detail improvements which make these remarkable cases still more versatile and convenient; they can of course be used as conventional "wheelies" or as trollies, carrying several more cases stacked on top.


When style is everything. United Colors of Benneton backpack and Kodak's Advantix T550, one of the best-looking Kodaks since the 1930s.
Tenba showed a revised carrying system for their superb airline-size backpack, allowing even more comfort and incorporating a cover which neatly conceals all loose straps; this can apparently be retrofitted to existing backpacks, which is good news for me, as this has become my standard carryon luggage. They also had the improbable "kilt," which looks pretty much like its name suggests: a skirt of large pockets, supported over the shoulders by two straps. I'm not sure I'd use it outside the studio, but in the studio, it should be very useful. They also had an excellent new daypack; I begged one for review, and wore it throughout the show, so I can vouch that it is comfortable, even when laden with ridiculous quantities of brochures as well as a camera. Other introductions are the small "Walkabout" cases and a new, wheeled case designed especially for wedding photographers.

A new variety of "wheelies" came from Tutto. The ingenious construction, a tubular exoskeleton on a soft-side, should be clear. What may be less clear is the way in which the struts holding the rectangular frames fold, allowing the exoskeleton to be collapsed to about 3" wide. The "four wheel drive" is claimed to be very stable, and like a Porter Case, more cases can be stacked on top.

X-Gear showed the X-Pack harness system, which allows you to carry Pelican (and presumably other) hard-shell cases in convenient backpack and waist-pack harnesses; an excellent way to retain the hard-side, water-proof protection of a Pelican, with much more convenient carrying.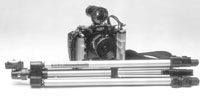 Slik's Snapman Deluxe, with Alpa for scale. What kind of nut puts a $7000 camera on a $100 tripod? Me.
Another bag I particularly liked was one with a built-in changing bag, from Kiev USA: the only bag (as far as I know) that Saul Kaminsky sells, but a very useful device, especially for the large format user.

Not strictly a bag, but wonderfully useful, is the new Chameleon system from Op/Tech. It is a two-part "ever ready" type case. The camera fits in one neoprene cocoon, the Soft Pouch, and the lens fits in another, the Snoot Boot. Snap a Snoot Boot onto a Soft Pouch, and you have the complete case. The really clever part is that you can remove lens and snoot together, and the snoot becomes the lens bag. Then you just fit the new lens with its own bag/snoot.

Op/Tech also showed a useful looking "grip strap" which fastens to the camera's tripod socket and wraps around the hand and wrist, almost like a wrist support. For arduous conditions where you need a firm grip on the camera and do not want to use just a neck strap, this could be invaluable.


Gran View 4x5 for 6x12cm back.
Another departure from the strict definition of a bag is the Dry Box from Hakuba, a shatterproof plastic box with a space for desiccant cartridges. For carrying film, in particular, on hazardous journeys, these could be very useful. The largest of the three sizes features wheels on the bottom.

And again related to bags, without actually being one, there were two new products from SunKosi, in their characteristic fleece. One was a lens wrap, in two sizes, and the other was a series of neck straps. The former offers very good protection, and the latter is remarkably comfortable--far more so than one might expect.

There are however so many other bag manufacturers, and so many lines of bags, that I have too little space to cover the remainder in full detail. Briefly, the other news is as follows.

Sun Dog is back in business with a bang, as a division of Satisfied Sport of Seattle, Washington. Design philosophy and construction quality remains topnotch, but the new owners promise an end to the delivery problems which had sometimes characterized the old company. HP had a line of well-made, surprisingly modestly priced bags under the Kopho trade name.


The 8x10 Gran View, modeled by Frances Schultz. The monitor adapters are visible on the right.
Hakuba's ballistic nylon Neo series will no doubt contribute to an ever-wider awareness of this manufacturer's high-quality products. Beseler has two new little bags in their highly successful Contour series. Phoenix showed four new bags, two of nylon for tiny 24mm cameras such as the Canon Elph, Konica Revio, or Fuji Tiara, and two polyester backpacks. Samsonite showed some very useful looking, and astonishingly modestly-priced, portfolio cases.

M-Rock Multi bags are a very clever system which allows a mix and match of waist belts, shoulder straps, and backpacks. Tiffen's OutPack line is enhanced with Dri-Safe weatherproof bags, and the High Sierra line from BKA goes way beyond camera bags with wallets, eyeglass cases, document organizers, and more, all sold as an integrated Accessories for Travel collection. Satter Omega had two Showcases, both polypropylene hard-shells, one briefcase style and the other a "wheelie."

Earlier, I said that another hit of the show was a Slik tripod, the Snapman Deluxe. It is a 21/2 lb tripod with a well made detachable ball-and-socket head, braced three-section legs with rapid, positive, over-center locks, and a center column with adjustable drag so that when you release the lock, it won't necessarily plummet straight down. Minimum length is about 22", maximum height (including the head) about 58"; price is around $100, maybe a bit more.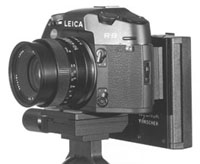 Forscher Polaroid back for Leica R8.
When you look at the vast majority of lightweight tripods, the reaction is, "Well, it's really nice and light and compact, but it's a pity they didn't spend a few bucks extra and make it properly." With the Snapman, they did go the extra distance, and the result is superb. I have already used it with 5 lb Alpa cameras, and although you have to tighten the ball pretty fiercely, it worked perfectly. This is going to become one of my most used tripods.

Slik also had a sort of gooseneck arrangement with a big, rubber-padded clamp at one end and a tripod mount at the other. It won't support very heavy cameras, but it is more than adequate for most 35mm cameras and many of the lighter video cameras; called the Clampod, it should be another good seller.

The other big news in tripods came from Davis and Sanford, a division of Tiffen, though the real innovations were only in prototype form: a really nice, new fluid head and a tripod with three-section legs (instead of the two-section which has always been the Davis and Sanford standard), one leg of which can be bayoneted on and off for use as a monopod. As ever with prototypes, there may turn out to be unexpected glitches in going into production, but I very much hope that the head and the tripod will be available soon.

Tiltall showed a Junior version of their much-loved tripod, though much to my disappointment, the removable-head version of the standard Tiltall is still some months away. The head that comes with the tripod is very good, but I'd like the option of using some of my other heads as well.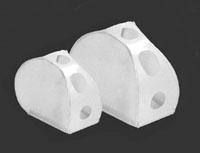 The Cocoon from Red Wing.
KB Systems had a new, big wooden tripod in ash at a very reasonable price, and if you are in the market for something which will hold your 8x10" Gandolfi a long way above the ground, this could be the answer.

There was a good pillar-type camera stand from a Far Eastern manufacturer looking for distribution, but unfortunately there was no news of any distribution by the end of the show. A stand of this type should be a priority purchase for anyone who has a permanent studio: a tripod simply cannot offer the speed, versatility, and convenience. If you want one now, Regal Arkay showed a two-head adapter for their well established, well made, and well liked American-made pillar studio stands.

Manfrotto (from Bogen) had two smooth, new ball-and-socket heads with adjustable drag. I have used Manfrotto for years, but there is no doubt that their current equipment is much smoother and better finished than it used to be; a useful synergy of being a part of the same group as Gitzo. A much more specialist range of heads, for Virtual Reality (VR) photography, including immersive VR, came from Kaidan.

As for the rest, it is once again infeasible to cover the majority of new tripods and heads at any great length. There were several Chinese and Korean manufacturers looking for US distribution, though their tripods will almost certainly appear with distributors' names instead of manufacturers. Vanguard showed the very affordable MK-S, the mid range Millennium series, and the big, professionally oriented VT-950 with its maximum height of 75". Phoenix showed three new models; the modestly-priced Fox, the 31/2 lb Coyote, and the Cheetah which extends to 67" as opposed to 59" for the Coyote and 58" for the Fox. Gitzo's carbon-fiber Mountaineers now incorporate a number of improvements, including easier leg locks and a hook at the bottom of the column for attaching a stabilizing weight.

Moving on to large format cameras, I had originally thought that the handheld 8x10" Gran View would be the easy lead, but the new Toyo monorail from Mamiya America Corporation is at least as deserving of top billing.

The Gran View is simply a giant version of the 4x5" Gran View which I reviewed last year for Shutterbug. As with the 4x5" version, it is either a camera which will fill a real and immediate need in your life, or which will be completely incomprehensible to you. I can see at least two uses. One is for handheld reportage with something like a 210mm lens, or maybe even an old 120mm Super Angulon, which will just about cover the format: the enormous negative gives a combination of qualities which simply cannot be duplicated in any other way. The other is for photographing groups, where out of parallel movements are not merely unnecessary: they can be a downright embarrassment because the image turns out not to be sharp all over. With a rigid-bodied camera, you can shoot a 300mm f/9 Nikkor wide open and not worry about the camera going out of parallel. There is a small amount of shift, but even then, the front and back remain rigidly parallel. The final version will be rather more streamlined than the camera shown at PMA, but I predict a steady stream of sales even at $1995.

Gran View also showed a sticky-foot, double-arm version of the Flare Buster which you can stick to your computer monitor and use to hold copy for typing or other input, "flags" to shade off the sun, or anything else. It's nothing to do with photography, but it's really useful.

Toyo's monorail is a perfectly ordinary full featured monorail, with all the usual features of interchangeable bellows, different length rails, International back, and all movements front and rear. What really sets it aside from the competition is the price, which is in the $500-$600 range. For a new camera of this quality and versatility, the price is simply unbelievable. It is assembled in Korea, but the majority of the parts (and all of the precision parts) are from Toyo in Japan. If I did not already have five 4x5" cameras, I would want one. In fact, I want one anyway, but I'd be crazy to get yet another 4x5.

For that matter, I was very impressed by the smooth back movements and easy locking of the latest Hoffman 4x5" field camera. This comes as close as I can readily imagine to a fully floating rear end, allowing simultaneous settings of shift, swing, and focus. Once the image is where you want it, you simply lock down the two tommy-bars and the back is rock solid. The Hoffman Blazer is bulky, but surprisingly light, and certainly warrants consideration if you are in the market for a new field camera. Hoffman has also improved the Metalmaster cut-film holder, for improved light trapping at the foot of the slide in bright sunlight.

The only other conventional large format cameras at the show were on the Seagull stand, and most seemed to be the identical Shen Hao cameras that I saw at photokina. The 4x5 models were overpriced, and the finish of some of them left a certain amount to be desired, but the 8x10 field camera was really rather nice: it looked as if it had been homemade by a skilled woodworker. It may have been a little crude as a camera, but it was very well finished as a piece of cabinetwork.

Polaroid cameras are, however, arguably "large format," and I am happy to claim them as such. One remarkable innovation was a single-use (but fully recyclable/remanufacturable) integral camera, the Pop Shot, and the other, based on a camera which has already been a runaway success in Japan, was the Joycam, the smallest "large format" camera in the world, producing tiny integral prints just the size of a 35mm frame.

Sticking with Polaroid cameras, but not made by Polaroid, the NPC 195 is one step nearer production and I have been promised an early production model. Essentially it is a reconstruction of the old strut-type folding Polaroids, complete with the parallax-corrected rangefinder, but accepting current peel-apart pack films. David Stolper, who "reverse engineered" the camera from Polaroid originals, took the lid off the rangefinder to show me the works: there are more than 40 parts in there, and it is a masterpiece of old-fashioned precision engineering. It is the sort of thing that "no one does any more"--except that NPC does.

NPC also showed Proback Polaroid backs for the Canon EOS 3, Minolta 9, Leica R8 (though you have to set the ISO before setting the back), and Pentax 6x7 II. It is important to note that the old and new Pentax 6x7 backs are not merely non-interchangeable; you are likely to cause (expensive) damage if you try to fit an old back to the new camera, or vice versa.

Moving on to studio accessories, one which impressed me was a brilliant little enclosure for shadowless small product photography, the Cocoon from Red Wing. Resembling a rather ugly white plastic suitcase, it comes in two sizes and allows shadowless lighting from all sides, with a choice of three camera angles through holes cut along one of the sides. It is a little hard to explain in words, but with any luck a picture (scanned from a brochure) will be near this paragraph and you can see for yourself how it works. The big size is under $200. Brandess/Kalt/Aetna is now distributing Redwing and this has to be good news for both companies: a great product, and a great distributor.

A rather more elaborate "mini-cove" for shadowless lighting came from Litestage, and for a studio doing much of this sort of thing, this would be ideal; continuous lighting and flash are provided.

Finally, in the realms of useful bits and pieces and unusual stuff, there are a number of contenders. Film Shield (SIMA Products Corp.) has introduced a new pouch which they reckon will protect slow films against even the much-vaunted CTX-5000 checked-baggage scanners, though faster films should still be packed in carryon luggage. Their current bags (and wraps) are graded like sunscreens, but with x-ray protection factors instead of sun protection factors; the heavy bags, with 0.5mm (about 1/50") of lead foil, are the ones for the CTX-5000.
The Sunlight Frame Company has changed its name to The Victorian Frame Company and sells very traditional wood-grain frames with domed glass, which is uncommonly attractive in an archaic sort of way. The frames themselves are of cast resin; but then, the originals were not normally of wood either, but were usually of cast plaster.

Frame U.S.A. showed interesting deep frames too, with hidden compartments behind the picture space. Hung on the wall, they look like slightly bulky frames, but they have space for various things (according to the model) from jewelry to a gun--the latter, apparently, at the suggestion of law enforcement agencies eager to minimize accidental access to firearms kept for self-protection. Ask for "Keep-It-Hidden" frames.

An extremely useful little accessory is the PHD Pre-Heat Dryer for peel-apart Polaroids. It has two slots with (slightly) warmed air. Drop the print sandwich in one side for development at the minimum time; peel it apart; put the print on the other side for rapid drying. For anyone who uses much Polaroid, this little accessory is all but essential, though at close to $200 it is not cheap.

And that, really, was about it. It was a very big show, and very busy; and many of those on the floor were, well, several inches above the floor with the euphoria of their sales. Given that it was less than four months after photokina, which despite its relative decline remains a very much bigger and more important show, there was never going to be much that was completely new. Encouragingly, though, the conclusion I drew was this. Photography is extremely healthy, whether you are looking at state of the art digital, modern silver-based, or traditional silver-based (even with large format); and the really good news is that none of these aspects look like they are going to go away.
For further information, visit the authors website at: www.rogerandfrances.com.

FEATURED VIDEO