PMA International: Medium Format And Studio AC Flash Units
The "new" medium format cameras shown at PMA '99 were, by and large, the same ones previewed late last year at photokina and Photo Plus East. The good news is that those early teasers are now beginning to arrive at your local dealers as fully functioning production models.

The Contax 645 is of chief note in this department. The camera has received previous exposure in Shutterbug, so I'll just give you the capsule refresher. It is the third autofocus 6x4.5cm format camera introduced in the past year, but the first totally modular one, and the only one that can boast of a "starter" line-up of six Carl Zeiss lenses. The standard lens is an 80mm f/2 Planar T*; other focal lengths include a 35mm f/3.5; 45mm f/2.8; 120mm f/4 Apo-Macro; 140mm f/2.8; 210mm f/4. This range corresponds to 21-131mm for the 35mm format; rest assured that more optics are in the works. The full-information, 90°, eye-level AE prism finder (95 percent field of view) comes standard, though the TTL metering functions (ambient and flash, spot and center-weighted averaging) are available with any finder, as the SPD sensor is located within the camera body rather than in the finder. The eyepiece is adjustable from -2 to +1 diopter, and can be extended with accessory diopter lenses. Top shutter speed is 1/4000 sec, with X-sync at 1/125 sec. The integral motor drive advances the film at 2.5 fps. Interchangeable film backs are available in 120 and 220 versions (both with data imprinting), with an optional vacuum insert for the 220. I found the Contax 645 to be well-balanced, and the viewfinder brightness, especially with the 80mm f/2 lens, rivaled many 35mm SLRs.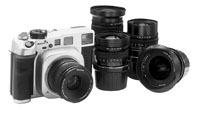 Mamiya rolled out the Mamiya 7 II, an updated model of their popular 6x7cm format rangefinder camera. The new refinements include: high-visibility frame lines in the viewfinder that remain clearly visible even in the presence of intense ambient light; three strap lugs give the user a choice of vertical or horizontal orientation of the camera; the cable release socket has been relocated to the more accessible lower-right side of the body; multiple exposures are possible via the change-lever system with safety lock; the exposure compensation operation has been simplified; a ratchet mechanism and flip-out twist wing for the darkslide curtain facilitate quicker lens changes. The Mamiya 7 II will be available in matte black and champagne gold finishes.

Also introduced was a new 50mm f/4.5 L wide angle lens for the Mamiya 7 and 7 II. The 10-element lens comes with its own accessory optical viewfinder (with built-in level and diopter correction), as well as a bayonet-mount lens hood. The lens accepts 67mm filters. It should be a natural in combination with the optional 35mm panoramic (24x65mm) adapter.
Cabin 3x loupe for 6x7cm.
Photographers who use 6x7cm cameras have had rather slim pickings when it comes to finding a good magnifying loupe with which to examine their transparencies and negatives. Mamiya has improved the situation with the debut of their 3x Cabin Precision Magnifier. The focusable, three-element loupe covers full frame 6x7. It comes with interchangeable opaque and translucent skirts for viewing by transmitted and reflected light, and a removable neck cord. Mamiya also offers the Pro-Cabin 67 Z projector for 6x7cm transparencies.

Pentax expanded the selection of autofocus optics for their Pentax 645N camera to eight, with the introduction of three new lenses. The first is the SMC Pentax-FA Macro 120mm f/4, which focuses down to 1.3' (1:1 life size). A focus limiter permits dividing the focusing range (macro/normal) for faster AF operation. The medium-telephoto range is served by the SMC Pentax-FA 645 200mm f/4 [IF]. A SMC Pentax-FA Zoom 80-160mm f/4.5 seamlessly covers the most-used range of focal lengths. The front lens element does not rotate, facilitating the use of accessories such as a polarizing filter; the supplied lens hood features a window that permits rotation of the polarizer without having to remove the hood.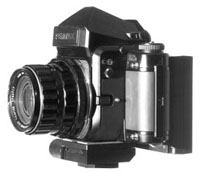 NPC Proback for Pentax 67 II.
Kiev USA announced two new perspective control lenses and three new film backs for their Russian-made Kiev 60 and 88C cameras. The PC lenses are available in 55mm and 65mm focal lengths, and provide excellent optical performance at a fraction of the price of similar lenses by other makes. They also fit Pentacon and Exakta 66 cameras. The film backs are available in 120, 220, and 6x4.5cm versions, and feature a darkslide storage compartment; the backs fit the Kiev 88 as well as Hasselblads.

Rollei had no less than seven new lenses for their 6000 series cameras. At the wide angle end of the range is the Zeiss 40mm f/4 Distagon FLE (floating element) HFT PQ; the 11-element optic focuses to 0.5m and accepts 93mm drop-in filters via an adapter ring. Next is the Zeiss 50mm f/4 Distagon FLE HFT PQ; the nine-element design also focuses to 0.5m, and accepts Rollei bayonet VI filters. For portrait and low-light applications there's the Zeiss 110mm f/2 Planar HFT PQ; this seven-element lens focuses to 0.8m and uses 95mm filters. The f/2 aperture lends itself to selective focus techniques. For a long reach there's the Zeiss 500mm f/8 Tele-Apotessar HFT PQS; it has five elements, an f/64 minimum aperture, a centered tripod socket, focuses to 5m, and takes 86mm filters. The integral, matte-silver lens hood contrasts smartly with the black lens barrel.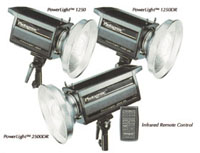 Photogenic PL2 Series PowerLights.
The other three new lenses comprise Rollei's new EL-series of more affordable optics. There are no optical quality shortcuts taken, as they use the same previous PQ designs. Some recent innovations and manufacturing economies, such as providing screw-thread filter mounts instead of bayonets, permit the more user-friendly pricing. The three focal lengths offered cover the most-used range with 6x6cm cameras. A Rollei 50mm f/4 Distagon HFT EL consists of seven elements, focuses to 0.9m, and accepts 67mm filters. The Rollei 80mm f/2.8 Planar HFT EL also features seven elements, focuses to 0.9m, and takes 67mm filters. The last of the trio is the Rollei 150mm f/4 Sonnar HFT EL, with five elements, 1.4m close focus distance, and common 67mm filter size. Bayonet lens hood mounts are retained with the EL lenses.

Rollei was also demonstrating their new Gamma C4 one-shot/multi-shot digital back for 6000 series cameras. Performance was impressive, but, as with all current digital backs of this professional/industrial caliber, you could buy a very nice car for the same money.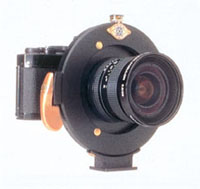 Free Eye orbital lens shift adapter.
The Rolleivision 66 dual P slide projector was on display, a fully automatic, autofocus 6x6cm machine that can also project 35mm slides (not intermixed). Two projectors can be paired with an external control unit for programmed AV dissolve presentations.

Beseler introduced a unique, 6x9cm format pinhole camera kit. Made in Switzerland, it was designed by a professor at the Basel School of Design who for 20 years used it to teach pinhole technique. Constructed of heavy, die-cut cardboard, and supplied with a piece of metal shim stock laser-drilled with a 0.3mm pinhole. An assembly manual and a roll of 120 Ilford black and white film are included. This simple kit is a great class project and teaching tool. At $39.95 it's also a good way to experiment with pinhole photography, before deciding to shuck out for one of the many wooden cameras available from various sources.

Polaroid announced the Polaroid Daylab 120 instant transparency printer, a new medium format model of the well-known Daylab daylight printers. Photographers can now use unmounted 6x6cm and 6x7cm transparencies (no 35mm) to make instant prints, image transfers, and emulsion transfers on 3x4, 4x5, and 8x10 Polaroid materials, including SX70 manipulations. Built-in, microprocessor-controlled, autoexposure via the unit's integral electronic flash makes operation straightforward and simple. The head uses separate acetate or gelatin filters, and is compatible with previous Daylab bases.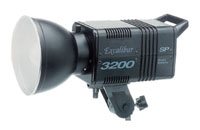 Excalibur 3200 monolight.
Another nominally medium format item from Polaroid was a new single-use instant camera dubbed PopShots. The compact, ergonomically shaped camera produces 10 4.4x2.5" color prints. To take a picture, the user simply throws a bright yellow switch to an indoor or outdoor setting (flash/no flash), composes the scene in the viewfinder, presses the shutter release, then pulls a ring on the side of the camera to eject the externally developing print. PopShots features two apertures (f/32 outdoors; f/13.4 with flash), variable shutter speeds, and real-time exposure metering. How will Polaroid encourage people to recycle these instant cameras? By packaging a postage-free return mailer with the camera; by entering all returns in a sweepstakes that offers prizes such as CD players and a trip for four to anywhere in the world; and a $2 coupon good for PopShots or other Polaroid products. A $4 rebate is offered to customers who return the $19.99 (list) camera for recycling.

Giancarlo Gardin, of Milan, Italy, was showing a neat item called Free Eye. It is a "universal, multi-format lens shifting system," which allows shifting the camera lens up, down, left, right, or diagonally for perspective control applications. It can do so because it employs an orbital arrangement of movement, rather than the usual rack movement. In practice, you use lenses from the next larger format than the camera you're shooting with, in order to obtain an adequate image circle when shifting. For example, if shooting with a 6x4.5cm or 6x6cm camera, use 6x7cm (or greater) format lenses. Although illustrated on a 35mm SLR (adapted via T2 adapters), the device is applicable to most medium format cameras, as well as some digital models. Southpaws can order Free Eye with the clamping lever on the left for greater convenience.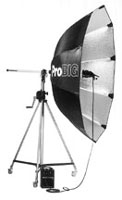 Profoto ProBig reflector.
NPC has announced availability of a new Proback for the recently introduced Pentax 67 II. The Proback allows use of Polaroid proofing films, and does so without compromising any camera features, or having to transfer any camera controls to the back of the Polaroid film chamber. It is no longer necessary to pre-cock the shutter before attaching the Proback, as it was with the previous Pentax 67. The focal plane is shifted to that of the Proback via a fused, coherent fiber optic bundle. It produces a full 6x7cm contact image. Due to the design of the 67 II body, a new, double live pin hinge must be installed.

JustRite has a new medium format camera bracket that highly mobile shooters such as wedding photographers will line up for. One of those, "Why didn't I think of that?" items, its signature feature, is a set of four feet that let you set a camera/flash combination down without having to lay your multi-thousand dollar investment down on its side on/in camera-hostile environments (e.g. dirt, wet grass). Available in five versions to accommodate high and low-profile flashes, and with fixed or tilting head, the JustRite bracket features a comfortable rubber grip; a camera quick-release; rubber-tipped feet to protect furniture; a flash mount that positions the flash head directly over the lens axis; a mounting platform on the flash arm for a radio remote transmitter for triggering slave lights. The bracket is sturdy, well-balanced, and shows a lot of thought.

Studio electronic flash units were well represented, both monolights and separate power pack/head combinations, as well as a couple of impressive reflectors.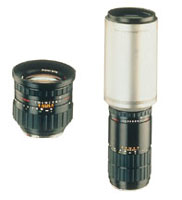 Rollei Zeiss Planar 110mm f/2 HFT PQ and Tele-Apotessar 500mm f/8 HFT PQS.
Brandess/Kalt/Aetna (BKA) is now the US distributor for the Bowens Esprit line of monolights, and is introducing a new consumer promotion on their Excalibur monolights from SP Systems. When purchasing an Excalibur 1600 (160 ws) or 3200 (320 ws), BKA will give you a free 8', air-cushioned light stand, and a copy of the SP Studio Systems Handbook. The book contains a wide range of pro tips on various lighting setups, including product and glamour photography. The Excalibur flashes are affordable units designed for the advanced amateur and beginning professional.

BKA is also the new US distributor for Kenko filters and Red Wing lighting products. A new Quick Stand from Red Wing is designed especially for wedding photographers. Made of black-anodized aluminum, the stand opens and closes automatically, with no need for locking knobs and levers or other height-adjusting mechanisms. When set down, the legs extend; when lifted to move to another location, the legs retract. The Quick Stand weighs 42 oz, extends to 94.5", and collapses to 28"; it will support lights weighing up to 7.75 lbs.

Bogen debuted two new power packs from Elinchrom, the Chic 1 and Chic 2, with 1200 ws and 2400 ws ratings, respectively. The Swiss-made, compact packs are 65 percent smaller and 50 percent lighter than their Elinchrom Classic counterparts. Their power range is adjustable over six f/stops, and recycling times have been improved. Three complimentary light heads were also introduced, the Mini A, Mini S, and Mini R; the Chic power packs are compatible with all Elinchrom pack heads, as well as all system accessories.


Also shown was Elinchrom's Octa-Lite Pro Bank. This new stand-alone softbox consists of a EL 500C Compact monolight and remote photo cell, coupled with a 74" diameter, 40 sq ft octagonal softbox. It integrates easily with other brands of flash systems, sets up in two minutes, and offers the following performance characteristics: less than 1/3 stop light falloff across the entire softbox diameter; 500 ws output (f/16 at 6', ISO 100); power output infinitely variable down to 1/4 power; 1/2600 sec flash duration; full power recycling time of 1.6 sec; consistent color temperature throughout the power range. The OctaLite provides a lovely "wrap-around" light quality.

Britek, importers of a very wide variety of economically priced electronic flash and tungsten lighting equipment, was showing their HS-2000 monolight. Features and specifications are as follows: 440 ws output; full, 1/2, 1/4 power settings; GN 200 (ft); slave, synch, test button; 1-3 sec recycling time; 150w halogen modeling lamp; 1/900 sec flash duration. The HS-2000 accepts a full range of reflectors and accessories.

Paul C. Buff, makers of the White Lightning brand of electronic flash units, was showing off their new X-Series and UltraZAP models. As the company says, the new flashes are "brighter, lighter, quicker, tougher, sleeker, and cheaper" than the previous Ultra models. And that's quite a bill to fill. The UltraZAP 800 (330 ws) and 1600 (660 ws) are the successors to the Ultra series lights. Beyond the new rounded contours and sexy gold color scheme, refinements include a new single-ring flash tube; improved ventilation for less heat buildup for higher reliability; shorter flash durations; 10 percent more power than Ultras; an auto-dump feature that dumps the excess charge when setting the unit to a lower power setting; voltage regulated circuits; a single-lever reflector attachment; dual umbrella holders, allowing the addition of counterweights when desired; full remote control capability.


Polaroid Daylab 120 instant transparency printer.
In addition to the UltraZAP's list of improvements, the X-Series, consisting of the X1600 (660/165 ws) and X3200 (1320/330 ws) models, adds the following: power range switching, which allows cutting 3/4 of the unit's power, for situations when a wide aperture or very short flash durations are needed (the modeling lamp intensity is reduced proportionately); a built-in cooling fan that automatically kicks in when internal temperatures warrant; audible overheat alarm; audible misfire alarm. And these are just the improvements, not a full inventory of features and capabilities.

R.T.S. announced a new Profilux series of Multiblitz monolights. Following the more power in smaller, lighter packages trend, the Profilux series is comprised of three models: the 200, 400, and 600, with the model designations denoting the power in ws. Features shared in common are: infinitely variable power adjustment over a four stop range; ±1 percent repeatability; auto dissipation of charge without having to fire the unit; fast recycling from 0.4 sec; flash duration down to 1/1400 sec; built-in cooling fans; UV-absorbing flash tubes; proportional halogen modeling lights; slave cell with IR function; visual and audible firing monitor; color-coded controls; bayonet reflector mount; tilt head with sure-grip brake. A comprehensive system of accessories is available. The lights are also available in attractively priced two-light location kits, including a 200/400 pairing or a 400/600 combo, along with two stands and two umbrellas, all housed in a soft gear bag.


Elinchrom Chic 1 and Chic 2 power packs.
Photogenic launched its PL2 Series monolights, offering photographers an affordable option to set and control their lighting setups from a handheld remote unit or a computer screen. The PL2 Series lights include the PowerLight 1250 and 1250DR (500 ws), and the PowerLight 2500DR (1000 ws). The potent 2500DR offers infinite power variability from 32 ws to 1000 ws, which is a full six f/stop range. It also features push button control and a digital display for the flash and modeling lamp. Both DR models accommodate exclusive add-ons that enhance power, control, and versatility. One such accessory is a Digital Remote Display and IR Receiver with touch control, which allows changing your settings without having to lower boom-mounted lights, or attempt accessing other inconveniently located lights within a set. Another boon is the IBM and Mac compatible Wireless Studio System Software. This lets you control your entire lighting setup from one centralized location, from a desktop computer or, for location work, a laptop. It can control up to nine PowerLights, and save files for every setup for future reference or duplication.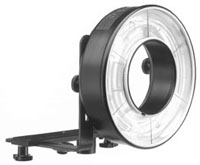 AddMamiya America had some new items in their Profoto electronic flash line. A pair of compact but heavy-duty flash generators (power packs) are the Profoto Acute 12 (1200 ws) and Acute 24 (2400 ws). Accepting three flash heads, power can be distributed symmetrically or asymmetrically for various lighting ratios. The head connections are arc-proof, and the packs can be plugged in to any worldwide voltage from 90-260v. Regulated voltage assures constant color temperature. The packs also feature a unique variable rate recharge dial, allowing the photographer to steplessly adjust the voltage draw and thereby avoid blowing fuses and circuit breakers when on location with inadequate or old wiring. The units are also well sealed. The Acute Head Special lamphead is fan cooled and comes with a zoom reflector.

The AcuteRing is a lens-surrounding ringlight designed for small and medium format cameras. It can accept up to 2400 ws from an appropriate power pack, and comes with a horizontally and vertically adjustable camera mounting bracket. A Softlight Reflector and Close-up Reflector further increase the AcuteRing's versatility. It comes with a 12' lamp cord.


Privett International Soft-Jaw clips.
For those occasions when a direct window lighting effect is sought (sans window), Profoto has a unique tool: the Profoto ProBig, a portable, folding, parabolic, focusable reflector. With "Big" underlined, the reflector measures 7'2" (86") in diameter when opened; it weighs 17.5 lbs, or 22.5 lbs in a transport bag with an accessory diffuser and swivel mount. An adjustable lamphead mount allows focusing the light for different effects and spreads. It accepts Acute and other Profoto heads. When trying to create soft, natural light there's no substitute for size, which makes the ProBig just the ticket.

While in the process of covering our assigned equipment categories, Shutter-bug's writers inevitably run across a few non-directly related items that we feel worthy of inclusion anyway. My three candidates follow.

Most photographers, myself included, have long suffered with what I call a "Will Rogers" battery tester--it never met a battery it didn't like. By that I'm referring to batteries that won't operate a camera, yet test just fine. That's because many cameras, especially medium format models with motor drives, will only function when the batteries are at absolute peak power. If your battery tester doesn't test the batteries under load, they'll likely test as nearly new. The ZTS booth had a quite reasonably priced solution, the ZTS Multi-Battery Tester. Measuring 7.5x4x1.3", the tester can handle more than 25 different batteries. It provides an accurate power load test for alkaline, lithium, silver oxide, and zinc-air types, indicating the remaining capacity of the test battery in percentages. The tester is simple to use, with no settings or switches to ponder. Finally.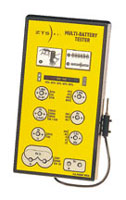 ZTS Multi-Battery Tester.
It was in the area of the show devoted to industrial film and print processing equipment that I stumbled upon the Privett International booth. Their display featured a large selection of beautifully made film clips designed for "dip-and-dunk" film processors. While they have models with traditional teeth for grasping film leaders, it was a line dubbed "soft-jaw" that caught my eye. Anyone interested in them for their intended purpose will be more than pleased, but another use came to mind. When adjusting muslin and other fabric backgrounds for portrait shoots, I often need to clip one or more heavy fabrics into position relative to one another. My previous solution was the orange- handled, chrome "pony clamps" available at hardware stores. However, the Privett Soft Jaw clips are available in single, double, and quadruple clip models in several different configurations, which would let me clamp several fabrics or folds at a common spot. There's also a single model with a hook that could hang from a support rod or line. Tension is very firm, yet the silicone rubber roller jaw faces won't tear the fabrics. This type of rubber will even survive Los Angeles' industrial strength air without disintegrating. You can probably think of more possibilities in your own work.

Lastly, there's un-du. A creation of Doumar Products, it is an adhesive remover with a difference. No matter what dastardly sticky label or price tag (not glued labels such as applied to jars and bottles) is clinging to something you wish it wasn't, un-du will probably make short work of it. It is photo-safe and acid-free, and leaves no residue. It tackles masking tape, duct tape, cellophane, and "invisible" tape, even chewing gum, tar, and candle wax. Its unique characteristic is that it only temporarily neutralizes the offending adhesive; after it dries, the "stickum" is good as new. The applicator bottle has an attached scraper, which directs the liquid underneath the target subject and makes lifting it away intact easy. Un-du has garnered several awards, and will be a welcome discovery to many photographers.

FEATURED VIDEO