PMA 08; Studio And Mobile Lighting Page 2
Kaiser (HP Marketing) introduced the Studio-out-of-the-Box Lighting Set (under $300). The set contains two lights, each with two fluorescent tubes (with integrated electronic ballasts) in pivoting sockets, nearly 10" long, 8w each, 2700K, with an 8000-hour service life. Each is adjustable in height and angle and mounted on a tilting holding arm. There are two fastening points on each side of the table to attach the lights.
LiteShaper (Booth Photographic) had previously introduced a reshapable light-modifier system (consisting of highly durable, flat bendable aluminum with touch fasteners), and is now incorporating it in two new products: the LiteShaper Strip ($265 MSRP) and LiteShaper Arm ($225). The 9x36" LiteShaper Strip (fits over any existing adapter ring) adds flexibility in how you use a studio strobe light, especially in tight studio spaces. You can even use it as a hairlight. The LiteShaper Arm allows you to use the LiteShaper as a stand-alone gobo, cutter, or flag off a nearby softbox. The LiteShaper Arm Kit comes with a set of four original LiteShapers, arm, gooseneck, and stand. With a set of four LiteShapers and a 24x32 softbox, you can mimic any light-shaping device such as a strip, small box, barn door, or snoot.
OPUS PRO (Nadel) debuted a brand-new line of digitally-controlled 5500K monolights: LumaHawk, in 300 ws ($695), 600 ws ($950), and 1200 ws ($1395) models. Digital control is in 1/10-stop increments over four stops, with variable on/off 250w modeling. Recycling at full power on the 300 ws unit is 1.8 seconds, increasing to 2.8 seconds for the biggest unit. Each unit has a durable metal housing and includes integrated circuitry to protect against overheating. Additionally, the 1200 ws unit is fan-cooled. Also new is the OPL-H150 monolight. With an all-metal housing, this head is steplessly adjustable from 1/8 to full power (12 ws to 150 ws), plus each unit has a 60w tracking modeling light. At full power, the OPL-H150 recharges in 3 seconds. Available in kit form, beginning with the OPUS PRO Standard Kit, which includes two heads, 7-foot light stands, 46" white/translucent convertible umbrellas, snoot, four-leaf barn door with honeycomb and color gels, cables, and sync cords, plus padded carrying case. Kits start at $850. Another new monolight is the OPL-H250 (250 ws), which is also available in kits starting at $995. All lights have a built-in photocell.
RPS Systems (Dot Line) debuted the RPS Studio Portable Monolight Deluxe 200 ws Softbox Kit, sold only as a three-light kit ($600 MSRP), with stands, two umbrellas, 20x28" softbox, wireless remote flash trigger, and carrying bag. Each head features fully variable output, aluminum housing, fan-cooling, 100w quartz-halogen modeling light (on/off/proportional), pre-flash override to compensate for dedicated TTL pre-flash, and 3 second recycling to full power. Also new is the RPS Studio RS8000 metal-halide lamp head: each bulb is 150w (800w-equivalent incandescent light generating about as much heat as a 100w bulb), 5200K. I was told that these halide lights sport an improved ballast that ensures a flicker-free light. It uses three bulbs (total 2400w-equivalent output), each of which can be turned on or off as a means of controlling output. Can be used for any studio photography, with or without accessory softbox or umbrella (uses a Bowens adapter).
RPS Studio Portable Monolight Deluxe
Westcott added to their Photo Basics lighting systems. The original consisted of photoflood lighting. The new lights may not be as colorful, but I'm happy to report that they are strobes. While it may provide more power than most beginners need, the Strobelite Plus ($229) is a 400 ws monolight with recycling down to 2 seconds at full. Housed in high-impact polycarbonate and weighing less than 3.5 lbs (and measuring 9x5x8), this light comes with a 100w modeling lamp (proportional/on/off), built-in slave, and user-changeable flash tube. There are several kits available, with the three-head kit including two softboxes, two 9.5-foot stands, one background stand, barn door set with gels, and wheeled case. While operation appears no more or less difficult than numerous low-end studio monolights, the novice does benefit from the instructional DVD and lighting "map" that comes with the kit. Various accessories are available. Also new is the Rick Sammon On-Location Lighting Kit and Tote ($119), which consists of various accessories aimed at controlling your lighting while shooting on location.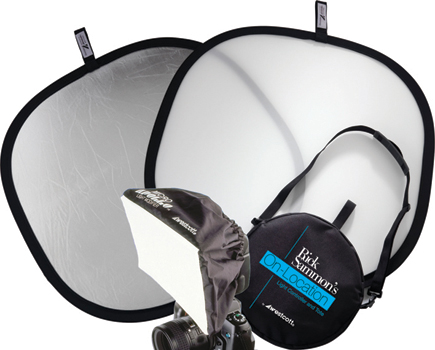 Westcott's Rick Sammon Kit and Tote

FEATURED VIDEO