PMA 08; Batteries And Chargers
Nearly every picture-taking device today is electronic in operation so the need for a reliable battery is imperative. Some digital cameras use specialized rechargeable batteries while compact models often still rely on standard AA- or AAA-size batteries. The latter tend to hog the battery power, especially when flash pictures are made. Because of this there were lots of battery chargers on display at the show. Some are truly universal in that they can accept and charge several sizes of batteries and can, with multi-voltage capacity, charge them anywhere in the world. Most are relatively small so they are easy to carry when you travel. A few even read the remaining charge in the battery and read-out remaining power.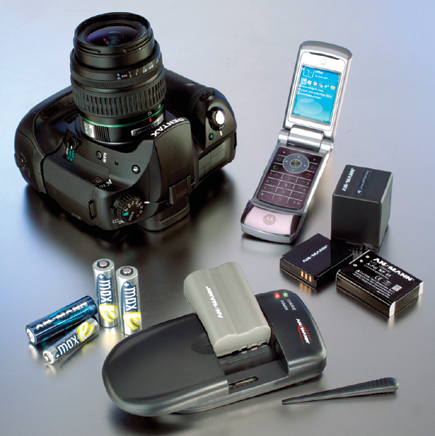 Ansmann Universal Battery Charger
The Ansmann Universal Battery Charger is user changeable to accommodate most any size or configuration of camera, camcorder, or cell phone battery. You simply place the battery into the 2.5x4" unit then adjust the charging contact terminal position with a supplied stylus. The unit then automatically selects the proper voltage and polarity. It also accepts both AA- and AAA-size rechargeables, has a car adapter, and is compatible with worldwide voltages. It will sell for about $45. Also new are the Ansmann D-SLR rechargeable camera battery grips, which fasten to the base of most D-SLR camera bodies to provide extended battery life.
The Delkin Dual Universal Battery Charger lets you charge two camera batteries simultaneously on the same charger, or one camera battery plus two AA size, for practically limitless combinations of dual charging. It has LED power indicators, automatically switches from 110/220v, and has a car charger. Two "Smart" charging plates for specific batteries come with each unit. The charger lists for $55 and extra plates are $5 each.
Delkin Dual Universal Battery Charger
DigiPower's Universal Charger for lithium ion digital camera batteries is compatible with most camera, camcorder, and handheld devices using lithium ion 3.6-3.7v/7.2-7.4v batteries in addition to Ni-MH AA- and AAA-size batteries. There is a sliding battery base module with adjustable contacts to accommodate different-sized batteries. Batteries are held vertically or horizontally, there is a two-color LED charging indicator, and a 12v car adapter is included in the $50 unit. In addition, they offer a cordless travel charger for Sony NP-BG1 lithium ion and Canon NB4L lithium ion batteries that has a USB charging interface for computers.
DigiPower Universal Charger
GP Batteries, probably best known for their ReCyko line of rechargeable batteries that are environmentally friendly, introduced two new premium-series rapid chargers, the PowerBank V800C and V600D. They occupy a smaller footprint since they are vertical with the battery compartment door on the side. Requiring just 15 and 60 minutes to fully recharge one to four AA- or AAA-size batteries, they have an LED display to show charging status and an auto cutoff when charging is complete. They are usable worldwide with AC100-240v power.
Hahnel PowerStation Twin V Pro

FEATURED VIDEO