A Plug-In Bonanza; Retouching, Adding Grain, And Then Some
"Life is like a 10-speed bicycle. Most of us have gears we never use."--Charles M. Schultz
Retouching Tools
One of the biggest challenges facing aspiring portrait photographers is retouching. Few of us are perfect. In fact, Cindy Crawford once said, "Even I don't look like Cindy Crawford when I get up in the morning!" That's where a retouching tool such as Imagenomic's (www.imagenomic.com) Portraiture plug-in ($169.95) comes in handy. It eliminates the time-consuming steps required to remove cosmetic imperfections while retaining important detail.

This Photoshop compatible plug-in is available in both Mac OS and Windows and features skin smoothening and blemish removal while preserving texture and details such as hair, eyebrows, and eyelashes. Portraiture includes a masking tool that enables selective smoothening so only the skin tone areas of the image are affected. It includes a set of presets for one-click effects and the ability to capture custom presets for your workflow. For finer control, you can specify the degree and size of smoothening as well as adjust the amount of sharpness, softness, warmth, brightness, and contrast.

Tip: Don't worry about overdoing it. Apply Portraiture to a duplicate layer (Layer>Duplicate Layer) and use that new layer's Opacity slider control to blend the retouched layer with the original to create a natural look.
© 2005, Joe Farace, All Rights Reserved
Real Grain For Real Pix
Want to add a "film look" to your digital photographs? Imagenomic's RealGrain ($99.95) Photoshop compatible plug-in incorporates several methods for simulating grain patterns and the color and tonal response of different films (and scan resolutions) to replicate the look of grain found in traditional film emulsions. The plug-in offers automatic adjustment of grain size based on the image file's physical dimensions, to render accurate grain patterns for varying image sizes. It also includes a range of default effects and a number of built-in color and black and white films--maybe even one of your favorites. RealGrain features an intuitive interface and controls for grain balance, tonal range, and color fine-tuning along with workflow customization presets that can be tailored to your requirements and style of shooting.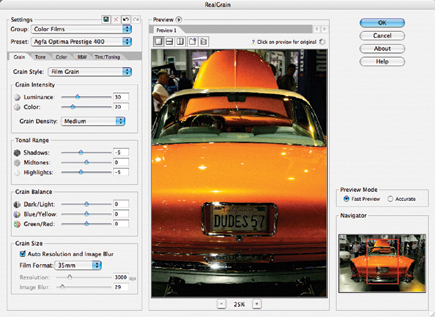 © 2005, Joe Farace, All Rights Reserved
Photo Art That's A Snap
Alien Skin Software's (www.alienskin.com) Snap Art is a new plug-in for Adobe's Photoshop CS (or later) and compatible image editors that produces natural-looking artistic effects without laborious hand editing or, in my own case, artistic talent. Snap Art includes several effects that I've never before seen in a plug-in, including a convincing-looking pen and pencil line drawing effect that can be combined with shading and crosshatching. Snap Art emulates a number of traditional drawing effects such as colored pencils, charcoal, and hard, soft, or oil pastels and includes hundreds of presets that work with a single click. It can produce a comic book look, complete with shading and half-toning. If you're feeling "artier" you can render a still life using pointillism just as a neoimpressionist might. You can even craft a rough and rocky landscape using dry brushed watercolor or thickly textured impasto. Snap Art works with 16-bit images and is scriptable using Photoshop Actions. Context-sensitive help and an online manual keep things easy to understand. Snap Art costs $149, but registered Alien Skin users can purchase it for $99 when ordering direct.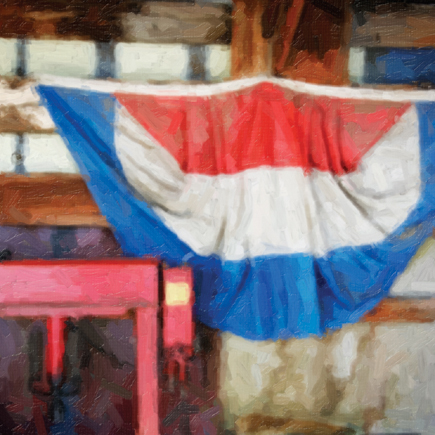 © 2005, Joe Farace, All Rights Reserved

LATEST VIDEO