photokina Special Coverage; Tripods And Camera Supports Page 2
Berlebach, best known for handsome, high-quality wooden tripods, now use carbon fiber for the lower sections of the legs of their newest heavy-duty tripod. It looks just as good as the all-wood ones, too.
The bigger Manfrottos have a clever new center-column system, which precludes the need to remove the column for low-angle shots (as well as providing a boom arm), and if you want a good name and a (relatively) inexpensive tripod, their Modo series is worth looking at: the mini Modo (36.5cm/14.4" folded, 96.5cm/38" extended), the Maxi Modo (44.5cm/17.5" folded, 127cm/50" extended), and a Modo Monopod. The Tundra, in the National Geographic series, is very similar to the Modo but has special large rubber outdoor feet.
Getting a tripod into your suitcase is often a problem, but Paterson's latest Benbo, the Trekker compact, is handily sized at 64cm/25" folded and 114cm/45" set up, and weighs just 1.6 kg/3 lbs, 8 oz.

Tripod Devices And Clever Kits
Argraph Corporation will be bringing into the US a new monopod which doubles as a walking stick and features a built-in compass, centimeter graduations on the leg, a conventional foot which comes off to reveal a spike foot, and a snow/sand disk. What makes it unusual is that it is spring-loaded. When I put my camera on it and pressed down lightly, it seemed to damp any movement so I could hold the camera very steady. Anticipated retail is well under $50.

The "Survival Kit" from Novoflex revived a 1950s idea with a mix-and-match set of tabletop tripods, clamp, sucker, wood-screw, and more; not ideal camera supports, but compact, light, and a lot better than nothing.
Novoflex Survival Kit set.

In less charted realms, the fascinating "Club Med Beads" construction of the gorillapod from Joby has now been extended to a bigger version, the gorillapod Pro. Like its little brother, it can be used conventionally, or the legs can be wrapped around a tree or a piece of furniture. It also makes a good "chest pod." The ones at the show were prototypes and the specs given are subject to change, but it weighs 11 oz (320 g) without a head (any small head will do); it is 9.8" high; and it will hold a maximum weight of 4.5 lbs (2 kg), e.g., a "real" camera and not just a digital compact.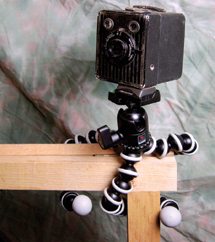 The even less conventional MonsterPod is now in full production with an intriguing flying saucer look. How does a camera support look like a flying saucer? Well, it is a flat, round lump of sticky silicone material which will stick to many (but not all) surfaces. The top outside, which holds your camera, is bounded with a ring of semi-rigid rubber-like material, and covered with fabric. Press the disk gently but firmly against the surface you want it to stick to. Work it with your fingers until it is well stuck. It will then stay in place for about 20 minutes: don't leave it more than half an hour or it might fall off, complete with your camera. It isn't designed to stick forever, but at a mere $29.95 it comes into its own when a tripod is impracticable or prohibited; it's very compact; and it is inherently very well damped. An accessory pouch is available, to carry around your neck or on a belt.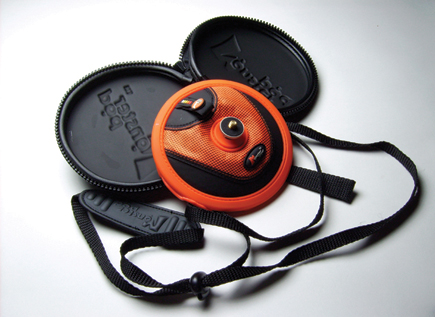 Finally, it is always interesting to see what OEM manufacturers are doing: the people who make tripods for other people to sell under another name. Highly Corporation make Olivon's tripod with the monopod leg and are now beginning to distribute tripods under their own brand name. They are a Chinese company with innovative ideas, as are Koreans Matin International, who had a bracket that goes between the camera and the tripod and holds an umbrella. Great for protecting your camera from rain, or shading your lens. Whether any US distributor will pick it up remains to be seen.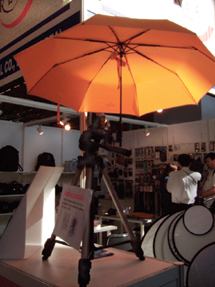 These are only the highlights I noticed at photokina, and of course, not everything is necessarily imported to the US, so for further details go to the manufacturers' (and distributors') websites. For example, as well as following the carbon-fiber trend and introducing the new heads already mentioned, Giottos introduced over 50 items, so look at the HP Marketing Corp. website to see what will be available in the US.

Newton-Meters And Foot-Pounds
A camera on a tripod head can be thought of as a lever. The heavier the camera, and the further "off-balance" it is, the greater the leverage.

Newton-meters are a measure of leverage, just like the familiar foot-pounds on an American torque wrench. The conversion factor is near enough 0.74, so the conversions are 10 Nm = 7.4 lb-ft; 25 = 18.5; 30 = 22.2; 35 (the biggest) = 26. A big heavy 35mm camera or digital SLR and long tele lens can generate 25-30 Nm; a small, light camera may well be under 2 Nm.

This is a much better way of stating a head's capacity than the maximum perfectly-balanced load it can carry. Cullmann asked if we thought the American market would prefer lb-ft...