photokina Special Coverage; Rangefinder Cameras: The Golden Age Is Upon Us Page 2
There was also a new wide angle (rangefinderless, viewfinderless) version of the Zeiss Ikon, intended primarily for use with wide angle lenses where scale focusing is adequate, but this had been shown several weeks before the show along with the new 50mm f/1.5 Sonnar, a six-glass, three-group Cooke Triplet derivative.
Although there were no new lenses from Voigtländer, which is in itself something of a first, there were two other new lenses from Zeiss in the ZM (Leica M compatible) mount, an 18mm f/4 Distagon and a 21mm f/4.5 Biogon, both very compact.
The 18mm Distagon seems set to join the canonical focal lengths (21-28-35-50-75-90mm) for rangefinders, as a compromise between 15 and 21: cf Leica's 16-18-21mm TRI-ELMAR. Interestingly, it is specifically described as being suitable for both analog and digital photography, as is its brother the 21mm f/4.5 Biogon. The latter will raise fond smiles from those who remember the old 21mm f/4.5 Biogon, introduced in the 1950s and still much sought after today, but the design of the newer model is somewhat different with a significantly greater distance between the rear glass and the film plane.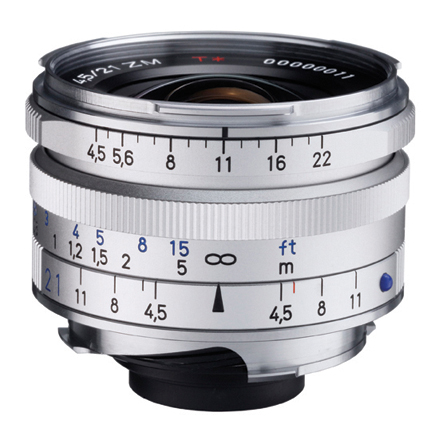 We saw no sign of the Rollei-branded, Voigtländer-built 35mm rangefinder cameras at the show, which is no great surprise given the split of Rollei/Franke & Heidecke. Rollei GmbH is based in Berlin, while Franke & Heidecke is in Braunschweig. Nor did there appear to be any further update (beyond the R-D1s) of the Voigtländer Bessa-based 6-megapixel Epson. As far as we can see, the latter is almost certainly still in production, the former, probably. But nothing new; keine neuheiten, as they say at photokina.

Finally, Frances Schultz and I grabbed the opportunity to talk with Richard Schleuning, who is responsible for Zeiss Ikon sales in the US. The dealer network will be fairly small and exclusive, simply because the Zeiss Ikon isn't a mass-market camera, and he wants to concentrate his promotional effort on getting cameras into people's hands. He reckons, and we wholeheartedly agree, that once people have held one of these cameras and looked through the big, bright viewfinder, they will have a much better idea of what rangefinder cameras are about, and they will want one. The same argument is at least as true of Leicas, whether M7, MP, or M8. We could be in for interesting times.
Focal Length Equivalents
Rangefinder users can choose from 15 focal lengths in current production, though the longest lens recommended for the M8, and the longest for which a finder frame is provided, is 90mm; the old "spectacles" 135mm f/2.8 is best if you are determined to use 135mm (180mm equivalent) on the M8. Allowing for the 1.33x conversion factor, equivalents for current lenses are:

Actual

Digital

Equivalent

12

16

(Voigtländer only)

15

20

(Zeiss, Voigtländer)

16

21

(Leica)

18

24

(Leica, Zeiss)

21

28

(Leica, Zeiss, Voigtländer)

24

32

(Leica)

25

33

(Zeiss, Voigtländer)

28

38

(Leica, Zeiss, Voigtländer)

35

47

(Leica, Zeiss, Voigtländer)

40

53

(Voigtländer)

50

67

(Leica, Zeiss, Voigtländer)

75

100

(Leica, Voigtländer)

85

113

(Zeiss)

90

120

(Leica, Zeiss)

135

180

(Leica)

FEATURED VIDEO