photokina Special Coverage; Lighting Highlights

Wireless flash control is really big right now. For a long time, wireless systems primarily used slave triggering or infrared technology to fire strobes remotely. Increasingly, though, RF (Radio Frequency) systems are becoming the norm. RF systems, which generally provide multiple frequencies, make it possible to have a number of different photographers shooting with their own lighting gear without interfering with other photographers who might be shooting in the same area.

One of the most interesting wireless systems is Elinchrom's EL-Skyport Trigger, an ultra-secure, remarkably compact, and very versatile system. It's a high-speed data transmission system providing handheld or computer wireless flash control. To control multiple sets of flash units, Skyport supports eight frequency channels and four workgroups.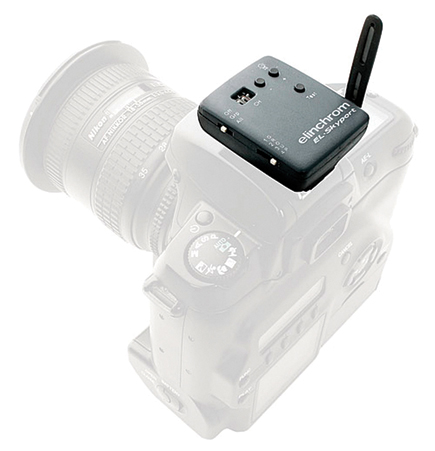 Elinchrom EL-Skyport Trigger system

There are four different miniaturized modules that are part of the system, including a Transmitter, a Universal Receiver, a Transceiver RX, and a USB Transceiver RX. The tiny Transmitter is the basic unit that's attached to the camera. The Transmitter synchronizes flash units that have been fitted with either the Universal unit, which fits all flash brands, or with the Transceiver RX, which is designed to work with Elinchrom's Style RX, Digital RX, and Ranger RX flash models.

The USB Transceiver RX attaches to the USB port of any Windows or Mac system. With the Elinchrom software, it's possible to control all the RX flash units that are within range. The unit automatically searches for Transmitter RX and Universal Receiver modules. Skyport sets are available in three different sets, the two-unit Universal Trigger Set, the three-unit RX Trigger Set, and the four-unit Computer Remote/Trigger Set. Because of its size and functionality, the Skyport system is going to be real popular with photographers.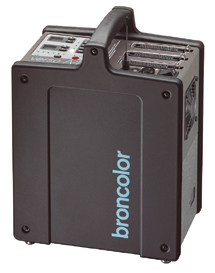 Broncolor, which is distributed in the US by Sinar Bron, was showing its recently introduced Verso A4 RFS. Building on the success of the 1200 J Verso A2, the new Verso A4 RFS flash power pack is a 2400 J unit designed for fashion and outdoor photography. It includes two individually controllable channels with three lamp outlet connections. With an output range of seven f/stops in 1/10-stop increments, it's fast at recycling and consistent in the quality of the light that it can generate.

It provides automatic color temperature stabilization within +/- 100K over a four f/stop range. It includes a controllable infrared receiver for wireless flash triggering. Model lights can be adjusted to six different proportional levels. There's visual and audible flash monitoring, as well as thermal protection and a fan to keep the unit cool during long shooting sequences. It has a robust aluminum housing with hard rubber component sidewalls.

An accessory Power Dock is available, which consists of a high-performance battery package with an integrated charging unit, as well as an independent processor for battery management and monitoring of the modeling light. The Power Dock can be attached to the bottom of the power pack.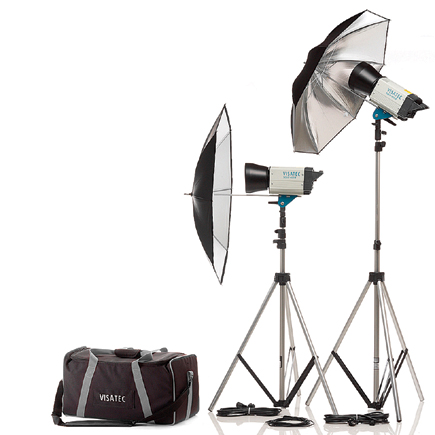 Visatec Car Kit SOLO 400 B

Broncolor has also introduced new products in its Visatec line, which is targeted at advanced consumers or for entry-level professional applications. Visatec was showing the Car Kit SOLO 400 B and 800 B, which consists of two monobloc SOLO heads with flash tubes, modeling lamps, two umbrella reflectors, one white umbrella, one silver umbrella, cables, and a car bag. The only difference between the two kits is that one includes the 400 B while the other the 800 B head.



LATEST VIDEO