photokina Special Coverage; Lighting Highlights Page 2
Photoflex has a complete line of StarFlash strobe units, a new family of all-inclusive, self-contained monobloc strobes. StarFlash strobes include the 300 RedStar, 650 BlueStar, and 1000 BlackStar, with the model number representing the watt second output of the unit. Each provides a flash range from 1/8 to full range and has a sync cord connector as well as wireless infrared flash triggering. Each of the StarFlash units is available in a variety of kit configurations.
Photoflex StarFlash strobe units

Continuing with its series of lighting kits, the company also has its new First Studio Ultra Kit. It's a dual-light setup that's ideal for shooting either products or portraits. Easy to set up and break down, it's powerful enough to come up with professional results. It includes two FirstStar light heads equipped with 250w lamps, two 45" high-efficiency, adjustable reflector umbrellas, and two light stands. There's also the Medium LiteRoom shooting tent for product photography that can be set up just about anywhere.

One of the newest light measurement devices is the Sekonic DIGITALMASTER L-758DR, which is specifically designed for digital photography. It's the first multifunctional meter that can be programmed to match the sensitivity of digital camera sensors for perfect exposure control. Expanding on the feature set of the DUALMASTER L-558R, the L-758DR has an internal programmable memory. It can compensate for a number of factors that effect exposure accuracy, including light sources, ISO settings, and measuring methods.

The dynamic range of the sensor of the camera being used can be stored and displayed on the meter's LCD screen. That's a nice feature, since it lets the photographer know the dynamic range limits of the camera before taking the picture. The L-758DR has blinking pre-exposure warning lights that indicate when a measured highlight or shadow exceeds the dynamic range. Clipping points that set user defined dynamic range limits can also be programmed into the meter.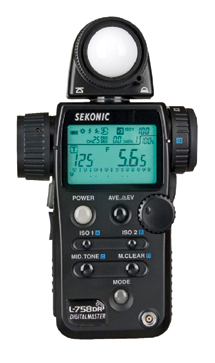 Sekonic DIGITALMASTER L-758DR

Different exposure profiles can be developed through a four-step exposure test, using the optional test target available from Sekonic. Pre-tested exposure profiles can also be downloaded from the company's site. Three different exposure profiles can be stored in the new meter. These profiles can be programmed into the unit directly or loaded through a computer. The meter comes with software and cables for profile downloading via the built-in USB port.

The L-758DR has a number of other new features, including mid-tone adjustment, built-in wireless triggering with continuous channel/zone display, and firmware that's user upgradeable. The DIGITALMASTER is the first in a new generation of digital exposure control meters.