photokina Special Coverage; Bags, Cases, And Underwater Housings, Too

Innovation is not the word which immediately springs to mind when you think about camera bags. And yet, innovation there was at this photokina.

Case in point: A properly loaded backpack with a two-strap harness, lumbar support, and sternum straps is the most comfortable and best balanced way for most people to carry heavy camera gear. But until now, you had to take it off to get to your gear. No more! Think Tank has been thinking again.

"Rotation360" has two stories. Grasp the handle on the left side of the waist belt and pull. The bottom story swivels around to the front, holding lenses and other accessories you need in the field, and opening away from you for easy access.
Now grasp the handle at the right side of the waist belt; pull; the lower bag returns to the back and locks into place. To reduce back and neck strain, you can mount camera straps directly to the padded shoulder straps. Rotation360 has a slim profile, back air vents for comfort, an adjustable harness, and movable dividers. Videos on www.rotation360.com show it in action.

Among hundreds of digital pouches, two from Kodak Gear stood out. One, based on the old ever-ready case, is a small box which fastens at the sides and front with touch fasteners, with a tripod screw in the bottom. Unfasten the touch fasteners, fold the pouch back and you are ready to shoot. Holding case and camera seemed to give a little extra stabilization to help prevent camera shake. Fold it up again and your camera is protected. There are two versions, a tweed-look for an old-fashioned feel or neoprene for modernity.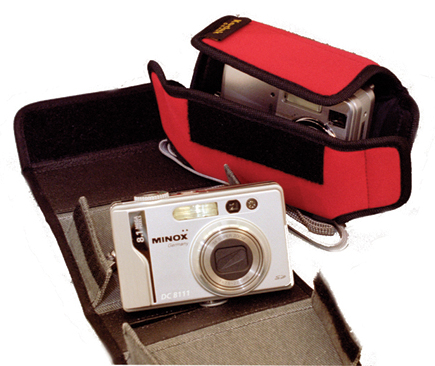 The second pouch is a miniature version of an idea that has been around in bigger cases for a while, the expandable zippered compartment. If you need extra space, unzip the front compartment to reveal a second zippered compartment, practical for a charger, a USB cable, extra memory cards, batteries, a coin purse, or even a passport. But if you don't need the extra carrying space, zip the expandable compartment down and use just the main pouch.

Neoprene is now in the mainstream, a fashionable and practical fabric for camera bags. Need extra pockets? Case Logic has three sizes of neoprene pockets in various colors. They come with a ring and a lanyard and attach to almost anything. Kata's new Ergo-Tech range combines neoprene-type material (PES/PA) with molded plastic reinforcement strips and comprises 17 bags, including two backpacks and a laptop case, and there are some new cases in Kata's Thermo-Shield range for big screen laptops and bigger SLRs and digital SLRs.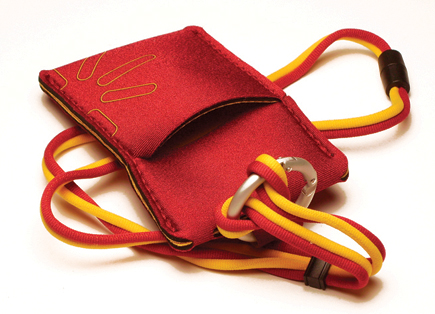 Neoprene pocket from Case Logic

This well illustrates how bag sizes are polarizing to suit ever bulkier digital SLRs and their peripherals at one extreme, and digital point-and-shoot cameras at the other. Most bigger camera bags, whether shoulder bags, backpacks, or rolling bags, are now built to accommodate laptops, often with pull-out laptop compartments to facilitate security inspections while retaining protection.

Designers are also getting better at making bags that do not look like they hold hundreds of dollars worth of gear. Often, material helps in this. Domke's latest cotton-canvas (but waterproofed) Lifestyle bags are a good example, as is their new two-stage backpack. The laptop fits in a flat "urban-style" backpack which incorporates the harness. There is a separate compartment which can be attached to the lower part of the backpack, or used separately.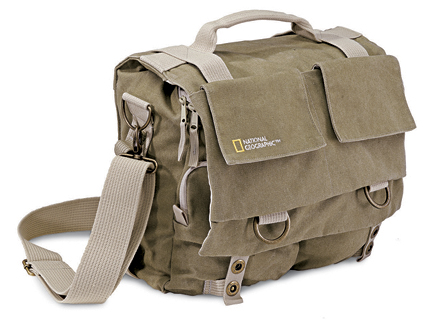 Manfrotto National Geographic backpack

Of course, natural materials wear in a way that makes them look comfortably worn and unobtrusive, and others who
have adopted them include Mekko, Manfrotto's National Geographic range, and several OEM manufacturers. One Chinese company, Winer, wanted to start selling bags, including their excellent denim and canvas lines, under their own name and were assiduously picking the brains of everyone they could. Another Chinese company, the Kamlui Group, sought US distribution for their fabric bags, including cotton canvas.

Two other materials caught my eye. One looked like cotton but was actually a synthetic called polyspun. Vanguard used it for their Arlen series, three shoulder bags and a backpack. The second was truck tarpaulin material (!) which California Sunbounce is trying for their large rolling bag, designed especially to hold up to five Sunbounce reflectors and accessories. If successful, this material may find its way into the mainstream. It certainly has a very different look and should be adequately strong.

Nor are these the only fabric options. RoadWired had "Skooba Skin" laptop cases in a variety of unusual fabrics, including corduroy and suede. These can be carried on their own or tucked into bigger cases. The trend toward imaginative use of fabric, color, and design abounds, too, in small bags and pouches. Examples include handsome black leather cases with bright colored accents from World Richman (HiPro), and miniature pouches from Delsey, which match their newest rolling case in shape and fabric. Small quilted wraps and drawstring pouches from a Korean company, DJN Photo Club, caught my eye. A purple satin envelope with a microfiber lining was my favorite, closely followed by a soft pink polyester drawstring bag, also with a microfiber lining.
Delsey's new rolling case in black or dove gray looks like conventional rolling luggage, but has a lift-out compartment with adjustable dividers for your camera gear. Check Delsey's website for new distribution in the US.

LATEST VIDEO