photokina Special Coverage; Bags, Cases, And Underwater Housings, Too Page 2
Likewise, Tamrac's newest offerings do not immediately say "I am a camera bag." The new fabric in their Adventure series is a "pixelated" camouflage material and the nature of the pattern means that no two bags are exactly the same. Tamrac also introduced the Express series, a range of three handsome-looking bags trimmed with ultra suede: black on black for the conservative photographer or gold on khaki. There are also three sizes of ultra suede Express pouches in four colors.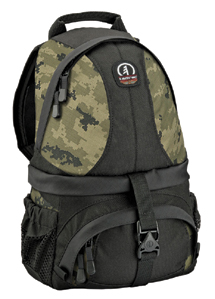 Tamrac Adventure series camo backpack

Tamrac Express series bag

Underwater And Weather-Resistant Casings
Underwater housings are a trend, too. Ewa-Marine had a new housing for the Canon EOS 5D, but several companies showed inexpensive underwater cases which allow you to take your point-and-shoot camera to the beach and even into the water. I must admit that the first time I dunked my Minox DC 8111 in an aquarium I was somewhat nervous, but the DiCAPac WP-300 which protected it worked wonderfully. DiCAPacs come in six sizes and protect your camera down to 5 meters; the WP-300 retails for around $35. Their newest housings are for camera phones: take your picture down below, then come up top to send it. DiCAPacs are heavy-duty flexible plastic with zip/fold/touch fastener seals.

Kaiser had a semi-rigid housing for digital cameras called the WaveCase. Watertight to a depth of 4 meters, it has foam inserts to adjust for camera size. The lens port is polycarbonate, and the LCD side is flexible silicone through which you can work the controls. There are WaveCases for PDAs and mobile phones, too. Or if you want everything in one, Snap Sights! incorporate their camera into an underwater housing: their cheapest digital version offers 1.3 megapixels for under $50.

For unexpected rainstorms, OP/TECH USA introduced the Rainsleeve, based on plastic grocery bag technology. OP/TECH improve upon the humble plastic bag by sourcing tougher material; shaping it to fit over the camera, whether handheld or tripod mounted; and fitting a drawstring lens opening. For the eyepiece you go back to improvisation and poke a hole with your finger. They come two to a pack and retail for about $6: they can be reused a few times, but they are (as OP/TECH put it) "our first product without a lifetime guarantee."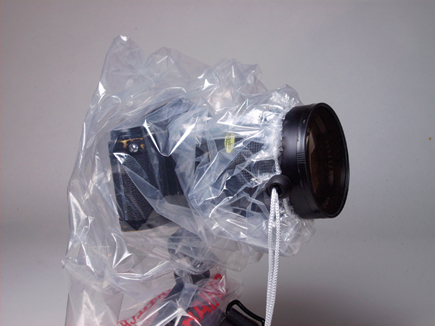 Heavy-duty waterproof carrying cases with purge valves were well represented, too. There is a new range of six sizes from Vanguard, and Peli, the European arm of Pelican, Storm Case, and B&W also showed new cases. As well as their big resin cases, B&W had a tiny O-ring sealed case, the kidney-shaped XS, for carrying small point-and-shoot cameras or mobile phones or whatever. These come in a range of colors, hang around the neck or clip to a belt. B&W will be distributed in the US by OmegaSatter.

Still looking for distribution was VacuumSaver, my choice for best of show at last year's PMA. This is the little portable see-through resin case with a hand vacuum pump. It protects your camera or electronic gear from humidity without depending on electricity. VacuumSavers come with mechanical or digital humidity meters so you can check the reading easily. The original size (11.5 liters) will hold most SLRs and retails for around $65, and the new little one (3 liters) can hold lenses or small cameras and retails for about $35.

ID, Shipping Forms, And Airline Security
Another trend is an emphasis on identification. Tenba has added a document pocket to the outside of their Air Cases. They also have an engraved identification plate which is riveted to the case. MIA (Mascotte Industrial Associates) announced an identification service: a unique tracking number, so if someone finds the bag and contacts MIA they can return it to the owner.

Checking baggage through the airlines is increasingly a concern, and this summer Pelican announced the PeliLock, a TSA-approved lock. Now Think Tank has installed a TSA-approved lock on at least one of their cases, with more to follow.

Hands-free carrying can be useful, especially at airports, and Naneu Pro's accessory backpack harness can be fitted to a shoulder bag. It is not designed for long treks, but it can be a real boon when you need it. It's not expensive either, retailing at $11.95.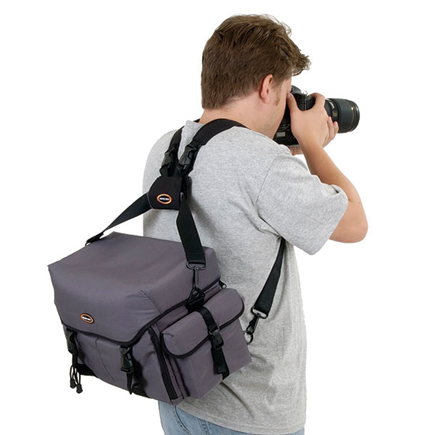 Naneu Pro backpack harness

Artisan & Artist bags and straps were on display and there is a good chance that they will be distributed by THK, as well as by existing distributors Photo Village, in the US. These are beautifully made Japanese products: expensive, but my two Artisan & Artist straps are the best made and most comfortable straps I have ever used, and my husband Roger Hicks uses one with his Leica M4-P. Less elegant, but extremely useful, is OP/TECH's new "system" approach to allow most or all of their straps to be used with shared end fittings.

Lowepro didn't show any new bags, although they promise a bigger version of the SlingShot will be ready for 2007, and they have other products in development. Their 40th anniversary is coming up, and their real news was a celebration campaign designed to help raise awareness of climate change and help save the polar bear. Watch for more news on their website.

So, from handmade Cordova leather straps to a "Save the Polar Bear" campaign, via cotton canvas, a two-story backpack, and lots more. All in all, this was one of the most interesting selections of bags I have ever seen at a show. Admittedly (and justly), bags are seldom seen as the most glamorous products in the photo trade, but even so, it is good to see form, function, and intelligent design so well integrated.