The Photography Of Ken Elkins
They call him the picture taker, a humble phrase for a man whose every image is a small miracle. His name is Ken Elkins, retired chief photographer for The Anniston Star in rural Alabama. His new book, appropriately titled Picture Taker (published by The University of Alabama Press), transports us from life as we know it to a world most of us will never encounter.

His subject is humanity. There is a uniqueness to Elkins' vision that has drawn me to his portraits of people and places that I thought had long ago disappeared, portraits of hard-working people in the rural South, dignified men and women who are poor and so very human that the longer one looks at them the greater is the draw to know them. Every picture has a tale to tell.

Simplicity of life is hard to come by and yet there are places like Talladega County, Rabbit Town, Huntsville, Horse Pens, Gallant, and Choccolocco Creek where an old man with fingernails worn to the edge lights up a roughly hand-rolled cigarette, his many years gracefully defined by the lines of age as he concentrates on the familiar act.
Snake Handler
A snake handler with arms loaded down during a service at a Scottsboro, Alabama church. Circa 1985.
All Photos © 2007, Ken Elkins, All Rights Reserved
Another more startling image shows a snake handler, one of the many snake handling pastors from a small Pentecostal church in Scottsboro, Alabama, and a follower of the group noted for the deeds of Ilendel Buford Summerford, who in 1992 forced his wife's hand into a box of rattlesnakes, an act that cost him 99 years in prison.

Wherever Elkins aims his camera there is a story to be told. Children share a display of carefully labeled insects. A fiddler dances and plays at a centennial celebration in Jacksonville. A beautiful young child half-hides by his mother's skirt, shying away from the camera. He has never seen a camera before and his eyes are wide with fear; this is one of Elkins' favorite photographs.

Ordinary people in simple settings, photographed for the most part out of doors, speak to us of a life that is hard. Yet, there is a subtle beauty portrayed in the woman sitting on her porch snapping peas while her small child sits, one hand on his mother's knee, watching her.
Centennial Celebration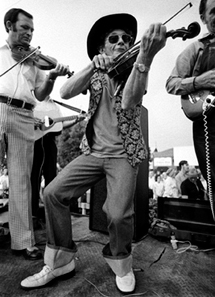 Fiddle player performs with group on the square in Jacksonville, Alabama.
Each subject is part of his or her environment. They would not want to belong elsewhere, I am sure, and this is the feeling that Elkins brings to us. His eye sees their space as part of each story--the barren land, the logs piled behind the chair of a man who obviously has just finished laying in the winter's supply. He is at peace, smoking his pipe as he rocks in his chair, his work done for the day.

Elkins was born in '35 in Grant, Alabama, one of six children. His family were farmers, the road to their farm not paved until the late '70s. Elkins quit school in his senior year and worked on the farm until he was old enough to enlist in the Army where he did a tour in peacetime Germany. It was here he picked up his first camera, a Brownie Hawkeye.

When his Army stint ended he came home to Alabama, married and worked as a paper delivery boy with dreams of becoming a photographer.
Huntsville 1960s
Shot for a series on the poor in Madison County Alabama. Probably the first time this child had been photographed. Circa 1965.
"I see a lot of his childhood and even my own in his photographs," his daughter Karen Roberts says. "These are the people I grew up with. In his photographs Dad has put in his images what the Nashville musicians sing about."

Among my favorites is the portrait of 95-year-old Ernest Marsteller of Ashville who has been making primitive fiddles for over 85 years, using cotton strings and wooden winding keys. He is a favorite friend of Elkins and Elkins buys a fiddle every time he is in the area. (To date the total is around 12 fiddles.)



LATEST VIDEO