The Photography Of Ken Elkins Page 2
Elkins has received over 500 awards in photography, including many from the Alabama Press Association as well as numerous national awards from the Associated Press. He has photographed every president since Eisenhower and most of the governors of the state of Alabama. He recalls how when photographing Nixon he got a little too close and the Secret Service intervened and made short order of the shoot.
Crops Planted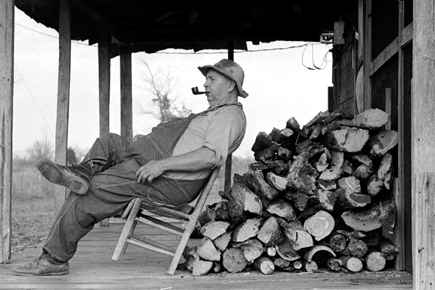 Cleburne County farmer taking a break on the porch after getting the corn and cotton planted.

But it is Pinky Burns, the artist, Mose Tolliver, and Ab (with his moonshine still; for obvious reasons his last name is being withheld) who are those he calls "salts of the earth, the great people."

His work is often likened to that of Walker Evans, though we often sense a happier countenance than those of Evans' subjects. They are never mainstream but rather members of a unique time and place that lives on.

Unfortunately Elkins has been ill and still has a problem with his speech. However, he is doing well and even without words is participating in this article with the help of his wife and daughter, as well as his close associates Ed Motes, H. Brandt Ayers, and Elise Sanguinetti from The Anniston Star, who have given generously of their time to me. It is his photographs that tell his story though.
Goatman Group
(Left to right) Gene McCartney, photographer Ken Elkins, and Ches "Goatman" McCartney.
"He was a master of the photo essay," Motes says. "He has the ability to walk into a situation in his laid back way and become a part of that world. Everything becomes very personal--there are no long lenses and most of the portraits are shot with 20-35mm up to an 85--nothing sophisticated, no bells and whistles, no football games, just homespun and honest--what life is like in the Deep South."

Ayers, publisher and chairman of The Anniston Star, tells a wonderful story about how he hired Elkins to work with the paper. "I hired him when I took him out to lunch one day. During the course of lunch I noticed he kept cocking his head--left
and right and I thought he had a tic. I asked him if there was something wrong with his neck.

"Oh no, excuse me," he answered. "I just look at everything through a viewfinder."

When he told me that I said, Oh my God! I've got a winner. And he was. He looks like Mark Twain and I have to admit that if you were looking for someone who lived up the creek, Elkins was the guy to ask. He knew the oddest assortment of characters you have ever seen though he wasn't odd himself, just curious. He loved to find some old country guy with tobacco juice in his beard--Ken would say this is the kind of person we have in this part of the world, in rural Alabama.
Shelling Beans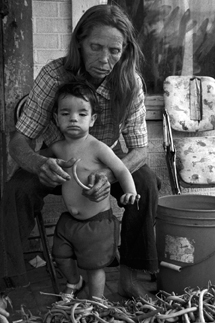 A rural family north of Jacksonville, Alabama with shell beans.
"Elkins has a very personal feeling for these people," Ayers says, "and this is what comes across in the portraits--they are nonjudgmental and understanding. He also has this ability to get every gradation in his subject whether it be a portrait or the side of an old barn."

Sanguinetti of The Anniston Star spoke of Elkins' stint at the paper for over 20 years. "Ken is an artist," she says. "He knows how to put things together. He was our chief photographer and went on all kinds of assignments, mostly everything a daily paper would cover in an area of five counties. What made him so good was his keen eye and his hard work--he is a good technician, too--a rather quiet person, somewhat reserved but most appealing, very much drawn to these people he photographed."

The human race is Elkins' subject. He sees the beauty in these simple people of the rural South and is totally at home with them. Whether he is wading out in the water to shoot a baptism in the Tallapoosa River or aiming his camera at small kids roller skating with the toes cut out of their outgrown skates, he is offering his own understanding, as well as a sense of tenderness and skill only a great photographer has.

LATEST VIDEO

SPONSORED VIDEO
Testing Tamron's SP 150-60mm G2 lens while capturing birds and alligators in Apalachicola, Florida.