The Photography Of Eli Reed; A Passion For Storytelling
As a documentary photographer Eli Reed focuses on subjects that have deep meaning for him. A member of Magnum since 1983, Reed is a highly respected still photographer as well as a noted member of the motion picture industry where he works with some of Hollywood's top directors, including John Singleton and Spike Lee. Photojournalist Dirck Halstead wrote of Reed, "Eli Reed is a case study in how photojournalists can follow their hearts, do good work, and still make a living."
U.S.A. New York City, 1999 - Million Youth March

All Photos © 2007, Eli Reed, All Rights Reserved
Getting his visual images out into the world is of prime importance to Reed. Making some connection is important to him, and his passion for storytelling and his eye for the honesty of feeling are well-known. His focus has been mainly on being black in America and on the lives of children who have never had the opportunity to live in the way to which they are entitled. Reed's identification with his subjects brings to life moments where he had strongly reacted and was able to document a meaningful image.

"Being a photographer is an obligation," Reed says, "not a mission. Having worked with organizations such as Save the Children and Doctors Without Borders, I want people to understand that. It is a project dear to my heart to do what I can for the less fortunate in this world.

"Kids," he says, "are naturally cute, so that's an easy one. They are innocent and beautiful. I never try to make them cute and if they come out that way it is an accident, but an accident that was bound to happen."
Lebanon, Beirut - 1983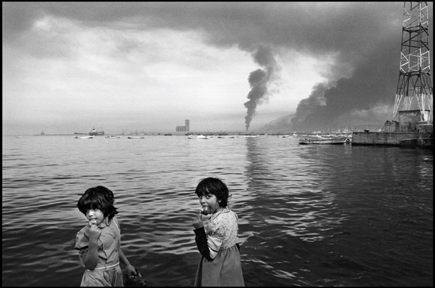 He speaks often about the fragility of children. "Kids are not always that image we expect. They need protection. Some have seen little of what the world has to offer in terms of happiness. It is wonderful to look at the beauty, the love and joy--that's fine but it's not always dealing with a full deck."

One of Reed's favorite photographs shows two children in bed. "Kids run and play and all that kind of stuff," he says, "but a lot of these families have a difficult situation. They may smile and in one picture the older kid was smiling but when he goes to sleep all of his problems come in."

In a body of work done in Northern England, which helped to provide food for starving children, Reed photographed a 14-year-old girl. She had been prostituting for over a year. Another image showed a young psychopath who had the potential to kill if given the opportunity. "One could see the child's beautiful, stoic face and never know his potential to be a killer," Reed recalls. "These are the things that invite questions I always have to ask, `What are we seeing or what are we really seeing?'
"On a happier note there are times I walk down the street or I am at the airport and there's a beautiful child on someone's shoulder and they are staring at me. I feel we are kindred spirits. We look at each other and we smile at the same time. These are deep and poignant moments."

Reed has photographed children around the globe, always trying to get the purity without the over-the-top nonsense. "I look at them in a very simplistic way though I know with the children it is always complicated," he says. "It is important to realize they are individual human beings and we hope in many cases they will come out on the other side.
Kenya & U.S.A. 2001 - Lost Boys Of Sudan
"Sometimes I am not happy when some of my photographs are published because they are the simplest, safest ones. Acceptable pictures can be uncomfortable for me. People like Robert Frank and Gene Richards have pushed the envelope with pictures that are `in your face' rather than safe, secure, free rides and I admire that."
One of Reed's most powerful works is an hour-long documentary titled "America's Children--Poorest in the Land of Plenty" that aired on NBC. Done for the National Churches of Christ and narrated by Maya Angelou, the documentary was directed by Scott Fraser.

"I can't say enough good things about Eli," Fraser says. "He is brilliant and working with him was a privilege. I chose to work with Eli after looking at the work of many fine photographers. I chose him because of the way he captures reality in his lens.

"The decision to put stills into the documentary was a way to respectfully talk to people who were in a lot of pain. I didn't want to be too invasive so I kept a respectful distance. Eli's photographs allowed me to do that as a filmmaker. The black and white photographs truly conveyed who these people were.
"It is Eli's incredible eye, his empathy for the people he sees through his camera lens, and how he composes so beautifully. He is a great craftsman and knows how to pull these wonderful, dense black prints. They were among the things that convinced me to select him to work with me."

FEATURED VIDEO