Photographs Lost In Space; Someday My Prints Will Come
"Living is having ups and downs and sharing them with friends."--Trey Parker and Matt Stone
In September 2007, Yahoo! Photos shut down, disproving the old adage that sometimes the best things in life are not free. Regular readers know I keep lots of my personal photographs on SmugMug (www.smugmug.com) but it's not free. A Standard account costs $39.95 per year, a Power User's account is $59.95, and the Pro version has a $149.95 annual fee. SmugMug's approach to online photo sharing is different and their site design is free of web banners and advertisements, while other sites like Flickr and Shutterfly (no connection) have design limitations because of their built-in editing capabilities. Recently SmugMug joined forces with Adobe to offer an uploader for Photoshop Elements 6 that allows image files to be edited and uploaded for display on a SmugMug user's site. If you want to see what the fuss is about, take a peek at my own site at http://farace.smugmug.com.
www.danpoyourow.com
Like Lonna Tucker, whose website appeared in the November 2007 issue, Dan Poyourow uses FolioLink (www.foliolink.com) for his online portfolio of powerful architectural images. Poyourow's portfolios feature photographs of Interiors, Exteriors, Aerials, Industrial, as well as Personal Work. Picking a portfolio loads a large image with tiny thumbnails displayed underneath; clicking one of them opens into the larger window. Interiors are difficult to photograph because of mixed light sources, pockets of light, and the plain fact that they often don't look like how they photograph. Poyourow is a master at creating realistic and occasionally dramatic images that probably make his clients and architects happy campers.

Real-world exterior architecture is about making the client's building look good, especially when it doesn't, and Poyourow shows how he accomplishes this task with his "Exterior" portfolio. In "Aerials" he mixes the mundane and artistic with photographs of power lines in the midst of taking on multiple subtexts, depending on how you see energy usage in America. Like "Aerials," the "Industrial" portfolio has just a few shots, some that are competent and others such as the interior of a warehouse that is brilliant on many levels, foremost being technical achievement. His "Personal Work" includes some classy-looking digital infrared and monochrome shots along with some introspective desert scenes showing the many-sided talent and introspective vision of a serious pro.
© 2006, Dan Poyourow, All Rights Reserved
www.andrewcrooks.com
Andrew Crooks' photography mixes painted backdrops, three-dimensional props, and real-life subjects to create what he calls a "synthesized reality" but what I like to think of as breaking away from only thinking of a photograph as a pure representation of what your eyes see. His galleries are full of whimsy, such as the "juggling" series of self-portraits made in locations as diverse as Roswell's UFO Museum and against the Miami skyline. These are fun and more realistic than his amusing urban and farm scenes that owe more to Dorothy and Toto than Grant Wood. Don't miss "Catching Z's."

His images of "Neon America" (my title) are a bit like Walker Evans meets Hunter S. Thompson, yet never condescend to their inherently honest yet utilitarian subject matter. His series of portraits range in success from the Warholian "man with fish on head" to a series of images about hair and shaving (I think) that had me, as the kids say, ROFL. What sets Crooks' work apart from almost everything I see every day is that his photographs are not boring and to me that's the worst crime any attempt at art can commit. His work is fresh, challenging to view, and fun. Crooks told me he was planning on redesigning his website using Flash CS3 but while the overall look of his site may be different by the time you visit, it won't change the power and imagination of his photography.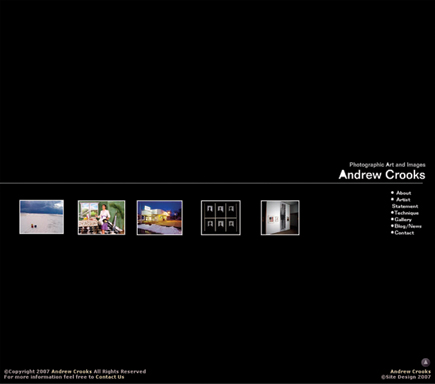 © 2008, Andrew Crooks, All Rights Reserved