Photographic Accessories; Items For Capture, Presentation, And More
Countless things appear at photokina that are not cameras, lenses, tripods, bags, materials, or lighting and studio. It's part of the magic of the place. Calling this category "accessories" won't do, because for most of us, "accessories" consist mostly of small things in blister packs: cable releases, lens caps, that sort of thing. At photokina, it can encompass stuff that weighs a ton or more and costs tens of thousands. How about, for example, an automated photo booth that guarantees to produce passport-acceptable biometric ID pictures? You might not want to buy one, but you might very well want to find one when next you need to renew your passport. Digicube makes them in Korea.
Mascagni "Mini Cooper" and "Fiat Cinquecento" USB drives.
At the other end of the scale of both size and affordability, Mascagni S.p.A. had USB keys (jump drives) in the shapes of cars: the Mini and the Fiat 500. The modern versions, unfortunately, not the 1950s originals. But if you want to give someone some pictures in electronic form, they're quite a bit prettier than generic drives, and they're also a lot less likely to get mixed up with anyone else's. Or look for Lofty's USB hubs and card readers if you want some decent design on your desk instead of generic cheapies: well-made products, in excellently designed housings.
Capture
Perhaps the most important aspect of the show was a slew of adapters for Micro Four Thirds and Sony Alpha NEX cameras to allow the use of an enormous range of lenses. Lensbaby offered a tilt/shift adapter to allow the use of Nikon-mount lenses, and many stands offered a wide range of adapters to Micro Four Thirds and Sony Alpha NEX. These vary widely in quality, however, and even in design, to say nothing of price. Three separate OEM stands claimed to manufacture adapters to allow the use of Contax G-series lenses. All worked, but one had a hard-to-use finger wheel to drive the focusing movement, while the other two had much better collars, like ordinary (if slim) focusing rings around the circumference of the adapter. For the two seemingly identical collar adapters (though we could not compare them side by side), one seller reckoned that the retail price would be $80-$90; the other, $120-$150… Best to see what the big US distributors pick up, after they have compared quality and price.
If you're into nature photography, a new series of hides/blinds from Q-Yield Outdoor Gear Ltd. will make life much easier. They're very quick to set up, and come in a variety of shapes and sizes, including one with a crawl tunnel extending 6 or 8 feet from the main blind so that you don't overshadow a burrow mouth or the like.

For studio photography, Kamoi Kakoshi Co. Ltd. offers low-tack tape (rather like masking tape) in highlight white, mid-tone gray, and shadow black. Even though we suspect that this may be one of those products that sounds rather more useful than it is, it doesn't cost much per roll and even if you use it only very occasionally it must be worth having.
Jumping to yet another area of photography, we saw two entirely different styles of blimp for muffling the sound of your SLR when you are shooting on a movie set or anywhere else you can't afford to make noise. One is rigid and comes from AquaTech, an American company already well-known for their underwater housings, and the other was available in a choice of real or synthetic leather and comes from R.J. Farley in the UK.

Underwater housings from Nauticam accept the Sony Alpha NEX-5 and (via adapters) allow the use of existing Nikonos lenses, while the Hungarian firm of Ultima Digital offered CNC-machined cast metal underwater housings for modern Hasselblads as well as underwater monobloc flash units.

Two subjects of wider interest are batteries and filters. At the show we learned from eneloop rechargeables, a Sanyo brand, that there is a tradeoff between energy density and the number of times you can recharge them. This is why Sanyo has just introduced an improved range of batteries specifically for different applications: long life, low draw, or shorter life, high draw.

In filters, the hot news is NDs. That's right: dear, old, boring, Neutral Density filters. Lee Filters told us that they can't make their top-of-the-line glass ND 10 BIG Stopper (1000x) fast enough to keep up with demand, and that used examples are going on eBay for more than the new list price. Meanwhile, both Heliopan and Kenko offer continuously variable crossed-polarizer NDs with low minimum and high maximum ND values: 2.5x to 1000x. Historically the disadvantage of crossed-polarizer NDs has been color shift, but both manufacturers reckoned they had this licked. Heliopan also has an unusually low-density (and of course completely gray-neutral) polarizer, passing about twice as much light as most other polarizers.

Just for fun, Marumi had protective (clear) filters in brightly colored mounts, while B+W filters now have "nanocoating"—though those in the know suggest that this is as much for marketing reasons as anything else, as it is hard to see how anyone could improve on the coatings B+W already have. Also at the top end, Zeiss introduced UV and polarizing filters.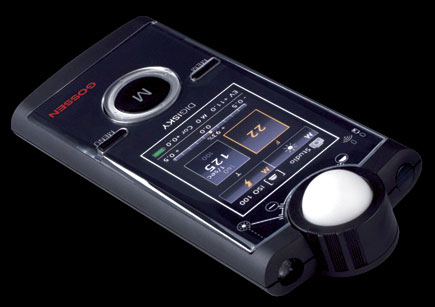 Gossen DIGISKY: an exposure meter for the 21st century.
Sticking with "classic" accessories, Gossen showed a new, high-end exposure meter, the DIGISKY: flash and ambient, with a color display screen. Quite honestly, we didn't find it as intuitive as some of their older analog-display (swing-needle) meters, but that's probably a question of age: the iPhone generation would probably find a color screen more intuitive.

Skipping to yet another aspect of photography, Kienzle's new glassless book copying frame is one of those pieces of kit which admittedly costs a fortune (1250 euros, over $1600), but which will quickly pay for itself in saved time in libraries, museums, auction houses, or anywhere else they need to copy books on a regular basis—especially big, old, heavy, or valuable books. Like most Kienzle kit, including their enlargers, it's made of beautifully finished sheet steel that looks as if it could withstand small-arms fire. Kienzle copying frames bought today will probably still be in use in the 23rd century, never mind the 22nd.
Kienzle copying frame: good for the 22nd and 23rd centuries.
Two much smaller, lighter, and more affordable accessories came from Giotto's and King Home Enterprise Co., Ltd. (who make the Tiltall tripod). The former showed a protective screen for the back of your digital camera: it looks like a mirror until you turn the camera on. More of a novelty than an aid to grooming, perhaps, but a useful protector and you can always use it for signaling if you are lost in the desert. King Home showed a tiny, stick-on convex mirror, the Etsumi Magic Mirror, to put on the front of your compact camera or camera phone. More and more people take pictures of themselves at arm's length; this greatly increases the chance that they'll actually be in the picture, and maybe even somewhere near the middle.

Of more use to the serious photographeris Seculine's new twin-axis level. The original horizontal-axis version was one of the hits of photokina 2008 for us, as a means of avoiding tilting horizons, and this one adds a level on the subject-camera axis, so you don't tilt the camera up or down ("nodding" movement). This is especially useful with ultra wides, to avoid converging (or diverging) verticals, particularly when you're shooting handheld. Seculine also had a translucent lens cap for setting white balance: basic,but more than adequate for most applications, inexpensive, and easy to use.
Etsumi Magic Mirror. You have to admire the guy who designed the packaging: it tells you all you need to know.
Presentation
Without doubt, the trend here is photo books, e.g., bound albums of pictures produced in book form, either individually or in very small numbers, whether for family and friends or as a portfolio. Quality has gone up and prices have gone down, and there were numerous manufacturers of photo-book machines, as well as turnkey franchise operators.

Two of the most significant developments, as far as we could see, were the introduction (by China Lucky) of two-sided silver halide paper, together with a patented magnetic "squaring-up" system introduced by a Romanian company for first-class alignment in a low-cost (6500 euros, call it $10,000), manually operated book production machine called, logically, the Magnetic Book Machine. As long as the former doesn't stick together, it should revolutionize book production, and if the Romanians revise their machine to use the Chinese paper, "artisanal" photo-book production may well be a lifeline for professional photographers and for such few camera stores as still survive.
Magnetic Book Machine. Interesting to talk with Romanian photographers, too.
Even so, traditional means of presentation flourish: the album and the frame. What you see at photokina is often particularly interesting as a foretaste of what we are likely to see next in the shops. Arqadia's ornately molded but plain white or plain black plaster frames were curiously attractive, especially with black-and-white images inside them, and Cover Light showed albums with a "live" digital picture frame built into the cover. Albums are yet another of those things where quality costs money, but where it is all too easy to make a superficially attractive knockoff which will fall apart after any but the slightest handling.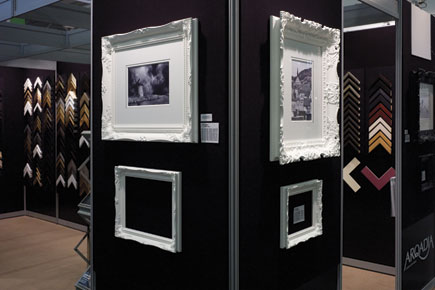 Not many frames really stand out at the show. Arqadia's did.

FEATURED VIDEO