Photographic Accessories; Items For Capture, Presentation, And More Page 2
One of the Italian album companies had a NO PHOTOGRAPHY sign on the door of their booth to discourage copiers, but we can't help feeling that in an era of camera phones, they were spitting into the wind. Copying is a perennial problem at photokina, and some people seemingly visit the show with nothing in mind except to steal ideas. All the retail buyer can do, when faced with two apparently similar (or worse still, apparently identical) products at very different price points, is to assume that you generally get what you pay for, even though this is not invariably the case.
No Photos. Many exhibitors fight a losing battle against unscrupulous copiers. I Nobili (whose stand this is) were pleased I was going to draw attention to this problem in print.
Returning to frames, one of our favorite products was a series of giant industrial miter cutters, made in Denmark by Morso. These look like 19th century machine tools, not least because that is very nearly what they are: the first models were designed and built over 100 years ago. As the guy on the stand said, "I am the fourth generation. My great-grandfather invented the product. And the fifth generation is in preparation." We decided not to press him further on that last statement.
Morso. A miter-cutting machine—only more so.
We were surprised, too, at how far the prices of ceramic-printing machines have fallen: you know, the ones that put your pictures onto mugs, plates, and the like. Simple mug-only machines can be had for a (very) few hundred dollars from companies such as Grawerton-Argo S.A. in Poland (now celebrating their 15th anniversary), and even combined mug-, plate-, and T-shirt machines were well under $2000. With a small generator (if there's no mains power) and one of these, you could set up a whole new style of business in event photography at shows and fairs.

The Canadian firm 36Pix offers a bureau service for "dropping in" backgrounds using a Chroma-Key-type system. The photographer shoots against the green ground; sends the file to 36Pix; and gets it back, background-free or with a new background dropped in, over the Internet.

In the realms of the weird and wonderful, yet another process for 3D sculpture portraits was introduced, for which the photographer needs only a matched pair of cameras (supplied by the franchise company) and a rotating stool. The cameras are set at right angles, and all that is needed for the software to create the sculpting/CAD-CAM profile is two pairs of shots, front and right, back and left. The really ingenious part is that the output can be in an enormous range of media, from a sort of super-high-tech papier mâché (they had heads a few inches high on display) through small resin casts to hollow cast bronze, "though anything more than about 6 feet high needs to be cast in sections." If you fancy yourself immortalized in monumental bronze in the style of a Roman emperor or a German kaiser, these are the people to talk to: ScanMen by 4DDynamics.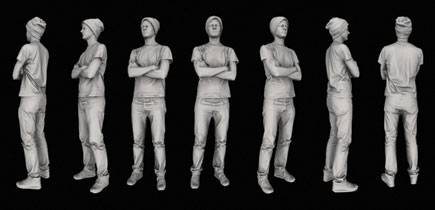 ScanMen can make sculptures—of any size—from just four photographs.
Stuff That Makes Life Easier
If you're anything like us, you probably feel the need of a telescope occasionally when you're traveling, and Tonta Electro Optical Co. Ltd. has made an old favorite in a new form, a diopter-adjustable "spotting scope" converter for camera lenses, the Lens2scope.

Keeping your equipment clean is another important part of making life easier, and here, there were two more innovations that we admired. LensPen added to their already impressive range of cleaning accessories, most notably with a way of cleaning small, hard screens of all kinds: iPhones, the screens on the backs of digital cameras, and the like. About the size of a small, folding rubber stamp, their latest cleaner joins a large range of other products that are well worth looking at.

In fact, the only two cleaning products we took with us to photokina—cameras get dirty at trade shows—were from LensPen and Alpine Innovations, whose Spudz lens-cleaning cloths have been an essential part of our armory since they came out. The latest Spudz are fractionally more expensive than the old pattern (which remains available in parallel) but add a tuck-over flap to protect the open end of the tiny sack in which the cleaning cloth resides. This means that you can now shove it in the pocket of a dirty old outdoor coat, or drop it on the ground, and not worry anything like as much about grit finding its way into the sack. This is probably pure paranoia—we've never had actual trouble with grit in the old design—but it's always nice to be reassured.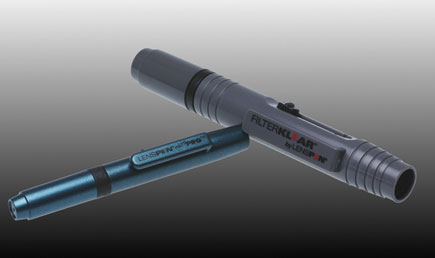 LensPen makes a wide variety of different sizes of their patented cleaner. The "micro" designed for small digicams and camera phones is ideal for cleaning recessed eyepieces on real cameras.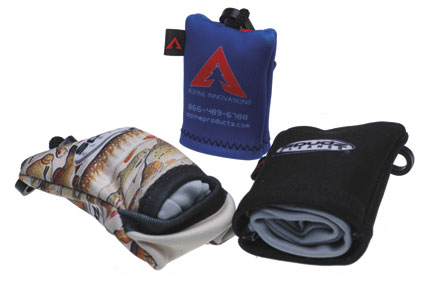 On the left, the new Spudz with the modesty panel. On the right, the original "let it hang out" version.
BRNO LLC, who showed a simple, interesting, and highly effective white balance tool in 2008—the baLens lens cap—showed another ingenious variation on the humble lens and back cap in 2010: O-ring-sealed caps with desiccant sachets built in. For travel in humid climates, such as India during the monsoon, these could be a real guardian against fungus.
BRNO's DriCap body cap: O-ring and desiccant.
At Hoodman we saw a useful pair of spectacles called PhotoFrames with independent flip-up lenses left and right. Many photographers prefer to look through the viewfinder without spectacles, and this makes it a lot easier, whether you're right-eyed or left-eyed: you just have the glasses glazed with your own prescription.

And if you want a powerful flashlight, Led Lenser's latest big models from Zweibrüder Optoelectronics are actually painful to look at directly.
Manufacturers/Distributors
4DDynamics: www.4ddynamics.com
36Pix: www.36pix.com
Alpine Innovations: www.alpineproducts.com
AquaTech: www.aquatech.net
Arqadia: www.arqadia.co.uk
BRNO llc: www.BRNOllc.com; distributed by HP Marketing Corp.
China Lucky: www.luckyfilm.com
Cover Light: www.fotostudiof.it
Digicube: www.mydigicube.com
Giotto's: www.giottos.com; distributed by HP Marketing Corp.
Gossen: www.gossen-photo.de; distributed by Manfrotto Distribution
Grawerton-Argo S.A.: www.grawerton.eu
Heliopan: www.heliopan.de; distributed by HP Marketing Corp.
Hoodman: www.hoodmanusa.com
HP Marketing Corp.: www.hpmarketingcorp.com
Interfit Photographic Ltd.: www.interfitphotographic.com
Kamoi Kakoshi Co. Ltd.: www.masking-tape.jp/mt_foto
Kenko: www.kenkoglobal.com; distributed by THK Photo Products, Inc.
Kienzle: www.kienzle-phototechnik.de
King Home Enterprise Co., Ltd.: www.kinghomephoto.com
Lee Filters: www.leefilters.com
Lensbaby: www.lensbaby.com
LensPen: www.lenspen.com
Lofty Design: www.loftydesign.com
Magnetic Book Machine: www.magneticmachine.ro
Manfrotto Distribution: www.manfrottodistribution.us
Marumi: www.marumi-international.com
Mascagni S.p.A.: www.mascagni.it
Morso: www.danlist.dk
Nauticam: www.nauticam.com
Q-Yield Outdoor Gear Ltd.: www.qycamping.com
R.J. Farley: no website; contact via e-mail at: envoy@fsmail.net
Sanyo (eneloop): www.sanyo-component.com
Schneider Optics (B+W): www.schneideroptics.com
Seculine: www.secu-line.com; distributed by Interfit Photographic Ltd.
THK Photo Products, Inc.: www.thkphoto.com
Tonta Electro Optical Co., Ltd. (Lens2scope): www.lens2scope.com
Ultima Digital: www.ultimadigital.com
Zeiss: www.zeiss.de
Zweibrüder Optoelectronics: www.zweibrueder.com


LATEST VIDEO

SPONSORED VIDEO