Photographer Converts an Old Russian Truck into a Walk-In Camera to Capture the Majestic Dolomites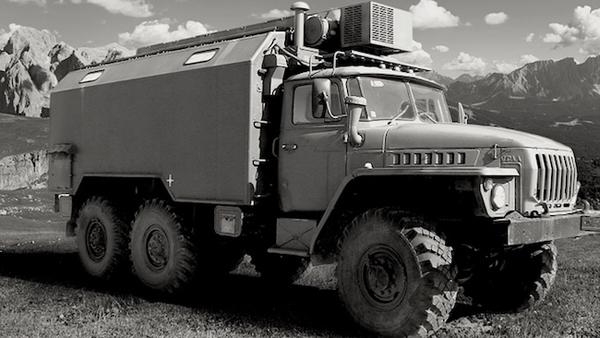 Photographers have long been challenged when attempting to capture the splendor of big mountain ranges, both in terms of equipment and geography. In his quest to document Italy's Dolomites, Kurt Moser decided to go really big, by converting a 45-year-old Russian military truck into a giant camera.
What started as an ambitious Kickstarter campaign has become a reality, as Moser's Lightcatcher Project met its $50,000 goal in short order.
Moser's idea was to transform a Russian Ural 375 truck, designed to operate in rough terrain, into a "spectacular camera obscura." The lens he fitted to the side of the truck is a rare APO Nikkor 1780mm that is one of only 10 left in existence worldwide.
The result of Moser's efforts is a 4.5-ton walk-in camera on wheels that produces images up to 4.9 ft. The truck's six-wheel drive system lets it go where other vehicle can't. In the photos above and below, Moser is posing with a "smaller" 1907 wooden camera named "baby" that he plans to take into areas that are inaccessible with the large truck.
You can read more about the project on Moser's website, and watch the short animated film below. You may also want to take a look at another story we posted on a military-spec darkroom that was for sale on Craiglist.

FEATURED VIDEO