The Photographer & The Blog; To Blog Or Not To Blog, That's The Question
"I'm not sure blogs are necessarily the best place to get a pulse on anything. People want to blog for a variety of reasons, and that may or may not be representative." --Steve Ballmer
Like it or not, Mr. Ballmer, blogging is a fact of life in this millennium. I'm always surprised by how many photographers' websites also have blogs. It makes me feel like a slacker because I've twice tried to create a blog and failed miserably to keep either one of them going. Maybe it's because I already communicate with so many of you through the pages of Shutterbug that there's nothing left for a blog or maybe it's because I'm lazy. I'm taking bets on the latter. If you really want to know what's new with me, visit http://farace.smugmug.com for what amounts to a photographic blog. Check out the "Picture My World" section to see what's new, including a photo of the giant pile of snow across from my house deposited by the "Blizzard of `06-'07."
© 2007, Joe Farace, All Rights Reserved
www.louisdallara.com
Like your humble servant, New Jersey-based Louis Dallara started on his career path as an engineer before discovering that photography was his true calling. This classy-looking site has eight collections in a Gallery, beginning with "Abstracts" that contains a few examples of what might be called conceptual imagery but could easily be titled "Potpourri," although his image "Luminous Light" hits the abstract bull's-eye. Dallara's architectural images, such as "Reflections," are pleasant interpretations of contemporary and historic structures.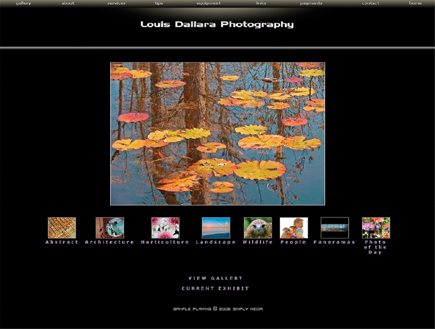 © 2007, Louis Dallara Photography, All Rights Reserved
Over in the "Panoramas" section the far-too-few photographs sparkle with their stark composition, leaving you wanting to see more. His "Photo of the Day" section sports an interesting feature: an interactive map showing exactly where some of his photographs were made and Dallara promises, "more will be added later." When viewing the map you can pan or zoom with a mouse key or use the navigational pad on the upper left-hand corner of the map. Dallara says, "Photography has allowed me to appreciate the aesthetics of the world and I see beauty in things now that previously eluded my attention." Through his photography, especially the nature photography displayed in a "Current Exhibit," he has helped others see that beauty as well.
www.scotthardingphoto.com
Scott Harding lives in the Klamath-Siskiyou Bioregion, a diverse area of mountains, rivers, and forests on the untouched coast of Northern California and Southern Oregon, so you won't be surprised when I tell you he's an outdoor and adventure photographer. His attractively designed and functional website is easy to navigate and full of nooks and crannies to explore, so go ahead and click on what sounds good and follow the yellow brick road. The Gallery is chock-a-block with tantalizing titles but because I was curious about the Klamath-Siskiyou area, I went there first. Some of the photos displayed are too small to appreciate the depth of Harding's technical and aesthetic skills and the best way to look at them is as a slide show, so kick back and enjoy the scenery.
© 2007, Scott Harding/scotthardingphoto.com, All Rights Reserved

LATEST VIDEO

SPONSORED VIDEO
Testing Tamron's SP 150-60mm G2 lens while capturing birds and alligators in Apalachicola, Florida.