Photo Quality Counts
A Roundup Of Ink Jet Printers
Canon's S600 Bubble Jet printer uses individual ink tanks that have an optical ink sensor that detects when an ink tank is low and alerts the user via an on-screen warning.
Affordable photo-realistic output was the holy grail of color printers, and Epson's 1994 introduction of the Stylus Color ink jet printer changed the ball game forever. The original Stylus Color was a 720 dots per inch (more on this later) color printer that cost $500 and delivered photographic quality output, especially when high-resolution images were printed on Epson's shiny High Quality Glossy Paper. Now photo-realistic color output is possible from many different and inexpensive models including Canon, Lexmark, and Hewlett-Packard.
The Printers
Over many years of watching the computer industry I've found that not only can the pace of technological change be difficult to keep up with but also the directions it can take can be unpredictable. If you asked me now to name the best color printer available, you might get a different answer than if you asked me that same question a week ago. That's exactly what's happened to photographic quality desktop color printers.
Canon S800 Bubble Jet
Canon's six-color S800 Bubble Jet printer delivers 2400x1200dpi output with 2,880,000 dots, allowing extension of the color gamut for deeper colors, especially in shadow areas. It uses Canon's Advanced Microfine Droplet Technology that has a nozzle and heater system. It features a higher resolution head, which has 1536 nozzles creating a five-picoliter droplet size, and it can fire 13.44 million droplets per second. Canon also claims their system produces more precise placement of ink on the paper as far as consistency of dot shape, density, and placement. Output speed is rated at 15 pages per minute (ppm) in black and 10 ppm in color. And 8x10" photos can be printed on plain paper in approximately two minutes.
The big buzz about the S800, and the four-color S600, is its use of individual ink tanks--one for each color--that have an optical sensor to detect when a tank is low and lets you know via an on-screen warning. Canon, understandably, believes this feature eliminates ink waste. They have tested the inks with their in-house Photo Paper Pro for archival quality and expect prints to last approximately 25 years without fading.
To re-size images for printing on Canon's 4x6 Photo Paper Pro, the company bundles PhotoRecord software and includes a sample pack of this paper with the printer. Other software includes a Print Advisor that helps you decide which media and driver settings are needed for specific tasks. The Print Advisor has a Wizard that automatically selects optimal print settings. The printer offers a parallel and USB connection for both Windows and Mac OS users, quiet operation at 37 decibels in highest quality mode, and bundles a Compact-Flash card reader. The S800 has an estimated price of $299.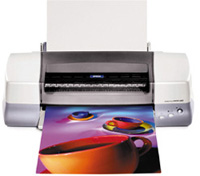 In addition to photographs, the Epson Stylus Photo 1280 delivers crisp text for all kinds of documents including letters, envelopes, mailing and floppy disk labels--in black and white or color.
Epson Stylus Photo 1280
The Epson Stylus Photo 1280 offers borderless printing of photo quality output at up to 2880x720dpi with paper sizes up to 13x19". A roll paper adapter that was optional with the model 1270 is standard, although it appears to be of a different design. Computer connections are via parallel and USB ports, making it compatible with Mac OS and Windows computers. Improvements in the 1280's driver include a Smooth Edge setting that smoothes the inevitable jaggies from low-resolution files, such as under 100dpi images captured from the web. You can also print borderless prints in 4x6, 5x7, 8x10, letter, 11x14, and 13x19 sizes by clicking the "No Margins" check box in the Page Setup dialog box in Photoshop (Mac OS) or the "Paper" tab in the Windows Print dialog box.
When used with Epson's Premium-brand photo papers, they claim an output resolution of 2880x720dpi for color and black. Test prints made with the 1280 at 1440dpi using Epson Photo Paper showed subtle but noticeable improvements over the same test file printed at identical settings with Epson's 1270 model. The new printer uses the same ink cartridges as the previous one, which means stability of the output is the same.
Wilhelm Imaging Research (www.wilhelmresearch.com) reports that prints from the Stylus Photo 1270, when output on Epson's Premium Glossy Photo Paper, have a life of from 9-10 years and 24-26 years when made with the company's Matte Paper Heavyweight media. Epson bundles a copy of Adobe Photoshop LE and includes Monaco EZ Color Lite software that lets you create a monitor profile. The $499 Epson Stylus Photo 1280 delivers crisp text for all kinds of documents and I use it to print letters, envelopes, mailing and floppy disk labels in black and white or color. If you only need letter-sized output, the Stylus Photo 780 is available for $199.
Hewlett-Packard's PhotoSmart 1215 ink jet printer has CompactFlash and SmartMedia memory card slots that enable printing directly from a digital camera--no computer is even needed to make photo quality prints.
HP PhotoSmart 1215
In addition to printing images when connected to a computer, Hewlett-Packard's $399 PhotoSmart 1215 photo quality ink jet printer provides additional photo-printing capabilities. It has built-in CompactFlash and SmartMedia memory card slots enabling it to print directly from a digital camera--with no computer required. The memory card slots can also be used to save images for later use. The HP PhotoSmart 1215 printer can output pages at up to 15 ppm black or 12 ppm in color. All new HP printers feature an optical paper sensing technology. You have a choice of selecting paper type and print settings manually from the software driver or allowing the printer to detect the type of paper in the tray and automatically adjust print settings.
Built-in infrared technology enables customers to beam information and print images from compatible digital cameras, palmtop or laptop computers, and other mobile devices, eliminating the need to download information into a computer. Other features include automatic print cartridge alignment, a print-cancel button, low-ink warning, and a separate 4x6 photo paper tray that eliminates having to change papers when printing different sized photos. Connections include both parallel and USB ports, making it compatible with Mac OS and Windows computers.
This path through Colorado's Garden of the Gods was captured on Kodak slide film and then digitized using their Photo CD process. The image was tweaked and slightly cropped using the Windows version of Adobe Photoshop Elements and printed on a Lexmark Z53 ink jet printer on Kodak's Inkjet Photo Paper.
Photos © 2001, Joe Farace, All Rights Reserved
Lexmark Z53 Color Jetprinter
The Lexmark Z53 Color Jetprinter looks much more expensive than its $139 price tag and has parallel port and USB connections as well as drivers for Linux, Mac OS, and Windows owners. To their credit Lexmark bundles both parallel and USB cables. When's the last time you saw that? The Z53's software driver has a clean interface and is easy to understand. I urge any new users to take a few moments to read the manual and familiarize themselves with the printer's capabilities before inserting some inexpensive paper for practice, before putting in the expensive stuff. Taking time to understand how the Color Fine driver's options let you obtain maximum image quality will pay off.
For example, using the Natural Color and Airbrush Dithering settings may slow output somewhat, but will deliver real photo-realistic output on the Kodak ink jet paper that's bundled with the printer or other photo quality papers. I tested the Z53 with several other papers including Adorama's (www.adorama.com) wonderful Double-Sided Matte and Photogloss papers and even difficult to reproduce colors, such as chrome, were impressively rendered. In addition, text and business graphics were rendered sharply, colorful and quickly. The printer does all this in a fairly quiet manner. So quiet (45 dB), in fact, that the loudest noise is a slight cranking sound indicating the print is completed and the sheet of paper is being gently tossed into its interestingly designed paper tray.
The Lexmark Z53 Color Jetprinter can handle paper sizes ranging from envelopes to legal and its feed tray holds up to 100 sheets of paper. Output is delivered at up to 16 ppm in black, and eight in color, but photographs in highest resolution mode may take up to five minutes depending on size. The Lexmark Z53 Color Jetprinter is an excellent item for the price.
Colorful railroad structures were captured by the author with a Canon D30 digital camera and downloaded directly into the Mac OS version of Adobe Photoshop, where the colors were enhanced a bit before printing on an Epson Stylus Photo 1280 printer on the company's Premium Glossy Photo Paper.
Color Me Ink Jet
These days there are two basic types of color ink jet printers: four color and six color. Four-color models work with the same colors--Cyan, Yellow, Magenta, and Black --that commercial printing presses have used for a long time. They are referred to as CMYK. Most ink jet printers use two cartridges: One that holds the three color inks and another, usually larger, for black ink, which is also used to print the day-to-day text requirements, such as letters, envelopes, and labels, that photo quality printers do much better than dye sublimation and other photo quality printers. Six-color models have the same CMYK package but add a Light Cyan and Light Magenta to the color cartridge to reproduce delicate textures such as skin tones and metallic surfaces. While four-color printers may seem less capable than six-color models, I've seen spectacular results with some four-color models, depending on the original file's image quality, the paper used, and the print head's design. In addition, there are some gray scale ink sets available from companies like Lyson and Cone that let you print full-scale monochrome images using four shades of black ink.
As is typical in the computer world, there are a few printers who use something different to keep pundits from making sweeping generalizations. For example, you might just find a three-color printer out there. Typically, these printers use a single three-color cartridge (Cyan, Magenta, and Yellow) to create all the colors in your photographs. To produce black, the printer mixes the three colors together. While this same theory usually works well with dye sublimation printers who use pure dye ribbons, with ink jet printers it usually produces a muddy black. There is even a seven-color printer that Epson produced for its home market in Japan. I expect that the likelihood of having this printer available in America is about the same as seeing Mitsubishi's hot Evolution VII rally cars that you can readily purchase in Europe and Japan but not in my local showroom.
While most desktop printers use one or two ink cartridges, in the world of professional ink jet printers, there is typically a separate cartridge for each color, something Canon is bringing to affordable desktop photo printers. Is this a trend? I'm not sure. My own experience is that when I'm out of yellow, I'm also out--or almost out--of magenta and cyan, too, but that may be because of the type of images that I print, which may be vastly different from what you might output.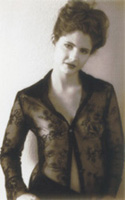 Matching the media to the photograph is always a good idea. Here, Legion Paper's softly textured Photo Canvas Cover stock was used to make a print of an original color image that was captured with Fuji's FinePix S-1 digital camera. The file was converted into black and white, manipulated with nik multimedia's Midnight filter, and sepia toned using a Photoshop action before printing on this softly textured, elegant media.
Ink Jet Paper
Let's be honest. The quality of the ink jet paper you use can have a dramatic effect on the quality of your output. The better the paper; the better the output will appear. Printer manufacturers may insist that the best quality will only be produced when using their papers, and I won't argue that some of their papers are spectacular. But we wouldn't be photographers if we weren't looking for something different. When I worked in a traditional wet darkroom, I used paper from Agfa, Ilford, and Kodak and would try to match the paper to the image I was printing. Now I try to keep papers from Adorama, Epson, Ilford, Tetenal, Pictorico and others on hand and use the same concept of matching the paper to the mood of the image.
A Seven-Color Printer?
An interesting and unofficial Epson ink jet tidbit crossed my browser just as I was finishing this story. The Epson PM-900C is a Japanese market only ink jet printer with intriguing characteristics. It's a 1440dpi letter-sized printer that shares cosmetic similarities to new models introduced at this year's PMA show, but can print on media up to 2.5mm thick, including CD-ROMs. Its two-picoliter droplet size is smaller than the current generation printers' three picoliters and it has more nozzles for faster printing. The big news is that it's a seven-color printer that adds dark yellow ink for improved output smoothness. You can read about it on a Japanese web site (there are a few English words) at www.i-love-epson.co.jp/
Ink On Paper
They all work the same way: They spray ink through nozzles--sometimes called jets--onto paper. How it is sprayed, how much is used, and the quality of the spray, is what separates one ink jet printer from another. The heart of any device is its print head, which must be designed to deliver precise amounts of ink onto paper. Some printers have nozzles built into the print head, while others have nozzles in the ink cartridges. I have not seen any qualitative differences in the output between printers using these different systems, although you might be able to see something using a 10x loupe or microscope, which is not the way most people typically view any kind of photographic print. How much ink exits the print head is measured in droplet size. In general, the smaller the size, the better the image quality. Droplets are measured in picoliters, which in case you're interested is one million millionth of a liter--that's tiny! The technology used to apply ink generally falls into two major categories:
Micro Piezo: Piezoelectric technology is based on the property of crystals to oscillate when subjected to electrical voltage. Fans of James Burke's Connections on The Learning Channel have been treated to a wonderful demonstration of how this works. In Epson ink jet printers, a micro piezo print head squirts ink much like a tiny Super Soaker. Using electricity and material that changes shape, it can adjust how much ink it pumps out.
Thermal: In this system, used by Canon, Hewlett-Packard, and other manufacturers, ink in the print head is heated to its boiling point then forced through the nozzles and onto the paper. All of this squirting and exploding doesn't mean a thing unless it produces image quality that we photographers might consider acceptable, which boils down to the device's resolution. Printer resolution is measured in dots per inch or dpi for short. If a device has a resolution of 300dpi it means there are 300 dots across and 300 dots down. A printer with this resolution can therefore print 90,000 dots of ink or dye in one square inch and a 720dpi printer will produce 518,400 dots. The tighter this cluster of dots is, the smaller the dots become. A higher number of dots will produce finer resolution. You may have noticed that I haven't said anything about speed. That's because I don't think it's relevant unless you're in a production situation and if that's true, a desktop printer may not be what you need. There's an old photo lab axiom that I think applies to ink jet printers as well. It says: "Speed, quality, price; choose any two." Most photographers will choose quality first, then price next, which leaves us with speed. My philosophy is that it takes as long to print as it takes to print. The speed ratings provided by manufacturers are based on an average image, not the highest image quality the printer is capable of producing. Take their ratings with a grain of salt and judge by the image quality and price, which are far more obvious.
Manufacturers/Distributors
Adorama, Inc.
(800) 223-2500 o (212) 741-0052
fax: (212) 463-7223
www.adorama.com

AGA Chemicals, Inc. (Pictorico Paper)
(888) 879-8592
www.pictorico.com

Canon Computer Systems Inc.
(800) 385-2155
http://consumer.usa.canon.com/index.shtml

Cone Editions Press
(802) 439-5751
fax: (802) 439-6501
www.inkjetmall.com

Eastman Kodak
(716) 724-4373
fax: (716) 781-1730
www.kodak.com

Epson America
(562) 981-3840
www.epson.com

Ferrania Imaging Technologies
(888) 846-2846
fax: (651) 704-4128
www.ferraniait.com

Hahnemhle (USA)
(856) 642-9700
fax: (856) 642-9709
www.s-und-s.de.com

Hewlett-Packard Co.
(650) 857-1501
fax: (650) 857-5518
www.hp.com

HP Marketing Corp.
(800) 735-4373
(973) 808-9010
fax: (973) 808-9004
www.hpmarketingcorp.com

Ilford Imaging USA Inc.
(800) 631-2522
(201) 265-6000
fax: (201) 265-3443
www.ilford.com

Legion Paper Corp.
(800) 278-4478
fax: (800) 275-3380
www.legionpaper.com

Lexmark International, Inc.
(888) 539-6275
www.lexmark.com

Luminos Photo
(800) 586-4667
(914) 965-4800
fax: (914) 965-0367
www.luminos.com

Lyson, Inc.
(847) 690-1060
fax: (847) 690-1067
www.lysonusa.com

Satter/Omega (Sihl Papers)
(303) 399-7493
(410) 374-3250
www.omega.satter.com



LATEST VIDEO

SPONSORED VIDEO
Testing Tamron's SP 150-60mm G2 lens while capturing birds and alligators in Apalachicola, Florida.