Photo History: Bruce Dreisbach's Photographic Record: A Treasure Of Images From A Pennsylvania Town
"During the time when Bruce Dreisbach was taking pictures the process was very different from today. Photographers used pre-coated glass and would load the plates, in total darkness, into film holders."
Bruce Dreisbach arrived in the small western Pennsylvania town of Donora in 1906. He worked for one of the local companies called American Steel and Wire in their quality control area, but he was also the company's designated photographer. It seems that photography for Dreisbach was more than just work; it was also his passion. Starting around 1920 until about 1940 he created a very impressive photographic record of life in this small American town.
He took many excellent pictures of people, places, and events capturing the mood and feeling of the subject. One of his favorite people to photograph was his wife Lulu Miller Dreisbach. She had worked as a model along the eastern part of the United States for many years. Between 1917 and 1920 she posed for some 30 professional photographers. They were married in 1909 and Lulu found working on the other side of the camera also rewarding. She enjoyed spending time working in her husband's darkroom helping him to develop pictures.
Bruce Dreisbach was a charter member of the Donora Historical Society that was formed in 1946. He passed away on September 2, 1959, at age 77, of a heart attack, and his wife Lulu passed away on March 5, 1986. When someone was sorting through the many things left in her apartment they discovered a treasure trove of thousands of glass negatives. The negatives were then given to current members of the Donora Historical Society, who did their best to identify the subjects of the photographs. Other glass negatives by Bruce Dreisbach were picked up at estate sales.
The desire of the Donora Historical Society to turn the glass negatives into glossy prints was made possible by a grant. To make the prints from Dreisbach's glass negatives they turned to Photo Antiquities (www.photoantiquities.org). It is owned and operated by Bruce Klein, who is experienced in turning glass plate negatives into photographic prints.
"The first thing we do is look at the condition of the glass plate to see if the emulsion is peeling off or if the emulsion is still good," Klein said. "Sometimes a glass plate negative comes in and the emulsion is so bad we actually try to take the emulsion off the glass plate and then try to put it onto another substrate. That's a lot more difficult and time consuming and the results aren't always as good. If the emulsion is good we then look to see what kind of exposure was made and the density of the glass plate negative. We also check to see if there are any chips or cracks. The next thing we do is determine the print size required. If it's a 5x7 negative we can make a 5x7 contact print. If a larger print is required we can put it into our 5x7 enlarger and make it any size up to 30x40.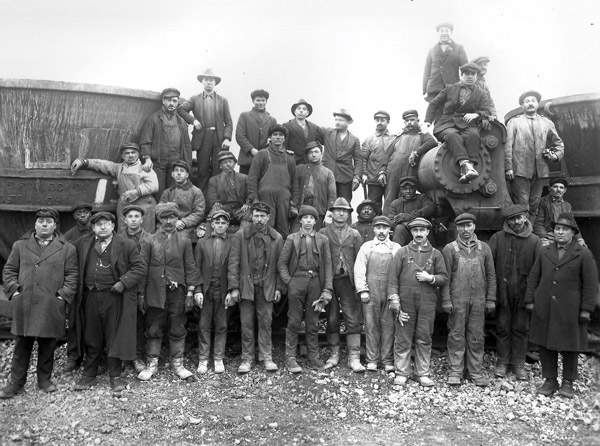 "There are two different types of photographic prints that can be made. There are RC resin-coated prints and fiber-based prints. The fiber-based prints are more archival than the resin-coated prints. They are also a little more difficult to print and a little bit more difficult to dry, but they end up being an image that will last a couple of hundred years. A fiber-based print for historical purposes is preferable over an RC print."
During the time when Bruce Dreisbach was taking pictures the process was very different from today. Photographers used pre-coated glass and would load the plates, in total darkness, into film holders. Each holder usually contained two glass negatives. Typically photographers would have at least a half a dozen holders with them when going out to take pictures.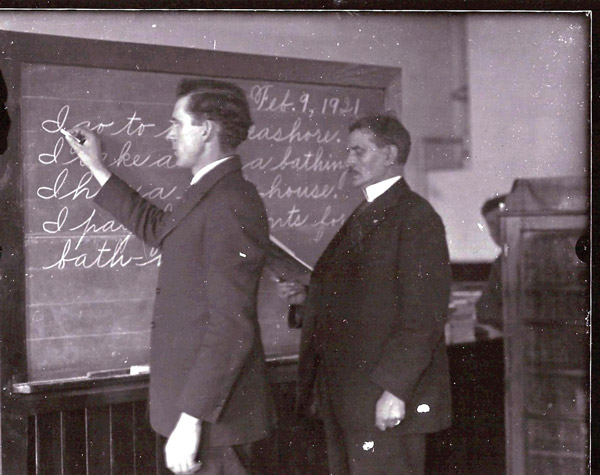 The fragility of the glass plates was a major concern; if the film holder was accidently bumped or dropped there was a good chance the glass negatives would break. Many times a glass plate could be broken, chipped, or cracked after the exposure was taken and the photographers might not know that until they went to develop it.
According to Bruce Klein, the plate glass negatives provided by the Donora Historical Society were in excellent condition. "The Donora Historical Society prints are from 5x7 and 8x10 glass negatives," he said. "The density of the images was very good. There were a few that were a little underexposed and took a little more time to do but all in all the collection was in very good shape. There was no emulsion flaking and very few were cracked. We did them as contact prints one to one and the clarity and the visibility were just phenomenal.
"The photographs recorded a piece of time in history that is long gone. The images we developed covered diverse subjects. Some were of people and some were of historical places. Other pictures were of buildings no longer there and other buildings that are still around. In all they give you a general sense of how life was during that era. The photographer captured it pretty well and he was a good photographer. The images weren't all posed; some of them were randomly taken. You can see that he knew what he was doing just by the exposure values. You can also tell by the sharpness of the image that it was a good-quality piece of glass on whatever camera he used at the time," Klein said.
The Donora Historical Society was able to have a few hundred of the glass plate negatives taken by Bruce Dreisbach made into prints. Today many of them are on display at the Donora Historical Society Museum, while others have been scanned and are used for presentation purposes. The rest have been stored for future projects. Some of the pictures taken were of places other than Donora. A picture pertaining to the West Overton Museum in Scottdale, Pennsylvania, will be on display there some time in the future. Looking for grants that would enable them to have the entire collection of the Bruce Dreisbach glass plate negatives, which numbers in the thousands, turned into prints is an ongoing project for the Donora Historical Society.
J. Michael Krivyanski is a freelance writer from Allison Park, Pennsylvania.
Editor's Note: Here's a funding pitch from the Society. It would be great if folks chipped in to help them get the scanning process going.
"The Donora Historical Society has thousands of Dreisbach negatives, a majority of which have yet to be developed into prints. The prints that we have are used for our historical presentations and various research related to steel mill construction, industrial and environmental issues, early industrial town life, Victorian Era subjects, Cement City house construction, etc. Our most recent grant enabled us to get 197 prints made. As we are able to acquire monies for Dreisbach-related projects, we will continue to have negatives developed. If you have an interest in our subject matter or helping fund some of our Dreisbach projects, please contact us."
Editor's Notes on the images: The Society supplied us with scans and we have only processed the scans to meet our reproduction requirements (contrast, density, etc.). Some scans have a definite tone and we have not changed the tone. Some were neutral or showed slight yellowing (not toned) and we converted those to neutral grayscale to get the best repro quality. The captions were supplied by the society.
Contact Information
Donora Historical Society and Smog Museum
595 McKean Ave.
Donora, PA 15033
phone: (724) 823-0364
e-mail: donorahistoricalsociety@gmail.com
Hours: Saturday 11am to 3pm—the curator is there on Saturdays.
Monday through Friday on most days from 11am to 2pm but call before you come. They have a volunteer available. Call ahead for special requests Monday through Friday and a private tour.
Cost: Free, but donations are accepted.

FEATURED VIDEO