Photo Gear
A Solar-Powered Jacket, Next Generation Continuous Light Source, And More
Solar-Powered Jacket Recharges Portable Electric Devices
It had to come someday. Now you can recharge your batteries as you walk about in daylight. SCOTTeVEST (SeV) has coordinated with Global Solar Energy to introduce the first solar-powered jacket designed to carry, connect, and recharge portable electric devices. Solar panels are attached to the SeV signature jacket Version Three.0 Finetex, an all-weather jacket with removable sleeves and over 30 hidden pockets plus the PAN (Personal Area Network) consisting of concealed wires needed for use with power sources and earbuds. The solar panels are made of a flexible, thin-film photovoltaic material which converts sunlight into electricity that charges a hidden battery pack about the size of a deck of cards. When charged, the battery pack can charge any device compatible with Universal Serial Bus (USB) chargers such as cell phones, PDAs, Game Boys, MP3 players, and similar mobile devices. The solar panels are removable and can be used separately from the jacket. Typical charge times in direct sunlight are two to three hours but direct sunlight is not necessary. Currently offered only in black, the solar-powered vest has an MSRP of $425. Contact: SCOTTeVEST, Inc., 500 Bell Dr., Unit 17, PO Box 2626, Ketchum, ID 83340; (866) 909-8378, (208) 727-6700; fax: (208) 975-1186; www.scottevest.com.
Powerful Rechargeable AA-Size Batteries
HP Marketing Corp. has just introduced the most powerful, currently available Ansmann 2400 mAh Ni-MH AA-size cells for use in all digital and analog cameras, flash, and any other device requiring high-performance AA-size cells. They can be charged in any Ansmann smart charger including the fan-cooled DigiSpeed high-speed charger for AC or car use. You can charge up to 12 AA or AAA cells at once plus up to four 9v Ni-MH or NiCd cells. A four pack of the new AA cells has an MSRP of $13. Contact: HP Marketing Corp., 16 Chapin Rd., Pine Brook, NJ 07058; (800) 735-4373; fax: (800) 282-9010; www.hpmarketingcorp.com.
Two-Hour Charger For Batteries Plus The Ability To Charge Worldwide
Digital cameras, MP3 players, games, and portable electronics rapidly deplete the AA- and AAA-sized batteries that typically power them. The new Harding Energy Quest 2 Hour Rapid Charger kit will charge up to four AA or AAA Quest Ni-MH batteries at once on either standard 110v AC household power or via an included 12v DC auto adapter. The small charger easily fits into a small camera case or pocket. A microprocessor controlled circuit signals when the charging begins and when they are fully charged. When fully charged, it switches to a top off/maintenance charge so batteries can be left in the charger indefinitely without damage. The MSRP is $20 for the kit including four Platinum 2 batteries.

Photographers on the go will appreciate the new Harding Energy Quest Universal Charger Kit as it will allow them to recharge AA- and AAA-size batteries in Europe, England, and Australia as well as in the U.S.A. The kit includes four Quest Platinum 2000 mAh Ni-MH rechargeable batteries plus two Quest 700 mAh AAA rechargeable Ni-MH batteries and three sizes of plug-in adapters. Quest Ni-MH batteries are memory-free, fully rechargeable, and are said to last four times as long between charges as other types of rechargeable batteries. The charger plugs directly into the wall with flip up/down blades and has reverse polarity protection so you cannot insert the batteries incorrectly. It uses a deep overnight charge, and batteries can be left on charge for several days without damage. The MSRP for the kit is $20. Contact: Harding Energy, Inc., One Energy Centre, Norton Shores, MI 49441; (800) 798-7740; fax: (231) 798-7044; www.hardingenergy.com.
Broad Line Of Functional Gear Bags
M-Rock offers 14 different sizes of compact film and digital camera and camcorder bags, modular belts, and backpacks designed for use by photo graphers, travelers, and outdoorsmen to safely carry their equipment. The interiors of the smaller bags are made of non-abrasive materials to protect the contents and have see-through exterior pockets for memory cards and accessories. Larger bags have special features such as U-shaped lens cradles that assist in protecting tele-zoom lenses. Smaller versions of M-Rock bags can be attached either to a modular belt or to the sides of larger bags to carry extra items. They have rain protection flaps, non-pinching shoulder straps plus neoprene handles and easy to hook belt loops. The exteriors are protected by water-resistant tough material and some bags have a weather jacket that completely covers the bag for rain protection. The MSRP ranges from $20-$140. Contact: M-Rock, 14809 E. Maplewood Dr., Centennial, CO 80016;
(800) 773-7067; fax: (303) 400-1965; www.m-rock.com.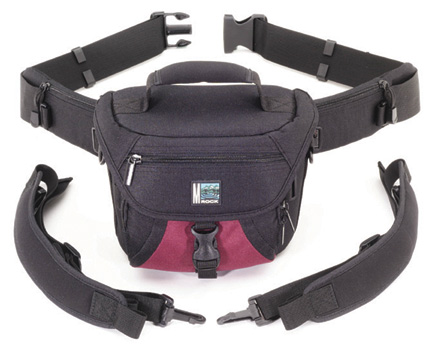 "Seventies" Wide Camera Straps Available Again
The colorful tapestry-style camera straps that were popular in the 1970s are now available for today's cameras. Named "Express Yourself," these boldly colored straps are offered in seven popular patterns inspired by Native American art. Each strap measures 2" wide by 46" long when fully extended. The thick, wide design is said to evenly distribute the weight of the camera for easier carrying for long periods of time. A plastic buckle on the length adjustment will not scratch the camera. They each have three film loops for holding spare 35mm film canisters. The MSRP is $8 plus S&H. Contact: Epic Software Group, Inc., 701 Sawdust Rd., The Woodlands, TX 77380; (281) 363-3742; fax: (281) 419-4509; www.epicsoftware.com.

FEATURED VIDEO