Photo Gear
A Solar-Powered Jacket, Next Generation Continuous Light Source, And More Page 2

Two New Portable Compact AC-Powered Flash Units
Elinchrom offers two new EL 400 BX compact flash units with a host of helpful features. They are multivoltage with automatic voltage detection, offer a rapid recycle time of 1 second, and are housed in a lightweight monobloc case weighing only 4.3 lbs. They have a power range of 25-400 ws and the ability to operate within a five f/stop range. Each kit contains two Style 400 BX flash heads, umbrella reflector (6.4"), both silver and translucent umbrellas (33"), and a poly carrying case. The larger kit also includes two Manfrotto light stands and a stand carrying bag. The street prices are $995-$1098. Contact: Bogen Imaging Inc., 565 East Crescent Ave., Ramsey, NJ 07446; (201) 818-9500; fax: (201) 818-9177; www.bogenimaging.us.
Convertible, Multipurpose Rolling Case
RoadWired has introduced a rolling tech/travel case, the Roadster Convertible, suitable for transporting and protecting a wide variety of contents. It features a patent-pending RoadWired Transit System (RTS) insert, a removable interior module adaptable to a variety of positions and configurations, so it's suitable for virtually any combination of portable technology including laptop, photo/video, projector/multimedia. Over two dozen pockets and compartments are divided into themed subsections. All contents can be accessed or viewed from the top for security inspections and when working out of the case in confined spaces. Front compartments feature storage options for items such as PDAs, phones, portable audio, compact cameras as well as media, documents, travel and business supplies. A secret "Hide and Go Home" pocket in the lining is intended for stashing a hotel key card, emergency cash, or similar small but valuable items. The main compartment, secured by separate lockable zippers, houses the RTS insert. There is a heavy-duty web strap with a pad for shoulder carrying plus a beefy carry handle and clip-on points for accessory pouches. It meets all airline carryon requirements and has an MSRP of $200. Contact: RoadWired, Division of Three Point Ventures, LLC, 235 Middle Rd., Henrietta, NY 14467; (877) 435-5679, (585) 334-6960; fax: (585)
334-6962; www.roadwired.com.
| | |
| --- | --- |
| | |
Tall Light Stand Can Also Be Used Horizontally And A Next Generation Continuous Light Source
The new Photoflex LS-2320Y LiteStand is not only their tallest ever (extending up to a maximum of 12 ft) but includes a flip-top feature permitting both vertical and horizontal placement of lighting. A removable and reversible 5/8" brass stud has 1/4-20 threads on one end and 3/8" threads on the other. Other features include oversized knobs, tubing, cast-aluminum extension collars and leg struts for maximum stability and security. It's said to be capable of supporting a weight of nearly 18 lbs such as large softboxes that typically tend to bend a traditional light stand. It collapses to a length of 43.5", legs spread out to 36", and it comes with a black anodized finish. The MSRP is $150.


In addition, Photoflex has introduced the Starlite QL, a tungsten-balanced light which they consider to be the next generation continuous light source. It's suitable for use with both digital imaging and traditional film photography. The QL in the name refers to a new Quick-Lock feature which makes it easier and safer to attach and remove the head with a softbox connector. It offers 3200Þ Kelvin light and has a new cooling design making it more suitable for use with heat-sensitive subjects. Each Starlite QL system comes with a light head, swivel mount, power cord, and handle which permits one-handed positioning of the light head. The MSRP is $200. Contact: Photoflex Products Inc., 97 Hangar Way, Watsonville, CA 95076; (800) 486-2674, (831) 786-1370; fax: (831) 786-1371; www.photoflex.com.
Quantum Qflash Softbox
The new 12x12" QF68 Quantum Qflash Softbox is easily attached to any model Qflash by removing the reflector and locking the softbox in place. This results in a softer light source particularly suitable for close-up portraiture. With the softbox attached the combination can either be mounted onto a camera bracket or fastened to a light stand. It can be used in TTL automatic or manual exposures. The QF68 folds up for storage in its own carrying bag. The MSRP is $78. Contact: Quantum Instruments, Inc., 1075 Stewart Ave., Garden City, NY 11530; (516) 222-6000; fax: (516) 222-0569; www.qtm.com.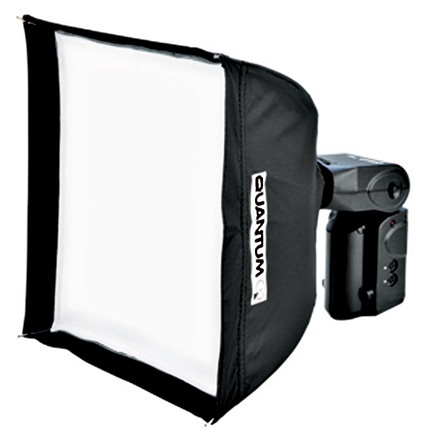 New Series Of Rugged Camera Travel Bags
Mountainsmith, a Colorado-based producer of packs, sleeping bags, and related outdoor travel gear, has recently expanded their line to include 18 items in their new Camera Travel Bag Series. They are distinctly outdoorsy in function, look, and feel. A variety of shapes and sizes range from small cases and pouches, which accommodate smaller point-and-shoot compact and digital cameras, up to lumbar packs and backpacks for professional photo equipment and related gear. All models are made from high-performance durable 420-denier velocity and junior ballistic nylons with a high level of water resistance. They feature nylon webbing, YKK urethane-coated water-resistant zippers, and soft feeling airmesh. Padded tricot polyester lining protects the contents. Some models of the smaller pouches are intended for carrying in a variety of methods, including waistpacks or attached to packs, luggage, or briefcases. The MSRP ranges from $15-$130. Contact: Mountainsmith, 18301 West Colfax Ave., Building P, Golden, CO 80401; (800) 551-5889; fax: (303) 278-7739; www.mountainsmith.com.


To submit information for Photo Gear please contact Robert E. Mayer by e-mail at: rmayer@kconline.com or regular mail at: Shutterbug Magazine, 1419 Chaffee Dr., Suite #1, Titusville, FL 32780.

FEATURED VIDEO