A Photo Accessory Sampler; For Your Camera Bag, Lighting Kit, And More
Accessories are intended to make taking pictures more exciting, make using the main equipment you already own simpler, or simply to whet your interest to try something new. Here are some of my favorites among the many new items introduced this year. Note that if prices are shown they are generally MSRP (Manufacturer's Suggested Retail Price) at the time of this writing and may not reflect the actual selling price in your retail outlet.
Photo Kit
If you look inside your or any photographer's camera bag you'll probably see more than a camera, lens, and flash. Here are some items to consider adding this year. I'll start with some of the bag-sized support devices that seem to be all the rage.
Alpine Innovations' D-Pod is a small tabletop mini-tripod with a unique tilt head, which lets you easily level the camera on uneven surfaces. Three flat, non-extendable legs fold out for steady support but quickly fold up for easy portability.
| | |
| --- | --- |
| | |
| | Joby Gorillapod SLR-ZOOM Ball Head |
The Joby Gorillapod Focus is the largest and strongest version of this small, flexible yet stable camera support. The legs are made of machined aluminum reinforced flexible socket joints that rotate 360? and can stand anywhere or even be wrapped around a tree or railing. It will hold cameras weighing up to 11 lbs and lists for $110. The lightweight Gorillapod SLR-ZOOM Ball Head made of machined aluminum holds up to 6.6 lbs, has a knob for both tilt and rotation control, and a removable quick-release plate (with a convenient level) that attaches to the camera base. Although designed for use with small Gorillapod tripods, it can be used with other makes. The MSRP will be about $50.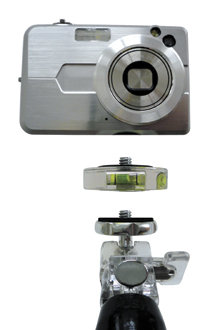 Quik Pod Pro+ Precision Leveling Adapter
Quik Pod has a new accessory, the Quik Pod Pro+ Precision with Universal Two Axis Leveling Adapter that can be used with their lightweight extension camera supports or on a conventional tripod tilt-top or ball head. It goes between the camera base and the tilt-top and has a variety of adjustments that allow the two bubble levels to be positioned accurately. You can see what you are doing from the rear and side of the setup. It will sell for about $15.
ToCAD America has new, more colorful models of their Sunpak FlexPod. This "gripper" is a highly flexible, bendable, wraparound, small camera support system that will list for $20.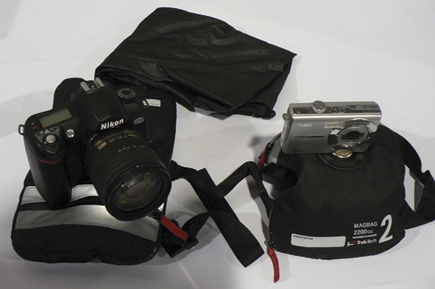 Trek-Tech MagBag & MagBag 2
Trek-Tech camera support systems now include the new MagBag 2, a beanbag with easily removable bean pouch and straps so it can be fastened to a tree or similar sturdy object in the field, or simply carried on your belt. It lists for $39. A similar model includes a magnetic quick-release attachment for the camera plus a rain cover, which can also protect the bag when positioned on wet ground that lists for $50. The T'Pod is a sturdy tabletop tripod with a ball head and MagConnect lock for the camera's quick-release plate. The MSRP is $80.
Digital Download, GPS, And Viewing
Traveling with digital has gotten more interesting with the ability to add GPS data to shots, and there is no lack of new aids to make that easier.
Distributed by Brandess-Kalt-Aetna (BKA), Sima Products' GPS Photo Journal can record and trace your journey by automatically adding GPS data on the photos you take. It's compatible with all digital cameras and camera phones and doesn't need extra equipment. It's water-resistant so it's suitable for outdoor use.
JOBO announced the availability of their GPS Geo-Imaging System for picture archiving. This small unit attaches to your digital camera's hot shoe to capture geo-data on-site. It combines GPS and location data with each picture, and includes software that allows you to search, sort, and organize your pictures according to country, city, and street. It records about 1000 locations, is accurate to 32 ft, and is powered by an internal, rechargeable lithium-poly battery. The MSRP is $170.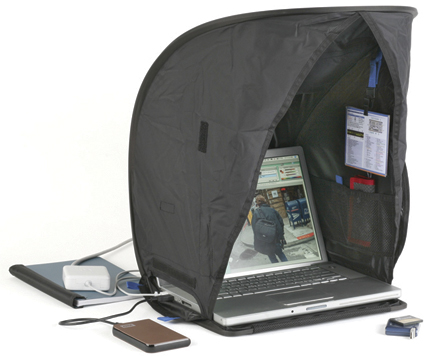 Think Tank Photo Pixel Sunscreen 2
Once you take pictures you want to see them on your LCD or even on your laptop computer monitor, but doing so in direct sunlight is often problematical. The Think Tank Photo Pixel Sunscreen 2.0 is a handy device that lets you see your laptop screen even in bright daylight, yet folds into a very portable 14" round package that's only an inch thick. This model includes an overhead cover that can be pulled over both the Sunscreen and photographer for more protection in bright light, plus the front can be secured down for wind protection. Nonslip materials on both the outside and inside offer extra security and there are openings for cords and cables on the back and side. Pockets on the inside hold pens and other accessories. The MSRP is $69.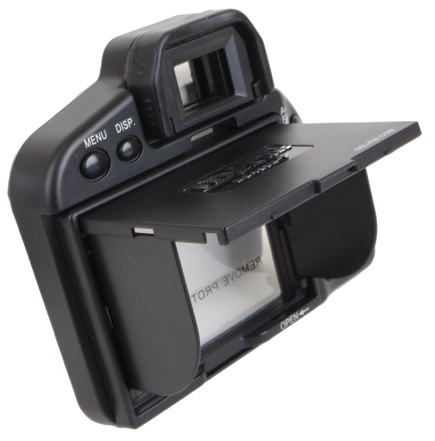 For camera LCD viewing Delkin's Pop-Up Shades for popular Canon and Nikon cameras, plus a universal model, can do the trick. The two-part design closes to protect the LCD then lifts up to provide better visibility in sunlight. They attach by snapping over the camera eyepiece; for indoor use the shade portion can be removed. Prices range from $10-$20.
The latest addition to Hoodman's group of handy items is the HoodEYE digital camera eyecup,
which will upgrade your eyepiece. Five models fit all Canon and Nikon D-SLR cameras. Each has a self-locking mount to keep it securely in place, yet it easily rotates to accommodate right- or left-eyed use. The MSRP is $30. HoodLoupe 3.0 is a rubber shield for LCD screens up to 3" in size that contains a precise 1x glass optic with a ±3 diopter adjustment so you can easily check the histogram, composition, and focus even in bright outdoor conditions. A neck lanyard and compact storage case are included in the MSRP of $80.
For downloading as you go the Argraph MemoryKick MediaCenter is a handheld, pocketable, lightweight (5.6 oz) device with a 2.2" color display that lets you see, share, and store digital images plus other types of media files without the need of a PC. It allows you to transfer files directly from your digital camera, camcorder, MP3 player, USB flash drive, or external hard drive. It also enables you to save files back to memory cards and USB devices. A built-in multiple card reader plus a USB 2.0 direct connect provides full bidirectional support. The hard drive capacities are 30GB, 60GB, and 120GB, and MSRP ranges from $250-$400.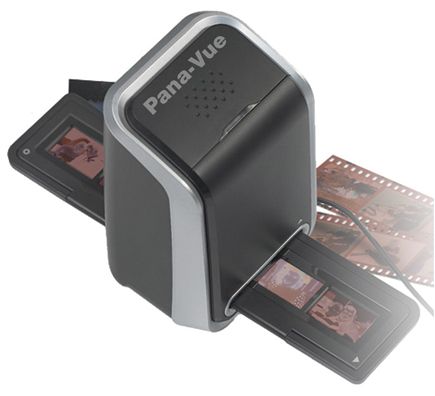 Argraph Pana-Vue Pana-Scan
Desktop Devices
Have some 35mm color slides or negatives you want to digitize? The Pana-Vue Pana-Scan from Argraph will do this at the reasonable price of $120. It easily makes high-resolution, 5-megapixel digital images via your computer at the push of a button. It's compatible with Windows XP and Vista and uses a USB 2.0 port for communication and power. Included is software for capturing, editing, cropping, and enhancing your images, plus a slide holder, negative holder, and cleaning brush.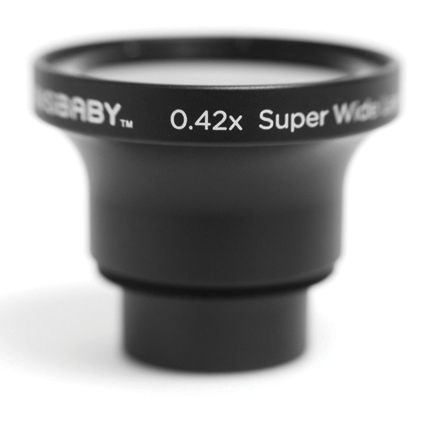 Lensbaby 0.42x Super Wide Angle Conversion Lens
Lens Accessories
Want to add to your Lensbaby kit? They have a new 0.42x Super Wide Angle Conversion lens that will convert the normal 50mm focal length to 21mm. It has macro capability so you can shoot as close as 2.75" from the front of the lens. The MSRP is $80.
In The Field: Comfort And Protection
There are lots of items that make your work while in the field more comfortable and fun. One, from BKA, is the Swedish-designed Walkstool, available in sitting heights from 19-30". Telescopic aluminum legs offer two sitting heights while the ergonomically-shaped seat provides sitting comfort; the weight starts at 25 oz.
When not sitting BKA can also help you out with the Trekking Safari shoulder harness for heavy pro cameras. It combines a wide, heavily padded shoulder strap around the neck with extra crossed back supports that extend down under the armpit. The design allows you to keep the camera securely held against your body yet also allows you to easily lift it up to eye level. Two quick-release fasteners make it easy to remove the camera when desired. Built-in pockets hold memory cards or batteries. It will sell for about $35.
For the slings and arrows of outrageous fortune the Delkin Snug-It Pro skins for D-SLR cameras are molded to fit tightly around the body yet still allow quick lens changing, access to memory cards and operating controls. Much of the camera is covered, including the hot shoe. A hard plastic cover protects the LCD. The skin is smooth, not tacky, and has ridges for a better grip. Models are available for most versions of Canon and Nikon D-SLRs.
The Dot Line DLC Camera Grip is a leather hand strap that attaches to the tripod screw via a base unit. Feet on the base can be swung out to provide a convenient camera support base. It's a very convenient way to keep your camera secure to your hand and also have a steady base support immediately available.
The Lowepro D-Wrap is a convenient wrap-style case that not only offers full-time protection, but also stays attached to the camera all the time. A built-in plate has a threaded key bolt that attaches to the tripod socket of most any point-and-shoot compact camera. An abrasion-resistant neoprene cover wraps around the camera body to protect it and stays shut with a touch-fastener closure. To use, just unwrap, then let the cover hang down below the camera. Fold-out leg braces on the base provide a camera support on flat surfaces.
OP/TECH has a clever Lens Mount Cap containing an O-ring that provides more dust protection for the inside of the lens. It is offered in a single or double version so two lenses can be mounted end-to-end for easier carrying and storing. They are available for most popular lens mounts. Prices start at $10.
OP/TECH Compact Strap Trio
The OP/TECH Compact Strap Trio is a colorful line of straps that consists of a neck strap, wrist strap, and finger cuff along with one quick-disconnect loop that stays permanently on the camera. You can use any of the three straps with one camera. It sells for $22.

LATEST VIDEO

SPONSORED VIDEO
Testing Tamron's SP 150-60mm G2 lens while capturing birds and alligators in Apalachicola, Florida.