A Photo Accessory Sampler; For Your Camera Bag, Lighting Kit, And More Page 2
Photo Kit Lighting Accessories, Filters, And WB Tools
If you use built-in or auxiliary flash, adding light modifiers will always improve the quality of the light and help turn a point light source into a diffuse or at least more attractive form of illumination. Booth Photographic has five new Aurora Mini/Max light-shaping devices to manipulate the light output of auxiliary flash units. Versions include the QBC (Quick Bounce Card), (for larger groups) FBC (Fan Bounce Card), two models of QLB (Quick Little Box) and BHB (Big Honking Box), and SS (Stealth Snoot) for producing concentrated specular light. Each is easily attached to any major brand of flash unit.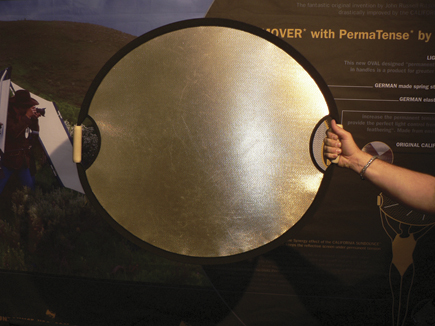 California Sunbounce Reflector
California Sunbounce has a new oval-shaped reflector with two convenient wooden handholds at the long ends for much easier holding by an assistant. It uses spring steel for extra permanent tension when open to a sturdy, flat, 30x36" and easily folds to 1⁄4 this size. It's available in white for $85 or silver and white for $75.
Dot Line's RPS Studio Universal Mini Softbox has a silver interior and white diffusion material in front to soften the harsh light emitted from most any size and type of shoe-mount strobe. It lists for $12 and folds flat for carrying.
HP Marketing Corp. distributes the BRNO baLens White Balance Lens Cap, a white balance device for accurately setting the white balance. It also doubles as a lens cap, so it's always there. With the cap mounted, you read and set the custom white balance measurement. It's offered in two versions (one neutral white, the other having a warm balance equivalent to an 81A filter) and in conventional filter sizes from 52mm up to 77mm. The MSRP ranges from $45-$65.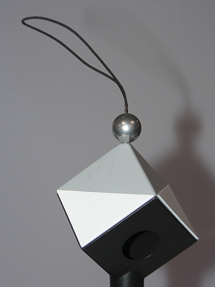 OmegaSatter distributes the Datacolor SpyderCube, a small white balance and tonal adjustment tool.

Multi-sided construction gives special attention to highlights and shadows via a white face for highlights, gray face for both color temperature and mid tone, black face for shadows, and a black trap for absolute black. At the top is a chrome ball for analyzing specular highlights. In use it is suspended just over the subject or product, then measurements are taken and color and tonal calibration can be done easily on the image on your monitor. The MSRP is $59.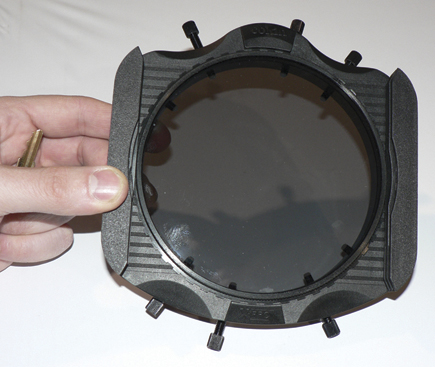 Cokin X-PRO Universal Adapter Ring
Cokin filters are now offered in the Z-PRO size with 4x4" square optical glass. The Cokin X-PRO universal adapter ring has six set screws around the opening that allows it to be securely fastened to most any large 95-127mm diameter lens barrel.
Schneider has some new B+W multi-coated glass MRC filters in UV and clear glass that have a front thread so several filters can be easily screwed together. Under the Schneider brand name are four types of sharp diffusion filters similar to earlier versions that were extensively used in Hollywood for motion pictures; portrait and wedding photographers take note. They are called Classic Soft and Black Frost, the latter offering lower contrast and diffusion.
Power
No power means no pictures, so keeping on top of charging and maintaining battery power is essential. DigiPower's Jump Start Sport universal charger is for use with hundreds of digital devices such as cell phones, PDAs, iPhones, MP3s, Blackberry and TREO devices, and even cameras that accept USB terminals. The 2200 mAh lithium-ion battery pack can be recharged over 500 times, has a battery charge indicator, comes with a connecting cable, and has an MSRP of $39.
The Ansmann line of battery chargers includes a new model that charges two AA- or AAA-size batteries in 4-8 hours and sells for $15. A quick charger that operates on either AC or 12v automobile power will charge four AA 2700 mAh Ni-MH batteries in just 1.5 hours.
The Lenmar PowerPort Solar charger and battery can be recharged from any USB port or directly from the sun. It works with all USB-compatible portable electronic devices with the tip adapters included. A one-hour solar charge provides enough power for a 5-10 minute phone call, fully charged it offers 4-8 hours of back-up power, and it can be recharged 500 times. The MSRP is $50. Although not designed for use with photo gear, most of us carry cell phones so the small and very portable Lenmar PowerPort Portable Power might come in handy. It can be recharged over 500 times via either a USB port or by AC and lists for $20.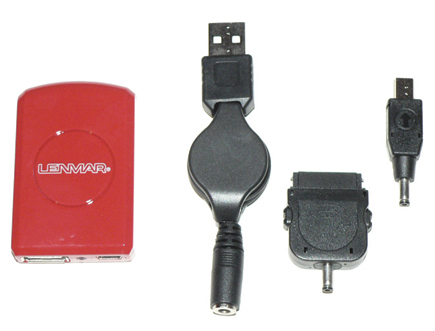 Lenmar PowerPort Portable Power
The Sakar Vivitar Ultimate Smart LCD Charger for lithium-ion batteries will charge one battery in an hour using either AC household power of 100-240v or plugged into a car charger. It's said to support over 300 batteries of different brands and carries an MSRP of $50.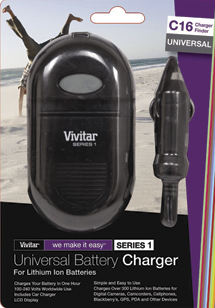 Vivitar Ultimate Smart LCD Charger
The Sunpak Sanyo eneloop compact two-hour charger for two AA- or AAA-size batteries comes with pre-charged batteries and will sell for $25. Also new is the Sanyo Ni-MH charger for four AA- or AAA-size pre-charged batteries, which fully recharges them in four hours, that lists for $30.
GP Batteries (Gold Peak Industries) offers the GP Solar that consists of two thin film solar panels that can charge two AA or AAA size of their own ReCyko or Ni-MH batteries in five hours in strong sunlight, or can be used with AC power. An LED indicator shows the charge status and it will sell for $20.
Cleaning
Dust and gunk are ever-present dangers for digital photographers, so having a cleaning kit along for the desert trek or day at the beach is always wise. One clever dual application is from Alpine Innovations. You can both clean and calibrate your camera with their 2 in 1 Spudz Photo Cloth. It's a 10x10" microfiber cleaning cloth that comes in a neoprene pouch with a clip that can be attached to a belt loop or camera bag and it comes in an 18 percent gray color, making it easier to carry than a conventional gray card. It sells for $11.
Alpine Innovations 2 in 1 Spudz Photo Cloth
Audiovox Corporation has a new lens cleaning product called Surface. It's offered in several configurations. The smallest, a 3 oz spray along with a microfiber cleaning cloth, lists for $10. A very convenient version is a 1x1" square cleaning pad attached to a thin self-stick pad you simply stick on the base of your camera. When you want to clean the LCD, it's easy to pull off and use, then reattach to the base. A pack of three lists for $8.
Dot Line has a sensor loupe with a built-in light that gives 2x magnification, making it easier to see spots. It lists for $70 and also comes in kit form along with a sensor-cleaning wand for $100.
HP Marketing Corp.'s Giottos brand includes a new line of antistatic microfiber cleaning cloths, pouches, and mittens said to be excellent for cleaning photographic and electronic equipment. A unique knitting process produces a material with an exceptional capability to absorb oils, is soft, holds shape, and leaves no lint or dust. They can be washed in regular detergent. Included are four sizes of cloths, seven sizes of pouches with drawstring closure, and a mitten.
OmegaSatter offers DUST-AID Dust-Swabs with Sensor Light for $40. LensPen has a SensorKlear Loupe with a 6x magnification plus internal LEDs to illuminate the camera sensor. A cutout on one side lets you insert a cleaning device, such as the SensorKlear II, with an articulated cleaning swab. This lists for $20.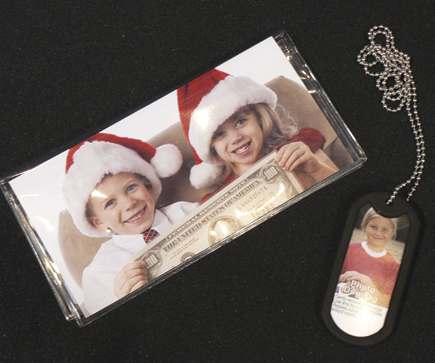 Neil Enterprises Photo Checkbook & Dog Tag
Photo Display
While Jack Neubart covers the growing digital frame product line-ups elsewhere in this issue, I always like to give a tip of the hat to Neil Enterprises. They always come up with something fun for displaying photos in different ways. There is a 13⁄16x23⁄4" photo dog tag with metal backing, acetate photo covering, and removable rubber edging that sells for $1.75 in quantity lots; a holder for letters or napkins has a place for a 4x6" print; a photo checkbook cover; a stainless steel can holder that holds a photo; and 10" round or square wall clocks that have room for a photo on the face. The clocks sell for $15.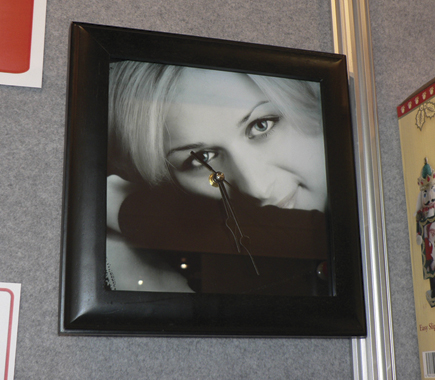 Neil Enterprises Photo Clock

LATEST VIDEO

SPONSORED VIDEO
Testing Tamron's SP 150-60mm G2 lens while capturing birds and alligators in Apalachicola, Florida.