Personal Project: Picturing The Gowanus Canal: Documenting A Pre-Gentrification Industrial Area
I live near the Gowanus Canal in Brooklyn and have been photographing the canal and the neighborhood for over two decades, but it was only in the fall of 2009 that my photographs had the prospect of becoming a historical record, due to the imminent prospect of development and a long-term cleanup. Either way, the area was going to change dramatically. The photographs I produced have won awards, been featured in exhibitions, and 17 of the images have been acquired by the Brooklyn Historical Society for their permanent collection.
The Gowanus Canal in Brooklyn is like a living fossil, a direct link to an earlier time that no longer exists in this part of New York City. In its appearance, it is totally out of keeping with the current-day Brooklyn neighborhoods that surround it. Named a Superfund site recently, federal money will be coming in by the dump truck load and, when emptied, those trucks will leave with tons of dirt, rock, rubble, and sludge dredged up from the slimy water. Where these trucks will take this material that's been infused with a century of industrial effluence is anyone's guess. However, when the last of the trucks leave, what will remain is likely to be far more palatable than what was.
For many years I have been inspired by the work of precisionist painters and photographers such as Charles Sheeler, Edward Hopper, Ralston Cranford, Paul Strand, and others who experimented with a highly controlled approach to technique and form, particularly as it related to the Industrial Revolution. Their sense of logic, geometric shape, and purity has informed my own work.
The decadent beauty of the Gowanus Canal is a byproduct of humankind's desire to get on with work and life expeditiously and without a great deal of care for what they leave in their wake. This can be seen in the scrap yards and oil tanks and the great train trestle hovering over everything. A trestle that supports a subway track affords some of the finest views of the borough and harbor, along with a close-up of an elevated sign that I hope will always proclaim the virtues of Kentile Floors. Ironically, Kentile Floors went into bankruptcy some years ago as a result of asbestos lawsuits.
Prowling around the area, as I have for the past two decades, I've been able to use the Gowanus Canal as my temporal reference. It stayed just as it was while the rest of Brooklyn became the zenith of sophisticated urban living. Photographing manufacturing sites and shops that will never return and seeing them replaced with a grass-roots electronics recycling business run by 20 year olds shows me that I photograph for a reason.
I have photographed the area in all seasons. The winter sun, low on the horizon, glints off the iridescent film that coats the surface of the water, creating a color palette that is as surprising as it is unnatural. A cast-off tire floats nearby. Across from me is an old rusted oil barge, which is likely leaking petroleum into the canal. Fortunately, there's no wildlife here to protect, so, no harm, no foul (or fowl, to be more accurate).
In the height of the summer this area can be far from pleasant. With no way to cycle fresh water into the canal, the turgid water will sometimes bubble as the chemicals in the water heat up and begin to catalyze. However, as the sun starts to set and the sky lights up in brilliant hues, the placid, unmoving water creates a seemingly cool reflection of the surrounding shoreline and buildings. And there, I hear murmurings of music coming from the so-called Gowanus Yacht Club, a place where more adventurous hipsters gather to drink cheap beer and eat grilled hot dogs during the summer evenings.
There's a depth and grittiness here that I'll miss if it goes the way of the "reclaimed toxic site" and high-rise condo buildings start to show up. Sometimes you just want to go to a place where others don't.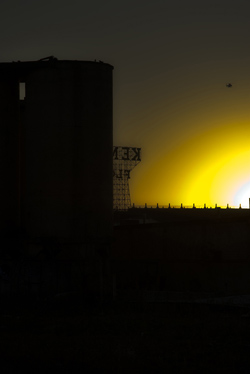 Authors Bio
Returning to photography after a decade-long hiatus during which time she raised a family, Jackie Weisberg has had her work exhibited in over 25 group shows, two two-person shows, and has received multiple awards. This past October, she held her first solo show in Manhattan. Seventeen of her images from "Gowanus Impressions" are in the permanent collection of the Brooklyn Historical Society. She is affiliated with ASMP, PWP, NAPP, and APAG. She continues to produce portraits for her business, Jackie Weisberg Photography, while working on her personal projects.
To learn more about Weisberg, visit her website at: www.jackieweisberg.com.

FEATURED VIDEO