Personal Project: Around The World In 80 Meals: A Photographer/Writer Team Create Fascinating Books
Peter Menzel and Faith D'Aluisio are a photographer and writer couple who explore fascinating and focused subjects. One of their past books featured what 30 families in 24 countries ate during a week; another was about robots and their masters. Each of their books required challenging photography and extensive interviewing.
The authors at the Jameh Mosque in Yazd, Iran.
All Photos © Peter Menzel/www.menzelphoto.com
Their latest achievement, entitled What I Eat: Around the World in 80 Diets, explores the foods and lives of 80 individuals. Photographs show what they ate in a recent day, food lists plus lively texts provide context for their diets and Peter added pictures of daily life. In their travels through more than 30 countries, Peter and Faith covered people shopping, cooking, dining, their recreation, and more in various venues. The couple are organizers extraordinaire.
A Maasai cattle herder in Kenya waits for his breakfast of cornmeal porridge; the woman who serves him is the third of four wives of a village chief.
The third wife of a Maasai chief in Kenya at her family corral with her typical day's food. A large reflector brightened her and the food display.
The previous book by Peter and Faith was Hungry Planet. It showed food eaten weekly by typical families on five continents. What I Eat is that book's natural successor. Peter adds, "Along with a great variety of foods, we calculated the calories the subjects consumed, and revealed their lifestyles by including their level of physical and leisure activities and work environments."
The couple found that featuring only a day's diet for one person was easier to do than a family's week of food, but the amount of research and preparation was just as daunting. Faith states, "The sheer number of people we covered for What I Eat was 80, and the diversity of cultures required a lot of work both before we went to a country and after. The lifeblood of our research is in comparison and contrast, which takes time." The team included such striking contrasts as a bull fighter in Spain with his training day's worth of meat and fresh vegetables, and a Himba tribeswoman in Namibia pictured with one of her children and her day's fermented milk and corn porridge.
American war veteran at home with his parents and his typical day's worth of food; he was paralyzed by a sniper in Baghdad.
A college student on Nanjing East Road in Shanghai displays her food, including a rice roll snack and breaded chicken thigh from Kentucky Fried Chicken (KFC).
In Freiburg, Germany, Master Brewer Joachim Rosch with his day's worth of food at the Ganter Brewery where antique copper vats are still used for fermentation.
Fortunately, Peter and Faith could benefit from their experience photographing and interviewing in difficult locations, some including simple social circumstances. They are also expert at conserving time and money because they cover their own expenses through income from stock sales, past and present book sales and royalties, speaking fees, and exhibitions. They receive no advances from the book's distributor, Ten Speed Press in Berkeley, California, not far from their home base in Napa.
Productive adventures to produce What I Eat began when Peter and Faith planned visits to adjacent countries, and a map in the book shows the places they covered, from Greenland and Australia to Chad and Tibet. They accomplished over 100 interviews and portraits (later choosing the best 80 for the book). Enduring multiple airports and strange settings, they carefully photographed and interviewed with prodigious patience. Before leaving the US they did extensive research and queried knowledgeable colleagues about contacting local foreign translators, fixers, and subjects, in many countries.
Yemen Saada Haidar drinks sweet tealike coffee at breakfast, eats mutton and an eggplant mixture for lunch, and eggs for dinner.
From discussions with Peter and Faith, I understand that success in a multitude of foreign countries requires tact, empathy, planning skills, and experience to decide successfully about how and where to make storytelling pictures. When possible, Peter worked in natural light, and added off-camera flash when needed. He communicated how he wanted subjects to pose adjacent to an arrangement of their day's food that was artistically positioned by Faith. The variety shown in the book's images is remarkable in its clarity; the couple sense how to capture homes and workplaces with maximum impact.
A call center operator in Bangalore, India, whose food includes chow mein, candy bars, and coffee to sustain himself through the nightshift.
Ermelinda, a farmer and mother of eight in Ecuador, in her kitchen house with a day's food but no table or chairs. Peter enhanced this image with a large softbox off to the left and a small flash backlighting the smoke.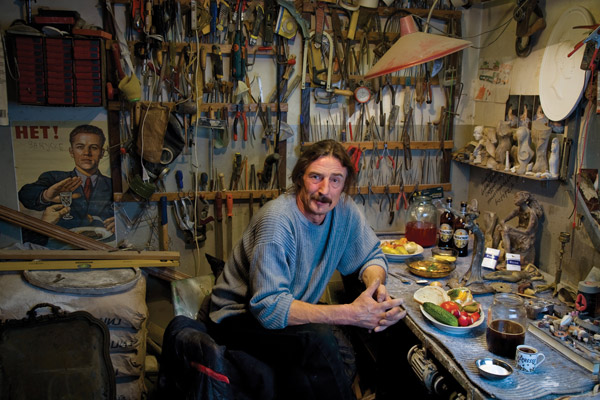 Pose, lighting, and background make this portrait of a Russian art restorer a classic image. His favorite drink is Cognac.
Subjects in What I Eat were chosen for their food customs, occupations, lifestyles, and countries. That variety in the 332-page book is revealed in a sampling of the images and text: a rickshaw driver in Varanasi, a bicycle messenger in Tokyo, a taxi driver in Chicago, and long haul truckers in both Africa and North America are shown with their meals and vehicles. It also includes Maasai cattle herders in Kenya, a crowd in India by a sacred river, a camel broker in Egypt, and a dogsled-driving seal hunter in Greenland, again with food and occasional animals.
Faith said, "In some locations it took tremendous effort and countless phone calls for permission to shoot in people's workplaces, such as at an oil drilling platform in Venezuela, a diamond cutting factory in Namibia, and a call center in India. Peter directed the shot of astronaut Leland Melvin by e-mail, and it was shot by the shuttle crew with their digital Nikon."
Coal miner Todd Kincer showed his day's food in his kitchen and the next day was photographed with his colleagues on a "man car" after their day of digging in a deep Kentucky mine.
Peter's pictures are both artistic and informative. Compositions are neat and functional. Some book spreads include food preparation, and each food display is in the foreground. Flash is usually off camera from one or both sides of subjects. Peter's approach to composition, posing, and lighting is never tricky, but it's often eye catching. The photography and Faith's descriptions show respect for their subjects. Readers enjoy the pageant of unfamiliar differences that provide surprises. What I Eat is full of lessons in how to show people and surroundings in appealing ways.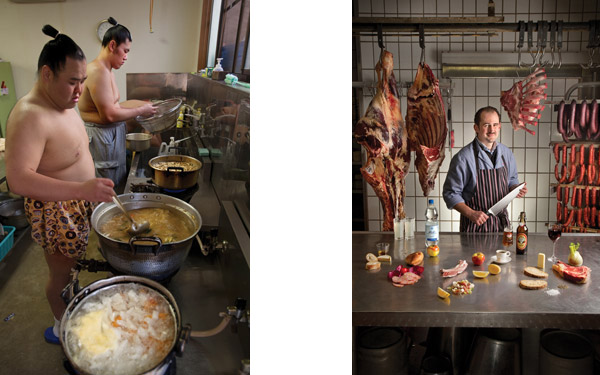 Left: In Japan a professional sumo wrestler helps prepare chanko nabe, a traditional stew with pork and other ingredients for lunch. Right: A classic portrait of a master butcher in Germany who eats salted pork rib for breakfast, sausage for lunch, and steak for dinner. It was shot with a softbox to the right, a flash aimed at the background wall.
Technical Specifications
Cameras:Canon, mostly 5Ds.
Lenses:Canon 16-35mm f/2.8; 24-105mm f/4; 100-400mm f/4.5-5.6.
Lighting:Two Canon 550EX flash units with 10-foot camera shoe extension; 200 ws Quantum T5d-R with Quantum Turbo SC power; one old Vivitar 285 with PocketWizard; some small optical slaves; a large softbox, LiteDisc reflectors, white, gold, and silver.
Accessories:Large carbon-fiber Gitzo tripod, Arca-Swiss Monoball head, and Really Right Stuff quick releases; light stands and two softboxes that fit into a rolling Lightware soft case; a Think Tank Airport Security rolling case; small touristy-looking backpack for expensive equipment and lots of 2 to 8GB flash cards.
Preserving Pictures:Faith downloads nightly when possible and backs up to 300GB hard drives. Raw images are kept in two separate cases: one of those is always with them.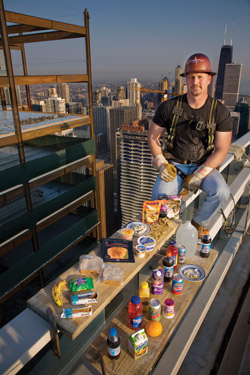 A high-rise ironworker in Chicago consumes 6600 calories a day. Peter shot from a stepladder on the roof, and his subject had a safety harness connected to the railing.
Where To Buy
What I Eat: Around the World in 80 Diets by Peter Menzel and Faith D'Aluisio ISBN: 978-0-984074-40-2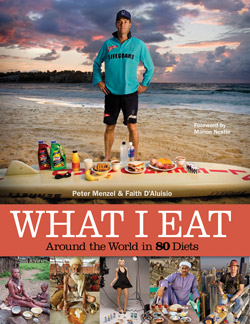 Available through your local independent bookstores and also at www.amazon.com.
Contacts
• www.menzelphoto.com
• www.whatieat.org

FEATURED VIDEO