People, Places, And Things: The Right Tool For The Right Job
"Just say the words and we'll beat the birds down to Acapulco Bay…"—lyrics to "Come Fly with Me"
As I write this, the temperature outside my office window is -11˚. It's at times like this when my thoughts go to my favorite (warm) place to kick back and relax. Acapulco is different from other Mexican resorts because it's a city with a wonderful history first and a resort second, and then there's that old Hollywood connection. You can see some of my Acapulco photos in the self-published book Acapulco, Paradise of the Americas (www.blurb.com/my/book/detail/196617) with text by my friend Don Bain. For examples of my travel photography, you can preview the first 15 pages and see why I love Acapulco so much. If you would like a copy, I've removed all markups from the softbound edition so Shutterbug readers and their friends can purchase it for just the cost of production and shipping.
Photoshop Actions Of The Month
Viva La Vintage and Pow Wow! are two new Action Paks from Kubota Image Tools, totaling 48 new Photoshop Actions, that let professionals and aspiring pros quickly—a keyword—achieve looks that build visual drama and grab their clients' attention and spur sales. Viva La Vintage contains 24 time-warping effects that recall the popular looks of recent decades such as "TenSixties," a cross-process style; "Fine Tooth Comb," a new paint-in sharpening tool; "Image Grunge," for a worn, old paper look; and "Bleachy Peachy warm," for bleached whites with a touch of peach and a bit of creamy smoothing. Pow Wow! contains 24 image enhancements, including "BW Museum," for a classic black-and-white look; "Pearly Shells," for a soft and light effect; "Best Rhubarb Ever," to create rosy-red toning; and "It's Just a Vibe I Get," for overall depth and color. Viva La Vintage and Pow Wow! are available through the Kubota Image Tools website (www.kubotaimagetools.com) for $109 each or $179 as a bundle.
Portrait Professional Studio 10
My favorite portrait retouching tool is Anthropics (http://studio.portraitprofessional.com) Portrait Professional Studio 10 and you can see why by looking at the example shown. On the left is Tia with no makeup in a "before" shot and on the right is the finished retouched image using only software defaults. Portrait Professional Studio 10 lets you retouch quickly and easily, improving productivity. After a simple markup phase, this Mac OS and Windows program instantly improves your portraits by just moving a few sliders. You can fix skin blemishes in a fraction of the time that conventional touch-up software requires, reduce and/or remove wrinkles, and eliminate grease, sweat, or shine from a subject's skin. You can also subtly reshape all or any aspect of the face to reduce the subject's apparent weight or make the face subtly more attractive.
Want more? You can enhance eye and mouth shapes and color; automatically smooth, recolor, and thicken a subject's hair; and adjust lighting to remove shadows and make the portrait more flattering. Portrait Professional Studio 10 can be used as a stand-alone program or as a Photoshop-compatible plug-in and will run in batch mode to improve workflow. As I write this, Portrait Professional Studio 10 is on sale for less than $60, but even at the standard price it's a retouching bargain. You can download a free trial and see for yourself.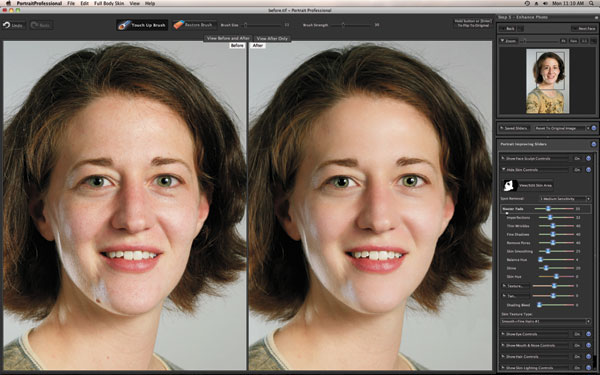 Stickers 'n Tapes
Here's a set of free Photoshop Actions from PanosFX (www.panosfx.com) that turns your image files into round stickers or adds sticky tapes to secure a photograph to a digital background. The set contains two actions: the Stickers Action turns your image into a round sticker, which you can use for scrapbooking or web-based projects and is optimized for images at least 950 pixels wide; the Clear Tape Action turns your photo into a digital Polaroid print and adds sticky tapes on the top edge, but you can easily add other sticky tapes on each corner. This action even creates trapped air bubbles under the tape! The Photoshop Actions work in Photoshop CS5, CS4, CS3, and CS2 (32-bit and 64-bit) and the Photoshop Elements (PSE) versions work in PSE9, PSE8, PSE7, and PSE6.
Itsy Bitsy Spider
Spider Holster (www.spiderholster.com) specializes in holster-style carrying systems for photographers and just announced its Black Widow camera holster for entry-level D-SLRs, as well as point-and-shoot, Micro Four Thirds, and mirrorless interchangeable lens models. The Black Widow secures the camera firmly to the photographer's hip, eliminating neck, shoulder, and back strain that can be caused by cameras dangling from traditional neck straps. When a camera is slid into the holster, the Black Widow responds with an audible click from its built-in locking mechanism, providing peace of mind that the camera is secure for hands-free carrying. The Black Widow is packaged with a Spider Pin that attaches directly to the camera's tripod mount or the accessory Black Widow Plate, which is designed for photographers using quick-release tripod plates. While the Black Widow easily threads onto any leather belt, Spider Holster also offers its own belt that complements the holster's design and is perfect for slightly heavier cameras or when shooting for extended periods of time. The Black Widow costs $49.99, the belt is $15.99, and the Black Widow Plate sells for $15.99.
Tether Or Not?
Tether Tools (www.tethertools.com), those clever designers of the Tether Table Aero System, has launched an accessory compartment, the Aero XDC, to assist photographers shooting tethered with external hard drives. The Aero XDC ($49.95) and XDC Duo ($54.95) hold one or two drives and mount flush to the under-surface of any Tether Table Aero. Because of a low-profile sleeve that mounts under the table's surface, either version frees up valuable working space on the Tether Table. The compartment's "tunnel" design allows easy connectivity of drives and cables and the open structure provides efficient ventilation to keep the drives cool. The Aero XDC and XDC Duo fit most popular mobile external hard drive models and measure 4x11⁄8x6" and 4x21⁄4x6", respectively. Both versions are constructed of lightweight T6 Aerospace aluminum and finished in brushed silver or non-reflective black to complement the Tether Table Aero line, which includes the Master, Standard, Traveler, and MacBook Pro 15" models.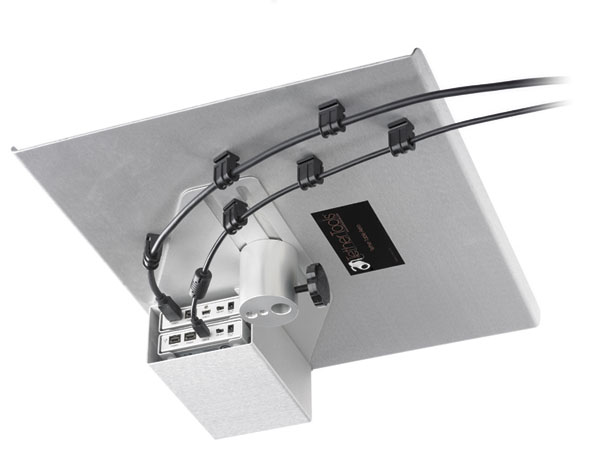 FEATURED VIDEO