The Pentax K-x; What's Black And White And Red And Blue All Over?
The awkwardly named yet highly competent K-x is another entry-level D-SLR from Pentax (www.pentaximaging.com) that combines impressive for-the-money 12.4-megapixel resolution with copious amounts of style. The K-x is available in your choice of white or black as well as special, limited edition red and navy versions, all with a body price ($599.95) that's much less than Leica charges just to paint one of their M-series cameras. Not that anybody would confuse the plucky little K-x with any Leica camera with interchangeable lenses, but this is certainly a camera that underpromises and overdelivers. Oh yeah, it shoots HD video, too.
The name tells you that the K-x uses the time tested K-mount lens mount system that's been around since 1975 but has been updated for this digital millennium. On the most practical of levels this means the camera has access to 25 million film camera lenses that Pentax produced during the past six decades and many of these now-inexpensive but high-quality manual focus lenses are available on eBay and local used camera sales (if you're lucky enough in your area to still have them).

In Continuous mode the K-x can shoot at either Hi (4.7 fps) or Lo (2 fps) in bursts of 17 JPEGs or five Raws (Hi) or an unlimited number of JPEGs or 11 Raws (Lo). I held the camera over a model train layout to capture Thomas the Tank while he made a run through this clever track configuration. Exposure was 1⁄200 sec at f/5 and ISO 6400 with a +2⁄3 stop exposure compensation.
© 2009, Joe Farace, All Rights Reserved
The Pentax K-x's performance challenges more upscale SLRs and offers several features that set this camera apart in the entry-level category. It starts with a 12.4-megapixel CMOS image sensor that features sensor-shift Shake Reduction for up to four stops of stabilized image and video capture. The SLR captures widescreen HD video at 720p resolution (1280x720) with a 24 fps (frames per second) cinematic frame rate even when using any of those 25 million Pentax lenses. But this is clearly not a Canon EOS 7D or Nikon D300S and even at ISO 800 (more on noise later) produces slightly noisy video clips. Yet it also produces the kind of videos that allow the average snapshooter and YouTuber to have fun.
I call this my Harry Potter shot and would like to thank Jack Dean for lending the dress for the model and makeup artist Jett Middleton for her styling assistance. Four lights were used: a White Lightning X1600 monolight with Paul C. Buff Foldable Medium Softbox attached (camera right) and another X1600 with grid was on camera left. Two Nikon SB-800 Speedlights were used: one was placed on a boom as a hairlight, and the other served as a background light. Manual mode exposure was 1⁄100 sec at f/5.6 and ISO 200 with the smc DA L 18-55mm f/3.5-5.6 lens.
© 2009, Joe Farace, All Rights Reserved

I must have been in a filmic mood during this studio session as this photograph conjured up images from Frank Capra's 1937 classic Lost Horizon. A White Lightning X1600 monolight with Paul C. Buff Foldable Medium Softbox attached (camera right) and another X1600 at camera left with an umbrella was used as fill. A Nikon SB-800 Speedlight was used as a background light. Manual mode exposure was 1⁄100 sec at f/5.6 and ISO 200 with the Pentax DA 50-200mm f/4-5.6 ED lens.
© 2009, Joe Farace, All Rights Reserved
All this practicality is assisted by a 2.7" LCD that sounds small compared to the 3" screens so popular these days, but is quite large relative to the tiny K-x body. Not surprisingly, with video capability comes Live View, but Pentax manages to include Contrast, Phase Difference, and Face Detection Autofocus (up to 16 faces) at a most affordable price. The K-x's 11-point wide-angle SAFOX VIII autofocus system focuses quickly and accurately even in low-light situations and easily tracks fast-moving subjects. A relatively fast—especially in this price category—4.7 fps capture speed and 1⁄6000 sec maximum shutter speed make this one versatile little camera.
Little camera, big file. The Pentax K-x shoots a file that measures 14.293x9.493 x 300dpi that enables you to do some cropping without image loss. The 18-55mm lens (27-82.5mm equivalent) didn't allow Mary to get close enough to my off-road course drive in a Toyota FJ Cruiser, so some cropping was necessary. The unretouched image on the left was made with a program exposure of 1⁄400 sec at f/9 at ISO 400. The image on the right was cropped and tweaked and produced an image file that will make acceptable 8x10", maybe larger, prints.
© 2009, Mary Farace, All Rights Reserved
Modes, we got modes…including Auto Picture and Scene modes that are functional and help shooters new to SLR photography learn while they capture. The K-x includes a High Dynamic Range (HDR) image capture mode that—in camera—blends three bracketed images into a single picture, seamlessly blending shadow, highlight, and mid-range detail. As with previous entry-level Pentax models, the K-x offers a built-in digital filter function that offers 16 different filters, including Color Extract, Retro, Soft, Starburst, Toy Camera (think Holga), and a custom filter for building multiple effects. Unlike some previous models, effects may be applied during capture as well as in playback mode. The built-in flash has a Guide Number of 12 (100/m=approx. 40/ft) and will provide coverage for a 25mm (equivalent) lens. The K-x also has a hot shoe and works wirelessly with Pentax-dedicated flashes at a sync speed of 1⁄180 sec.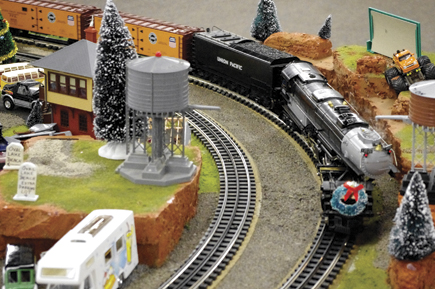 This articulated O gauge locomotive goes 'round a curve on a layout at the Rocky Mountain Toy Train Show and was captured with the K-x set at ISO 6400 to freeze the action. Exposure was 1⁄160 sec at f/5.6 and the noise levels, while obvious at medium magnifications in some areas such as the shadows on the water tower, were remarkably well controlled for such an inexpensive camera.
© 2009, Joe Farace, All Rights Reserved
Pentax claims the K-x can capture up to 1900 shots with four AA lithium batteries and the camera is also compatible with AA Ni-MH rechargeable and alkaline batteries, but if you use alkalines and Live View, however briefly, be prepared for the camera to chew through batteries like hungry termites at a wood convention. I went through 20 AA alkalines during this test and you can buy a set of rechargeable lithium-ions for about the same price, so it's a no-brainer to use rechargeables with the K-x. One quirk I noted when installing new alkaline batteries was that the K-x would not start when turned on but if I turned it off and then on again, all was well. It may have been an idiosyncrasy of my particular camera but was still annoying. Pentax's choice of using off-the-shelf batteries allows Pentax to sell the camera without a lithium-ion battery and charger, keeping the price low but can be a problem if, like me, you get stuck purchasing batteries at usurious prices at tourist destinations like Las Vegas.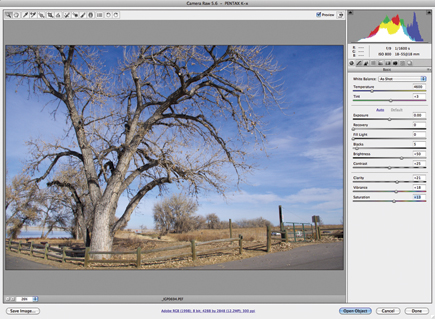 Adobe Camera Raw 5.6 handily reads the K-x's Raw format files but you can also use the software that Pentax packs in the box or just use the optional DNG Raw capture option and fuggedaboutit.
© 2009, Joe Farace, All Rights Reserved

FEATURED VIDEO